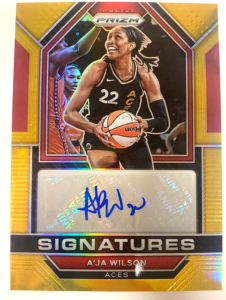 In Las Vegas, few people defy the odds. The Aces did in 2023, beating the Liberty in the Finals to become the first WNBA to win back-to-back championships since the 2001-02 Sparks.
The talented crew cruised through the playoffs, losing a total of one game over three rounds. That came after an incredible regular season in which the Aces set a franchise record with 34 wins.
Unsurprisingly, A'ja Wilson carried Las Vegas to the championship. The perennial MVP candidate shined throughout the postseason and stepped things up in the Finals. Over the four-game series vs. New York, the forward averaged 21.3 points, 12.5 rebounds, 1.3 steals and 1.3 blocks. She was rewarded for her efforts by being selected Finals MVP.
Jackie Young, who earned All-WNBA honors in the regular season, was just as sharp in the Finals. The All-Star scored north of 20 points in Games 1 and 2, then produced 16 points plus seven assists in the clinching Game 4.
Speaking of that Game 4, it went down to the wire. Up one point with just seconds to play, the Aces' incredible defense swarmed Breanna Stewart and the Liberty, forcing a miss on a potential game-winning 3.
THE FINAL SECONDS THAT CROWNED THE @LVACES BACK-TO-BACK CHAMPS 👑 pic.twitter.com/YhlV9rCzYb

— WNBA (@WNBA) October 19, 2023
Credit to the Liberty, who not only made the Finals for the first time since 2002 but were also the only team to make the Aces look somewhat mortal —they won Game 3 by 14 points. Las Vegas recovered from that loss, however, and claimed a second title under head coach Becky Hammon.
Hammon, who was inducted into the Hall of Fame in August, had to coach without a full deck. Missing two-time MVP Candace Parker and five-time All-Star Chelsea Gray, among others, the Aces employed a seven-woman rotation in Game 4, with Kelsey Plum playing the entire 40 minutes.
"To be short-handed and win is amazing. It makes the win that much better," said Wilson.
Now, with an offseason of rest ahead, the Aces can set their sights on a third consecutive title, one that would firmly put them in dynasty mode. There's no reason to believe that the Las Vegas oddsmakers won't have them as the 2024 favorite.
Pictures worth a thousand words 🏆

Frames from the moment the @lvaces were crowned 2023 #WNBAChamps pic.twitter.com/S18yZwuoRZ

— WNBA (@WNBA) October 19, 2023