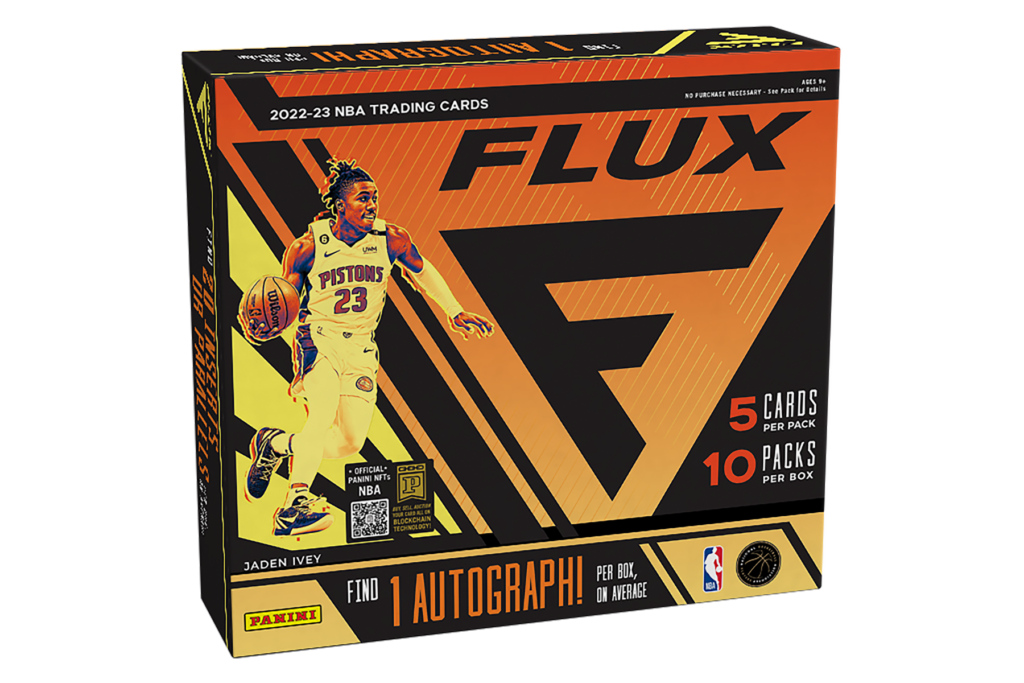 There are plenty of things that go over your head: Planes, kites, complicated jokes. Panini America's Flux Basketball should not be one of those dome-topping things.
With eye-catching inserts, low-numbered gems and a deep collection of sleek parallels, 2022-23 Flux Basketball is not a product you want to miss. Don't forget to look up soon — the product's release date is just around the corner.
The First Off the Line box released on Panini's webstore on Oct. 19, 2023. In addition to the one autograph and 20 inserts/parallels you can find in the hobby box, the FOTL box provides an exclusive Titan parallel Purple Scope (numbered to 17) or Gold Scope (to eight).
Getting back to the in-the-clouds theme, Flux Basketball is full of high-flying playmakers. Coming off an electric rookie season full of slams and steals, Detroit's Jaden Ivey graces the box art.
Once you get into the packs, what you pull is up in the air. You can look for the pretty Equinox Autographs, which not only feature a far-out design, but signatures from soaring stars like Bradley Beal, Paolo Banchero and the legendary Hakeem Olajuwon.
Now, let's pull out our telescope and zoom in on some of the out-of-this-world parallels that Flux offers. Collectors can search for Supernova (numbered to 75), Sunrise, Moonlight and Solar Eclipse and Lunar Eclipse (to 49). More traditional parallels include Green (to 5) and Gold Vinyl (1-of-1).
Pack-rippers who really shoot for the stars can search for the ultra-rare case hit: Full Capacity. This beautiful and extremely sought-after insert features 20 of the game's biggest names of both past and present. Stuffed with guys like Trae Young, Vince Carter and Nikola Jokić, the insert lives up to its name.
Keep a heads-up for this one and be sure to check out Flux Basketball when it goes on sale.
Related Links
Aces are Queens Again: Las Vegas Wins Second Straight WNBA Title
PANINI AMERICA SIGNS TIM DUNCAN TO EXCLUSIVE MULTI-YEAR PARTNERSHIP FOR AUTOGRAPHED TRADING CARDS