In what likely will go down as the most anticipated Panini Peek in the history of The Knight's Lance, we present today, for the first time anywhere, the first offiicial look at 2010-11 National Treasures Basketball.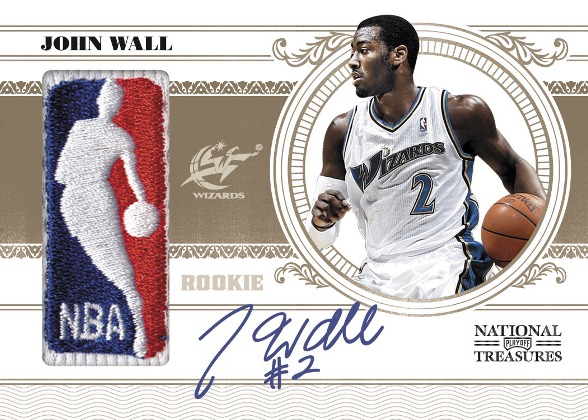 In what likely will go down as the most anticipated Panini Peek in the history of The Knight's Lance, we present today, for the first time anywhere, the first official look at 2010-11 National Treasures Basketball.
The high-end hoops juggernaut that is National Treasures absolutely rocked the sports card hobby as a rookie last season. As you'll plainly see in the preview that follows, it's got a lot more rocking to do in year two.
The product is due out August 3 and promises once again to deliver a rim-rattling, jaw-dropping high-end collecting experience that includes six autograph or memorabilia cards, one base card numbered to 99 and one other Legend, Rookie, insert or parallel in every box.
National Treasures made its name in this industry by yielding seemingly one once-in-a-lifetime hit after another with some of the most unique and valuable autograph and memorabilia cards of the modern era. In fact, last year's inclusion of Blake Griffin — and the subsequent mainstream media coverage of his key cards from the set — helped generate positive national publicity from outlets such as Deadspin, NBC Sports' Pro Basketball Talk, Sporting News and USA Today.
Although the 2010-11 edition of National Treasures won't include Griffin Rookie Cards, it will include another rare assortment of breathtaking Blake cornerstones, as well as bona fide collection-makers featuring his veteran NBA counterparts and the entire 2010-11 Rookie Class.
"We  were delighted with the collector acceptance of 2009-10 National Treasures and realized what a successful foundation was established with that release," says Panini America NBA Brand Manager David Porter. "Many of the same elements will be found in the 2010-11 National Treasures, including the most desirable and scarce rookie cards for the 2010-11 Class. We are also excited to bring back an array of our popular Logoman cards and uniquely designed Laundry Tag material cards of many current and retired NBA Stars."
In addition to featuring on-card autographs from Panini America's exclusive superstar athletes Griffin, Kobe Bryant, Kevin Durant and John Wall, 2010-11 National Treasures will deliver:
Pen Pals autographs featuring up to eight on-card signatures on one card
Jumbo Prime Material cards of Durant, Griffin and NBA Hall of Famers Julius Erving and David Robinson
NBA Logoman Combos
Signature Trios and Quads
For the well-heeled hoops enthusiasts among us, know that each case of 2010-11 National Treasures will include one or more hits from the following roster: 
An autograph from Julius Erving, Kobe Bryant, Bill Russell, Magic Johnson, Kareem Abdul-Jabbar, Oscar Robertson, Larry Bird or Jerry West
George Mikan memorabilia card
Souvenir Cut Signature
Pen Pals
Signature Combo
Signature Trios
Signature Quads
NBA Logoman
NBA Logoman Combo
NBA Logoman signature
Laundry Tag NBA Logoman
Laundry Tag NBA Logoman Signature
Laundry Tag Team Logo
Laundry Tag Team Logo Signature
"Some of the new content in 2010-11 National Treasures will include on-card Durant autographs, including Logoman and low-numbered prime jersey pieces," Porter notes. "We're also excited about adding autographed memorabilia cards of Hall of Famers Erving and Robinson to the lineup.  Additionally, we will have our first memorabilia cards featuring Wilt Chamberlain."
You can get additional coverage of this landmark product here, here and here. Enjoy your exclusive first look below and stay tuned to The Knight's Lance for continued coverage of this landmark release.