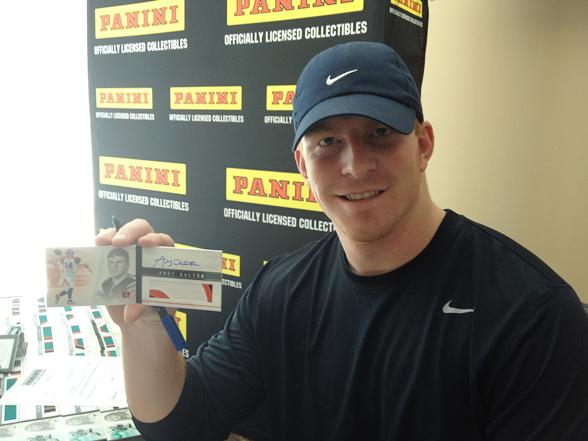 Next month Panini America's 2011 NFL product calendar will conclude with the highly anticipated release of 2011 Panini Playbook Football. One of the highlights of the striking collection is the hard-signed RPS Rookie Booklet subset, seeded one per box. As luck would have it, two of the featured subjects from the 2011 NFL Draft Class stopped by the Panini America offices to sign their chic and classy RPS Rookie Booklets.
Cincinnati Bengals rookie sensation Andy Dalton and speedy Miami Dolphins receiver Edmond "Clyde" Gates stopped by HQ to sign their respective cards for the collection. Below you'll find an array of images from the signing, plus the box-break video of the freshly released 2011 Panini Totally Certified Football starring Gates and Panini America's Scott Prusha. There just might be an outtake or two from the video — keep rolling to find out.
Meanwhile, stay tuned for a live break of 2011 Totally Certified Football from our social media Sensei Tracy Hackler on Panini America's BlogTV channel.
First the video:

Now the image gallery: