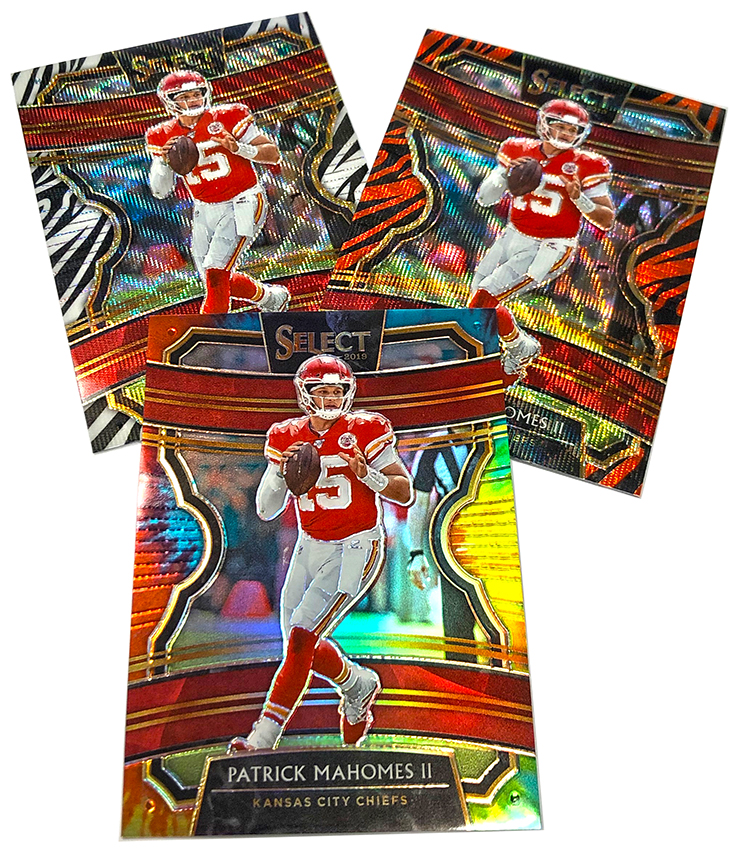 Panini America's heavily anticipated 2019 Select Football dropped earlier this week and brought with it those calling-card attributes that have made the product a late-season NFL staple for years, including must-have RPAs, the scarce, potential-packed XRC redemptions and XRC Mystery Autograph redemptions, and that popular three-tiered base set. It's that last attribute, the three-tiered base set, that presents a plethora of possibilities for Rainbow Chasers.
Each player being featured on three distinct base cards (Concourse, Premiere Level and Field Level) means each player has three distinct Prizm rainbows to complete. And in the colorful collection of images that follow, we take you card by card through some of the possibilities by incorporating the rainbows of Patrick Mahomes (Concourse), Tom Brady (Premiere Level) and Drew Lock (Field Level). As something of a bonus, we've also included the FOTL-only Tiger Stripe Prizm in the gallery . . . just because.
Enjoy the imagery and stay tuned for additional coverage. A limited supply of 2019 Select Football is still available at the official online store of Panini America.