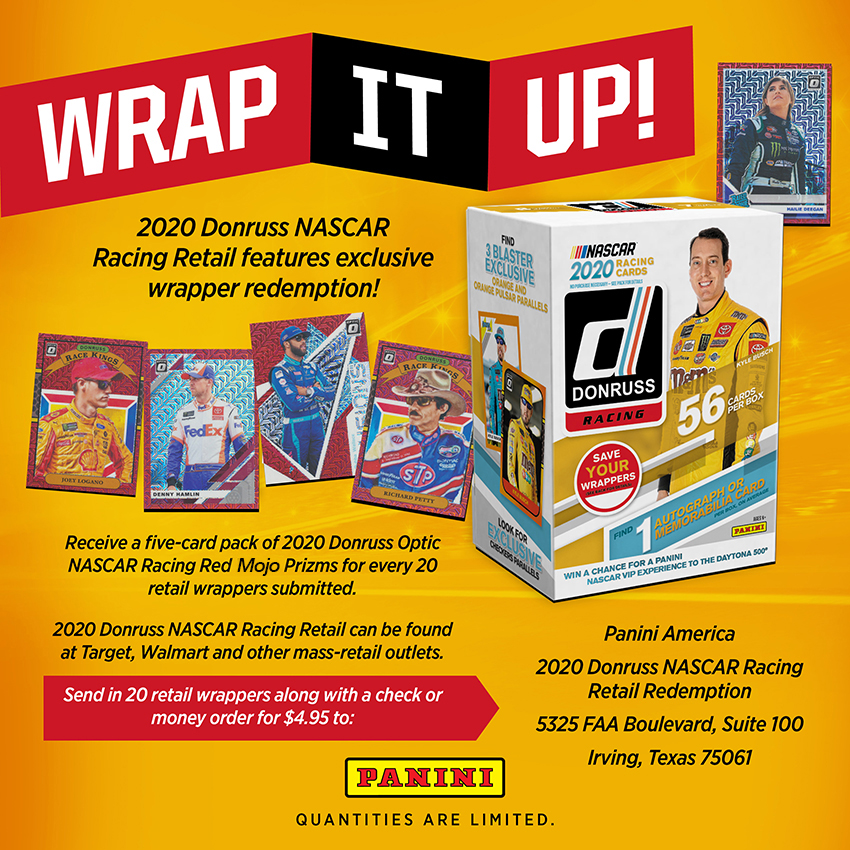 The hobby edition of Panini America's 2020 Donruss NASCAR Racing arrived in hobby shops across North America just about two weeks ago and for retail-minded collectors that can mean just one thing: The retail version of the product should be arriving on Target, Walmart and other big-box store shelves in the next few days — if it hasn't already in your area.
And this year, the retail edition brings with it a highly anticipated wrapper-redemption program that will award collectors with special, promotion-exclusive Red Mojo Prizm cards that will be available only while supplies last. The retail-exclusive promotion will award participating collectors with a five-card pack of 2020 Donruss NASCAR Racing Red Mojo Prizms for every 20 wrappers redeemed.
For every 20 retail wrappers, collectors should send a check or money order for $4.95 shipping/handling to:
Panini America
2020 Donruss NASCAR Racing Retail Redemption
5325 FAA Boulevard, Suite 100
Irving, Texas 75061
We offer a revealing sneak peek at the Red Mojo Prizms in the gallery that follows. Enjoy . . .