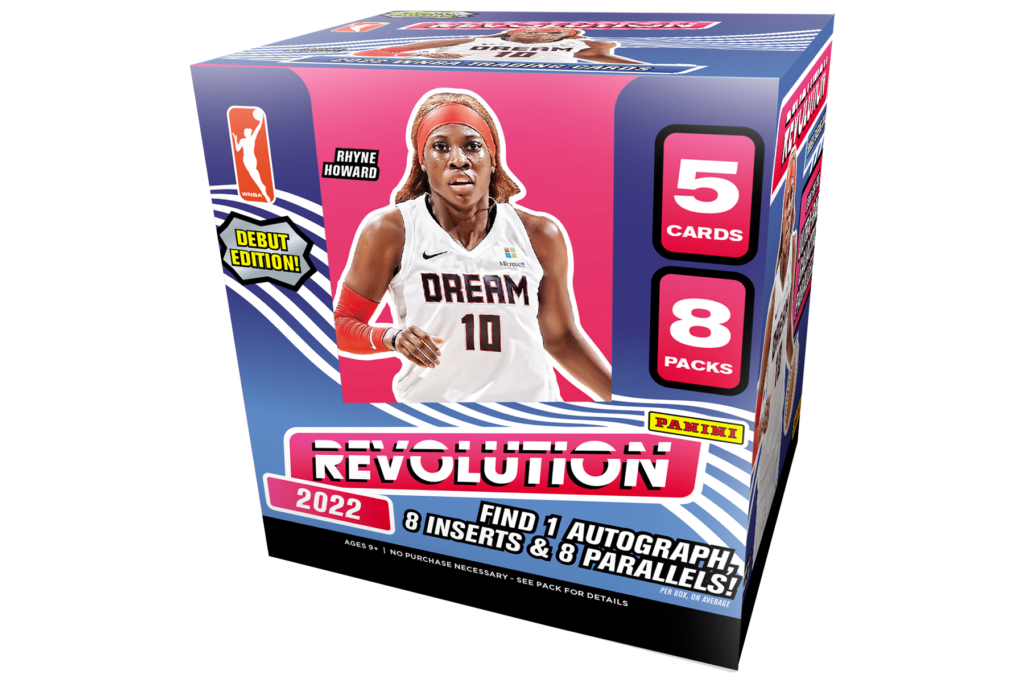 RELEASE DATE:  Friday, December 2nd at 12pm (CST) at the Panini Direct Store
PIS DOCUMENT:  22_WNBA_Revolution_BK_PIS
DETAILS: Panini America's Revolution brand tips-off for the first time for the WNBA! 2022 Revolution WNBA Basketball is packed with groovy designs and eye-catching parallels, like the Hobby-favorite Galactic! Catch more details below, as well as a sneak preview of the product.
PRODUCT BREAKDOWN:
Hobby boxes of 2022 Panini Revolution WNBA Trading Cards contain five cards per pack and eight packs per box!
Look for one Autograph, eight Inserts, and eight Parallels per box, on average!
Chase the SSP'd Galactic parallels!
Pull a variety of unique inserts of the WNBA's best in Vortex, Rookie Revolution, Shock Wave, Supernova and Liftoff!
Collect autographs from a stellar list of 25 top-tier superstars from yesterday, today and tomorrow!
*All information is accurate at the time of posting – content is subject to change.
SHOP THIS PRODUCT:   CLICK HERE
VISIT: http://www.PaniniAmerica.net
Also connect with us on:
Discord:  https://discord.com/invite/9PUgPHSdxq
Instagram: https://www.instagram.com/PaniniAmerica/
Twitter:  https://twitter.com/PaniniAmerica/
Facebook:  https://www.facebook.com/PaniniAmerica/