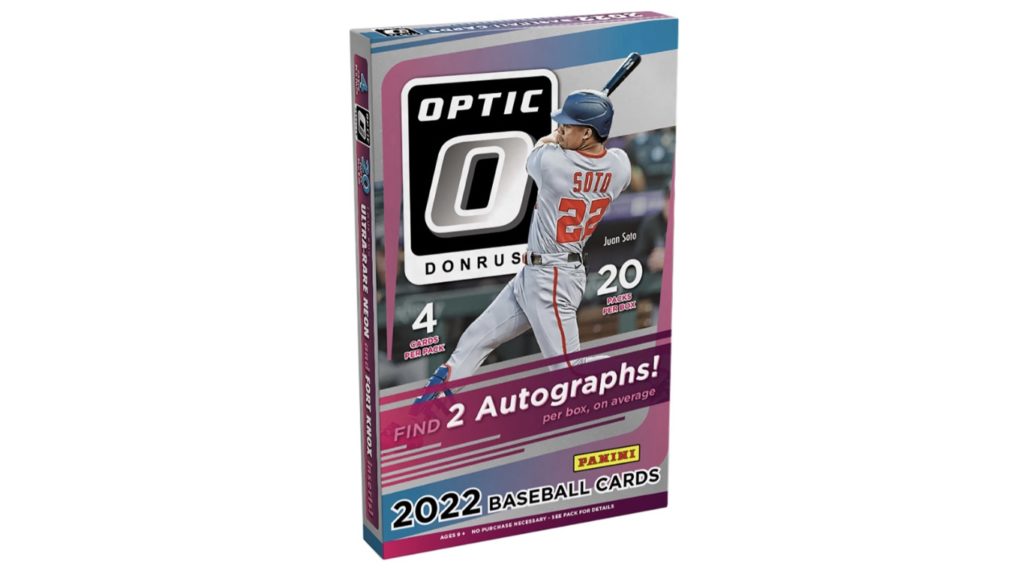 RELEASE DATE:  Wednesday, December 7th at 11am (CST) at the Panini Direct Store
PIS DOCUMENT:  22_DonrussOpticBB_PIS_Hobby_EDITED
DETAILS:  One of the most popular brands in the Hobby, Donruss Optic is back with 2022 Donruss Optic Baseball! Chase the coveted Rated Rookie cards of your favorite newcomers! Something to make note of for this release is the inclusion of "hot boxes" in each case! Catch more details below, as well as a sneak preview of the product.
PRODUCT BREAKDOWN:
A fan favorite, Donruss Optic Baseball showcases all the elite talent in today's game on our highly sought-after opti chrome cards!
Hobby boxes of 2022 Panini Donruss Optic Baseball Trading Cards contain four cards per pack and 20 packs per box!
Look for two autographs, ten Prizm parallels, and 20 Inserts per box, on average!
Find on-card autographs from all the top rookies and prospects in Rated Rookies Signatures and Rated Prospects Signatures.
Featuring a checklist loaded with the best names in the game, look for beautifully designed inserts like Bomb Squad, Mythical and more.
**Each case will have two Autograph hot boxes, which will contain five autographs per box, and two Prizm hot boxes, which will contain 20 numbered parallels per box.
*All information is accurate at the time of posting – content is subject to change.
SHOP THIS PRODUCT:   CLICK HERE
VISIT: http://www.PaniniAmerica.net
Also connect with us on:
Discord:  https://discord.com/invite/9PUgPHSdxq
Instagram: https://www.instagram.com/PaniniAmerica/
Twitter:  https://twitter.com/PaniniAmerica/
Facebook:  https://www.facebook.com/PaniniAmerica/