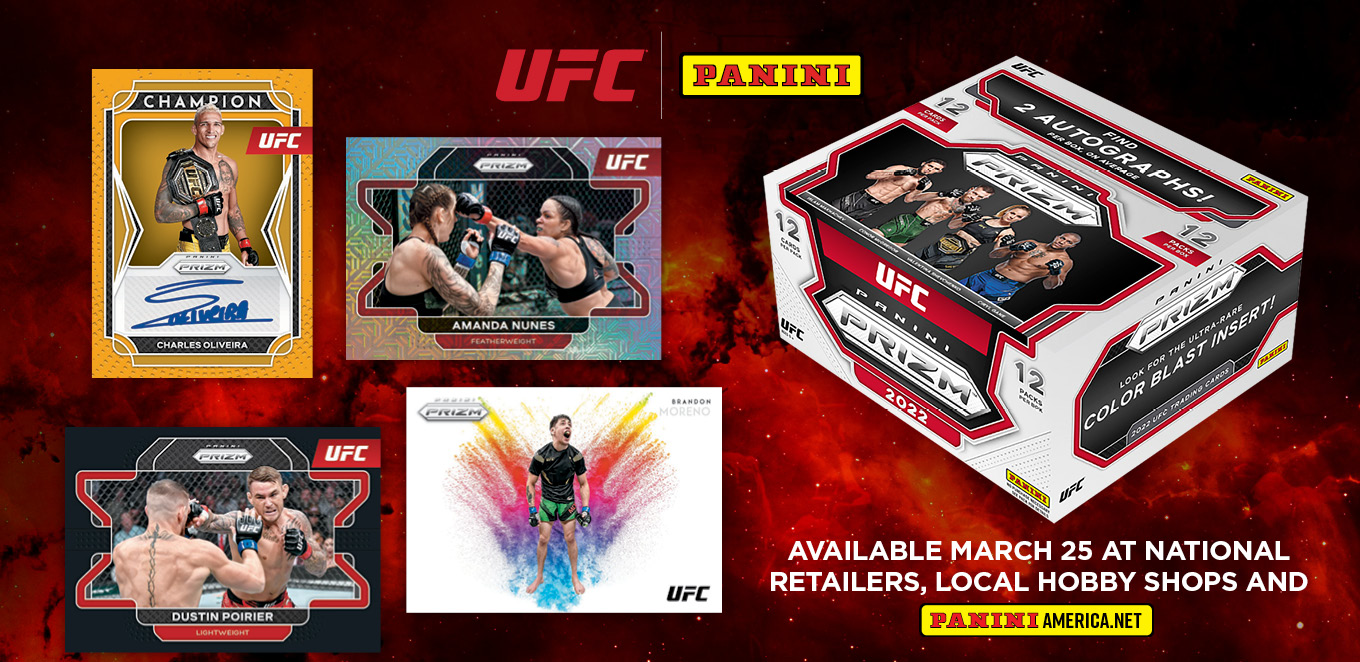 RELEASE DATE: Friday, March 25th at 11am (CST) 
PIS DOCUMENT:  22_PrizmUFC_PIS_Hobby
DETAILS: The waiting is over. The return of Prizm UFC is upon us, and the sophomore release is absolute fire! 2022 Prizm UFC (Hobby) is full of action-packed imagery featuring your favorite fighters, autographs from current athletes and legends of the sport, and features a large roster of rookies appearing on their first officially licensed UFC trading card! Collectors will love hunting for popular SP and SSP parallels including Gold, Orange, Purple, Teal, Blue, Red and more!  See more details below including an extensive gallery of pack-pulled cards.
PRODUCT BREAKDOWN: 
12 cards per pack, 12 packs per box, and 12 boxes per case.
Find 2 autographs and 22 Prizm parallels per box, on average.
Find the popular returning insert set, Champion Signatures, featuring champions of the sport showing off their UFC gold!
Collectors will love the addition of two new insert sets to Prizm UFC: Bonus Machines and Prizm Flashback!
You'll also find new additions to the parallels in this release with Ruby Wave, Hyper and Ice!
*All information is accurate at the time of posting – content is subject to change.
SHOP:  https://www.paniniamerica.net/2022-panini-prizm-ufc-trading-card-box-hobby.html
VISIT: PaniniAmerica.net
Also connect with us on:
Instagram:  https://www.instagram.com/PaniniAmerica/
Facebook:  https://www.facebook.com/PaniniAmerica/
Twitter:  https://twitter.com/PaniniAmerica/