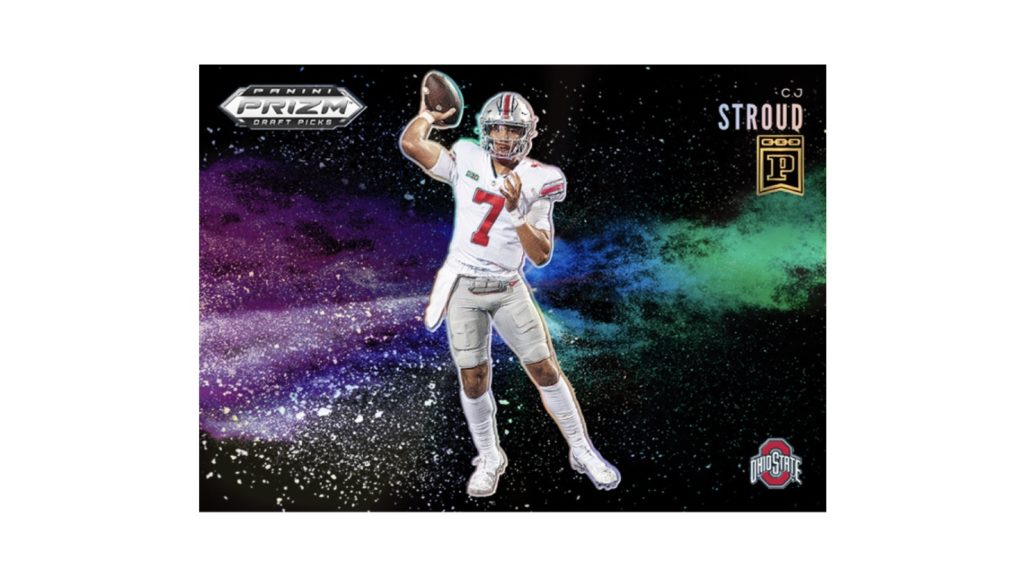 RELEASE DATE:  AVAILABLE NOW!
CHECKLIST:  2022_Panini_NFT_Prizm_Draft_Picks_CFB_Checklist
DETAILS: The 2022 Panini NFT Prizm Draft Picks Collegiate Football packs contain three NFTs per pack. Each pack guarantees: one Base NFT (#'d to 299), either one Base Blue (#'d to 129), Base Red  (#'d to 99) or Base Silver (#'d to 69) NFT, and either one Parallel, Insert or Autograph NFT max numbered to 49.
CHALLENGES: When the program goes live we will have four set challenges available for users to complete. As long as the user has the complete set from each individual level below they will get the reward NFT after 30 days.
Base:  Kenneth Walker
Base Silver:  Garrett Wilson
Base Mojo:  Chris Olave
Base Silver Autographs:  Kenny Pickett
Master Insert Challenge: Black Color Blast – When the program launches we will start a Black Color Blast Master Challenge. This will be a 15-week challenge and users that collect the first 14 weeks and have all the previous rewards will receive a CJ Stroud Black Color Blast Master Challenge Reward NFT.
Rainbow Challenges: Purple Ice, Green Shimmer, Snakeskin – For the Prizm Draft Picks CFB Rainbow challenges. Each week we will have two players challenges go live with the first starting on Tuesday and ending on Thursday, and the second starting on Thursday and ending on Monday.
*All information is accurate at the time of posting – content is subject to change.
SHOP THIS PRODUCT:   CLICK HERE
VISIT: http://www.PaniniAmerica.net
Also connect with us on:
Discord:  https://discord.com/invite/9PUgPHSdxq
Instagram: https://www.instagram.com/PaniniAmerica/
Twitter:  https://twitter.com/PaniniAmerica/
Facebook:  https://www.facebook.com/PaniniAmerica/