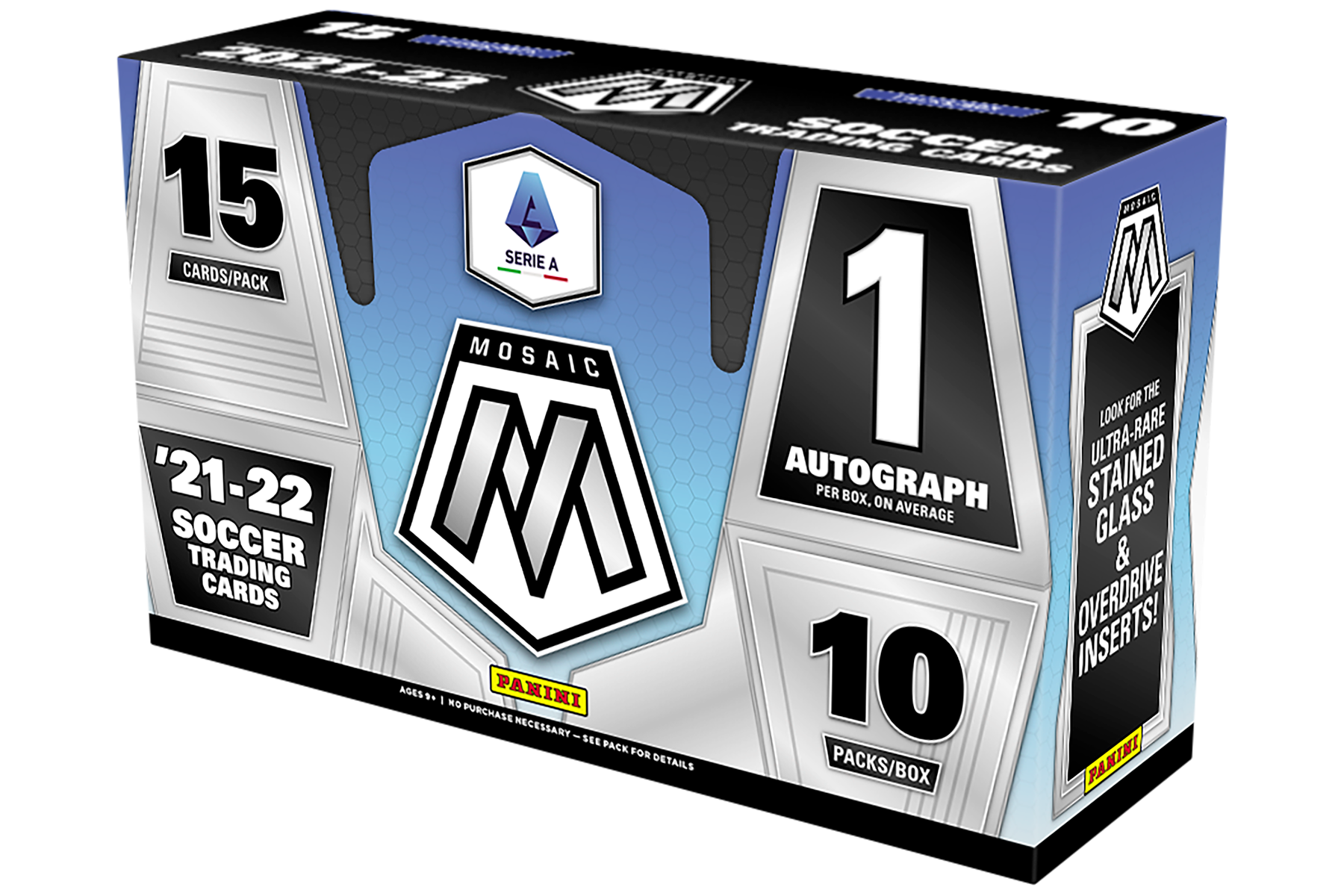 RELEASE DATE:  Friday, June 3rd at 2pm (CST) at the Panini Direct Store
PIS DOCUMENT:   21-22_MosaicSC_PIS_SerieA-Hobby
DETAILS:  The Mosaic brand returns to Serie A for the 2021-22 season with all the latest rookies and blockbuster transfers showcased on beautiful Opti-Chrome.  2021-22 Mosaic Serie A Soccer includes all of the popular Mosaic base parallels the Hobby has come to love, as well as exclusive insert parallels like White (#'d /25) and Gold (#'d /10). Find one autograph per box, on average, featuring signatures from the Serie A's top players and retired greats! Catch more details below including a sneak preview of the product.
PRODUCT BREAKDOWN:
Hobby Boxes of 2021-22 Panini Mosaic Serie A Soccer Trading Cards contain 15 cards per pack and 10 packs per box!
Look for 1 autograph, 5 base silvers, 15 mosaic parallels, and 20 inserts or insert parallels per box, on average!
Collect the 200-card base set featuring players from all 20 Serie A teams!
Collect these Hobby-exclusive parallels:

Mosaic Red
Mosaic Blue (#'d /99)
Mosaic Purple (#'d /49)
Mosaic Pink (#'d /25)
Mosaic Gold (#'d /10)
Mosaic Black (#'d 1/1)

Plus four exclusive Insert parallels:

Mosaic
Mosaic White (#'d /25)
Mosaic Gold (#'d /10)
Mosaic Black (#'d 1/1)

Also look for two Hobby-exclusive autograph parallels:

Mosaic Gold (Max #'d /10)
Mosaic Black (Max #'d 1/1)

Find top footballers in three Hobby-exclusive insert sets including International Men of Mastery, Pitch Masters and Montage.
Collect authentic autographed cards from current and retired footballers in Serie A Scripts Mosaic and Serie A Autographs Mosaic.
Look for 2 different Hobby-exclusive case hit inserts – Stained Glass and Overdrive – featuring some of the best Serie A players from past and present.
*All information is accurate at the time of posting – content is subject to change.
SHOP THIS PRODUCT:   https://www.paniniamerica.net/cards/trading-cards/soccer.html
VISIT: http://www.PaniniAmerica.net
Also connect with us on:
Discord:  https://discord.com/invite/9PUgPHSdxq
Instagram: https://www.instagram.com/PaniniAmerica/
Twitter:  https://twitter.com/PaniniAmerica/
Facebook:  https://www.facebook.com/PaniniAmerica/