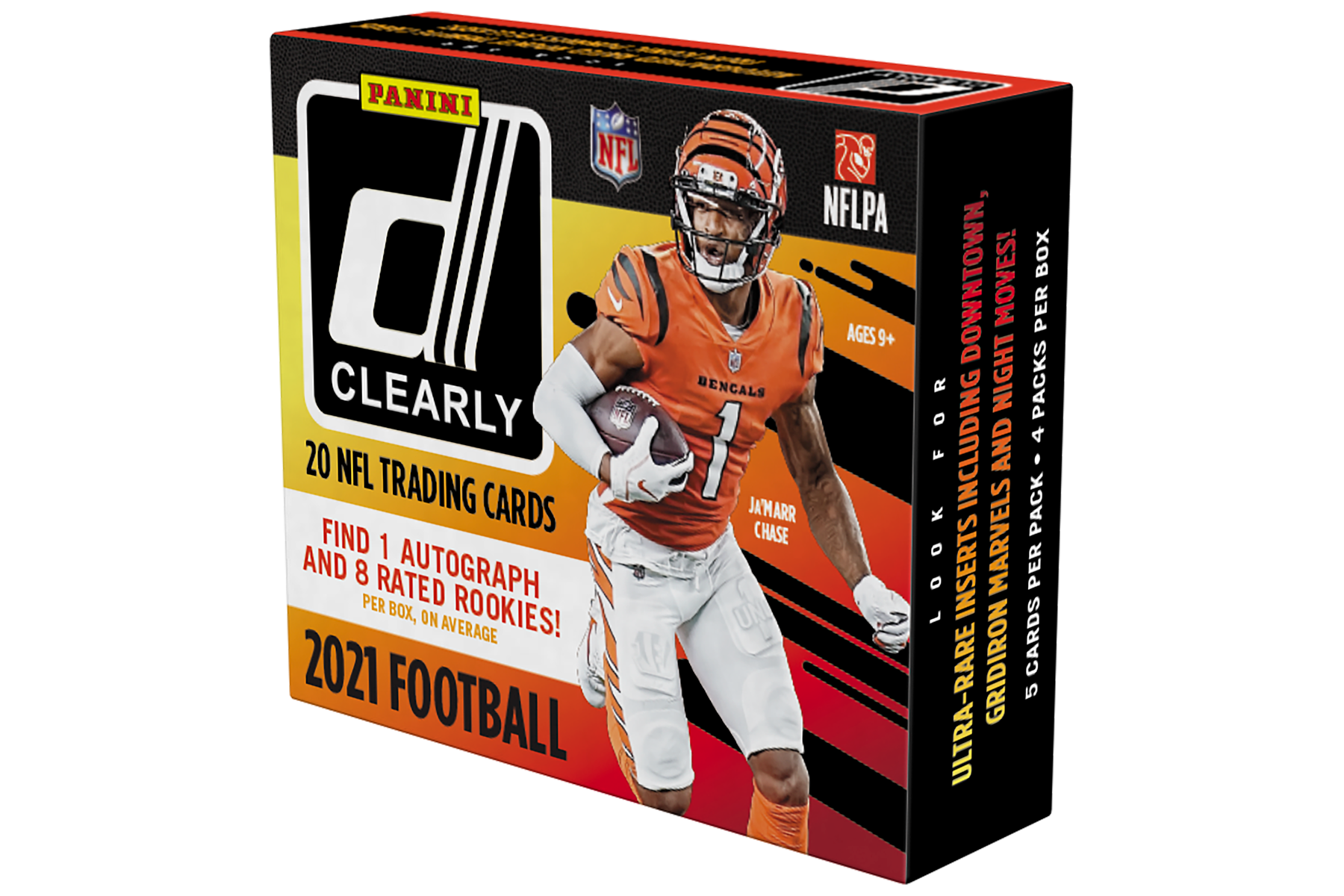 RELEASE DATE:  Friday, April 1st at 11am (CST) via the Panini Direct Store
PIS DOCUMENT:   See Image Gallery Below
DETAILS:  "Clearly" one of the most creative releases of the year, Clearly Donruss Football is back with its translucent take on the traditional Donruss Football set.  2021 Clearly Donruss Football is loaded with all acetate autographs, parallels and inserts from the best of this year's stellar NFL rookie class! See more details below including an extensive gallery of pack-pulled cards from the set.
PRODUCT BREAKDOWN: 
Each Clearly Donruss Hobby Box contains 5 cards per pack and 4 packs per box! Look for 1 autograph, 1 insert, 2 parallels, 8 rated rookies, and 8 base cards per box, on average!
Collectors will love the Clearly Rated Rookie Autographs from Trevor Lawrence, Trey Lance, Justin Fields, Mac Jones and many more!
Search for fan-favorite inserts and their autograph parallels in Clearly My House!, Clearly The Rookies, Clearly Out of this World and Clearly Dominant!
Chase Rated Rookie tribute cards that feature acetate recreations from some of the most iconic rookies in the NFL's recent history, including stars such as Peyton Manning, Kyler Murray, Aaron Rodgers and many more!
Hunt for case hit acetate inserts in Gridiron Marvels, Night Moves and Downtown and their 1/1 Holo Platinum parallels.
*All information is accurate at the time of posting – content is subject to change.
SHOP:  https://www.paniniamerica.net/2021-panini-clearly-donruss-nfl-trading-card-box-hobby.html
VISIT: http://www.PaniniAmerica.net
Also connect with us on:
Instagram: https://www.instagram.com/PaniniAmerica/
Facebook: https://www.facebook.com/PaniniAmerica/
Twitter: https://twitter.com/PaniniAmerica/