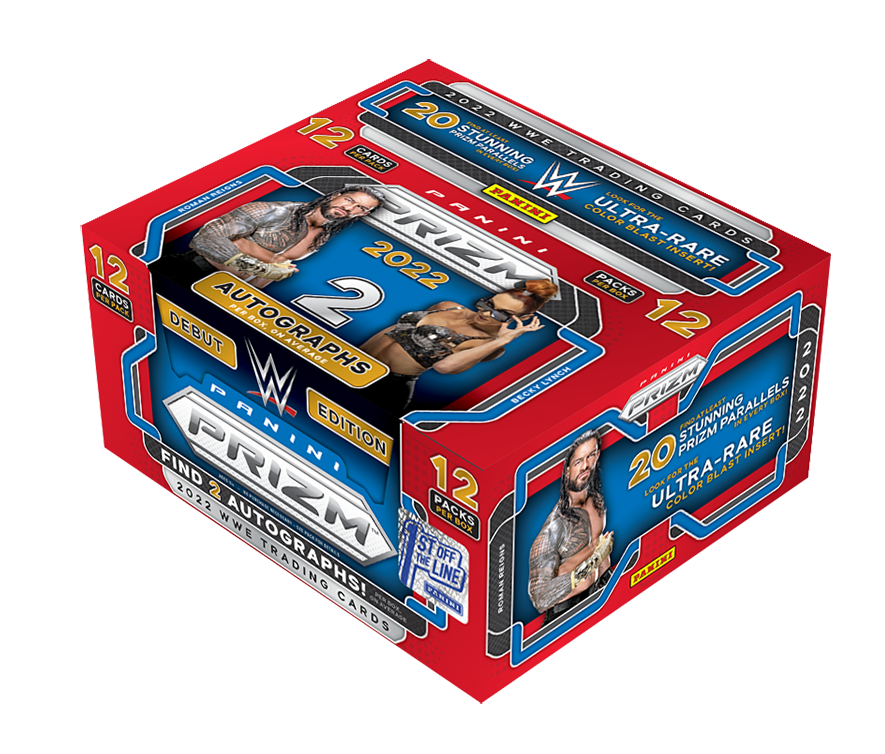 RELEASE DATE:  Thursday, March 31st at 11am (CST) via Dutch Auction
PIS DOCUMENT:  22_PrizmWWE_PIS_HobbyFOTL
DETAILS:  Panini America is extremely excited to go live with our first official WWE release – with 2022 Prizm WWE (First Off the Line)! You'll find your favorite WWE wrestlers in this product, including rare parallels, inserts and autographs from current stars and legends of the sport! The First Off the Line 2022  Prizm WWE Boxes contain 12 cards per pack, 12 packs per box, and 12 boxes per case! Look for 2 Autographs, 22 Prizm Parallels and 2 Bonus FOTL Prizm Parallels per box, on average! See more details below including a sneak preview of some FOTL exclusives.
PRODUCT BREAKDOWN: 
Panini makes its WWE debut with the iconic Prizm brand!
Hunt for stunning Mojo (#'d/25), Gold (#'d/10) and Black (one of one) Prizm parallels!
Find dual autographs that feature a pair of classic opponents in Iconic Rivals Dual Autographs!
Look for autographs from some of WWE's greatest past and present titlists in Champion Signatures!
Chase down the ultra-rare Color Blast insert!
*All information is accurate at the time of posting – content is subject to change.
SHOP:  https://www.paniniamerica.net/cards/trading-cards/1st-off-the-line.html
VISIT: http://www.PaniniAmerica.net
Also connect with us on:
Instagram: https://www.instagram.com/PaniniAmerica/
Facebook: https://www.facebook.com/PaniniAmerica/
Twitter: https://twitter.com/PaniniAmerica/