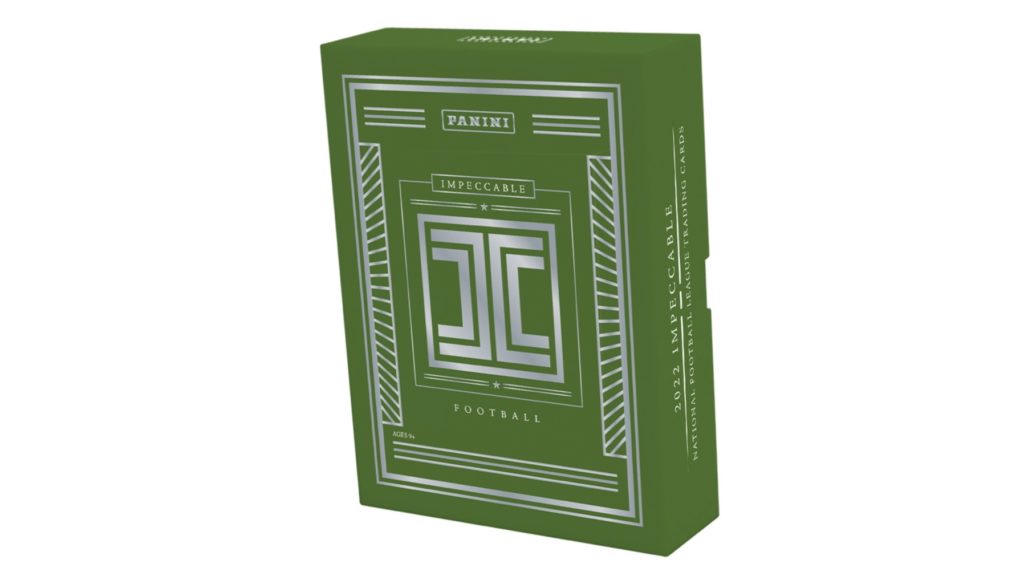 RELEASE DATE:  Wednesday, January 18th at 10am (CST) at the Panini Direct Store
PIS DOCUMENT:  22ImpeccableFB_PIS_Hobby
CHECKLIST:  2022 Panini Impeccable (Football) Public Checklist
DETAILS:  One of the most highly-anticipated NFL releases of the year, the Impeccable brand is back with 2022 Impeccable Football! Look for brand new insert sets, and even more Hall of Fame autographs than past years! Impeccable Football is a program that offers something for every collector. Catch more details below, as well as a substantial sneak preview of the product.
PRODUCT BREAKDOWN:
Hobby boxes of 2022 Panini Impeccable NFL Trading Cards contain eight cards per pack and one pack per box!
Look for five to six autographs and two to three base or parallels per box, on average!
New in 2022, look for Impeccable HOF Autographs, Immortal Ink, Impeccable Stars Signatures, and Illustrious Ink!
Collect additional rookie content in Rookie Patch Autographs, Rookie Landscape, and new in 2022 – Elegance Rookie Helmet and Cleat Autographs!
Chase a short print of multi-signed cards with Inkpeccable Duals, Trios, and Quads, max numbered to 25 or less!
*All information is accurate at the time of posting – content is subject to change.
SHOP THIS PRODUCT:   CLICK HERE
VISIT: http://www.PaniniAmerica.net
Also connect with us on:
Discord:  https://discord.com/invite/9PUgPHSdxq
Instagram: https://www.instagram.com/PaniniAmerica/
Twitter:  https://twitter.com/PaniniAmerica/
Facebook:  https://www.facebook.com/PaniniAmerica/