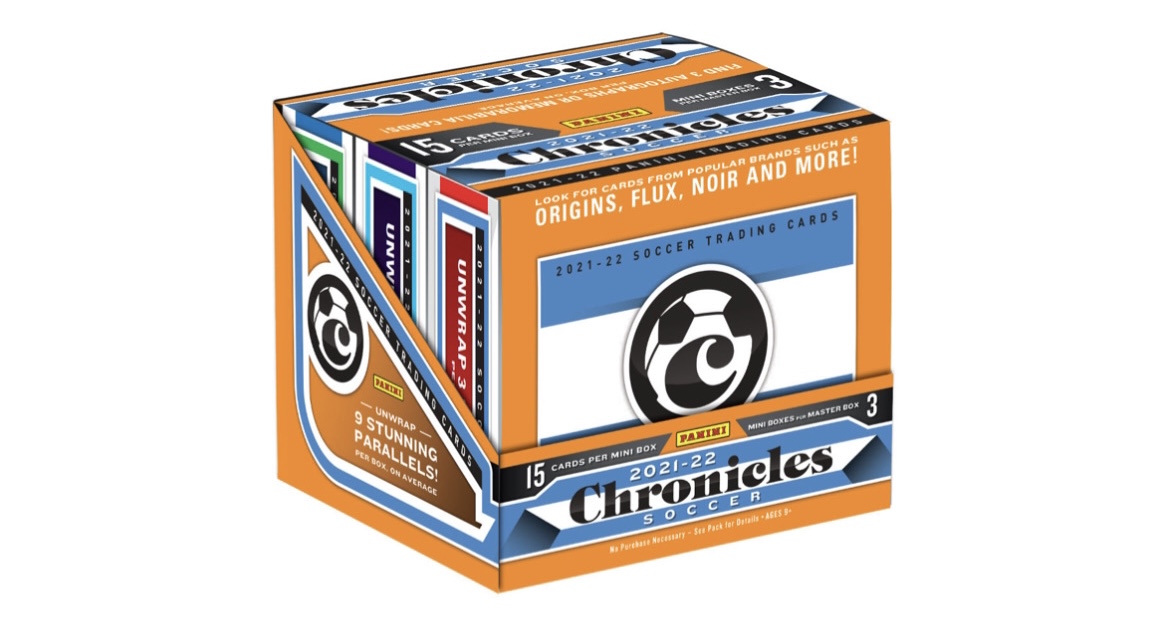 RELEASE DATE:  Wednesday, June 29th at 1pm (CST) at the Panini Direct Store
PIS DOCUMENT:  
DETAILS: Chronicles Soccer returns for the 2021-22 Season with more than 15 Panini brands combined into one release! Collect cards from all 20 Serie A, LaLiga, and Premier League teams from popular brands such as Prizm, Origins, and Spectra! Catch more details below including a sneak preview of the product.
PLEASE NOTE:  Our Product Development Team caught a manufacturing error in the Serie A portion of the release, during our quality control check. This program was supposed to include an unnumbered Silver parallel of all the opti-chrome inserts, but unfortunately they were printed as a Blue parallel.  This means that just for Serie A, there is a Blue opti-chrome holo parallel that is unnumbered to go along with the traditional Blue opti-chrome holo parallel that is numbered to 49.  Below, the card on the right (Tammy Abraham) is an example of the unintentional Blue parallel.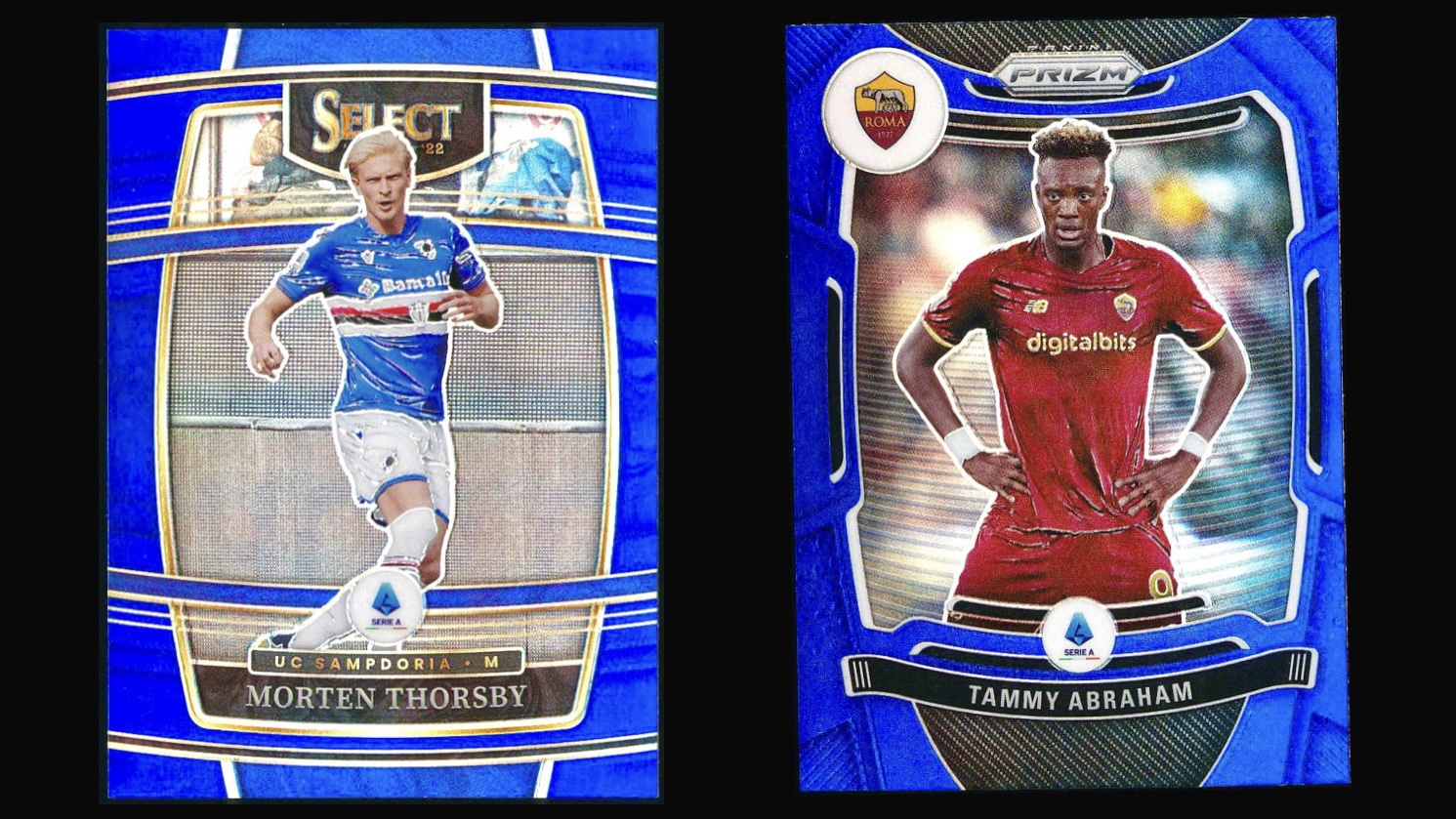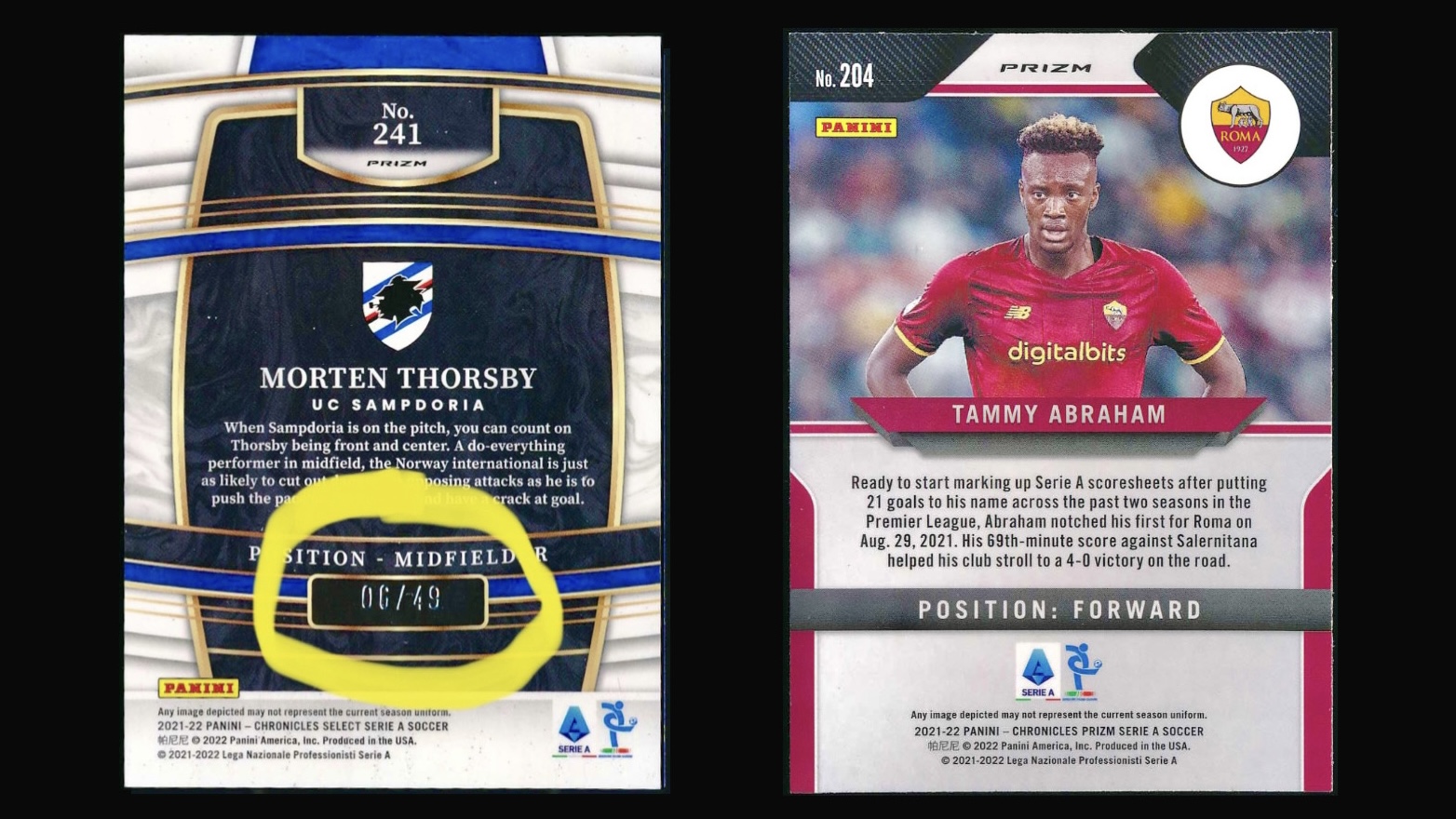 PRODUCT BREAKDOWN:
Hobby Boxes of 2021-22 Panini Chronicles Soccer Trading Cards contain 15 cards per mini box and 3 mini boxes per master box!
Look for 3 autographs or memorabilia cards, and 9 parallels per master box, on average!
Look for numerous parallels of each brand in 2021-22 Chronicles Soccer including one-of-ones and memorabilia parallels.
Unwrap 3 Autograph or Memorabilia cards per box. Look for signers from the past and present of the Serie A, LaLiga, and Premier League in Inserts such as Noir Spotlight Signatures and Contenders Autographs.
Hunt for two different Autograph + Memorabilia Inserts in Silhouettes from Crown Royal and the eponymous Cornerstones!
*All information is accurate at the time of posting – content is subject to change.
SHOP THIS PRODUCT:  https://www.paniniamerica.net/cards/trading-cards/soccer.html
VISIT: http://www.PaniniAmerica.net
Also connect with us on:
Discord:  https://discord.com/invite/9PUgPHSdxq
Instagram: https://www.instagram.com/PaniniAmerica/
Twitter:  https://twitter.com/PaniniAmerica/
Facebook:  https://www.facebook.com/PaniniAmerica/