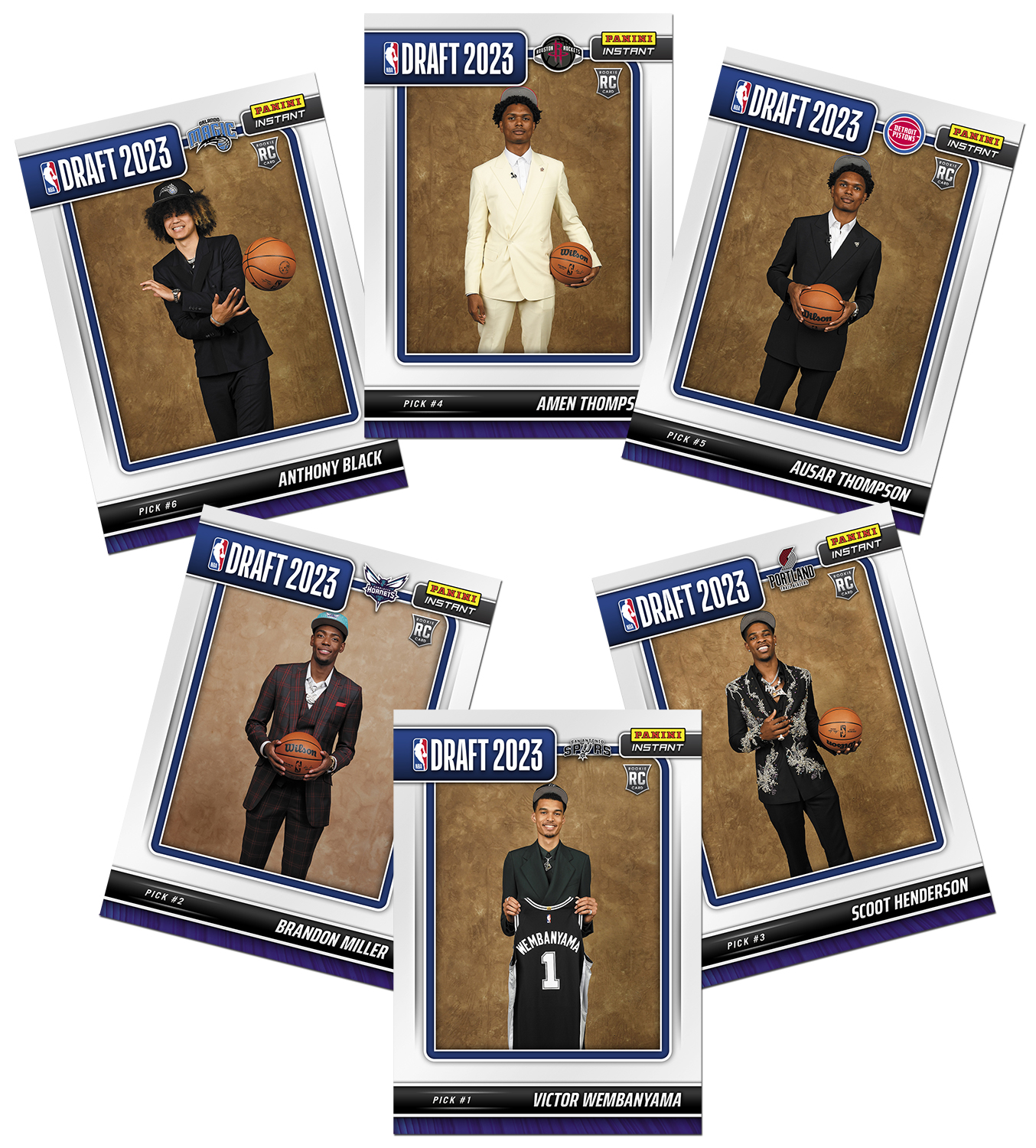 It's hard to be patient, especially when you're a patient. Time moves slowest in the waiting room of the doctor's office that you don't want to be in. Luckily for card collectors, Panini America ripped off the band-aid and kicked off the 2023-24 NBA calendar with a strong pulse.
The first officially licensed set featuring the game's young hotshots, NBA Instant Draft Night features pictures of prospects either in their draft-night suit or their new team's jersey. The 33-card base set (numbered to the amount sold), is headlined by the first-overall selection, Victor Wembanyama, who has all the vitals needed to turn into a superstar.
While San Antonio supporters may enjoy his debut card the most, fans of the other 29 teams have to recognize the importance of the Frenchman's initial card.
The fun doesn't stop there. Be sure to do a thorough check-up on the rest of the player list, which cuts as deep as a scalpel. Brandon Miller, Scoot Henderson and the Thompson twins, Amen and Ausar, all bring their smiling faces and sleek suits to print.
Speaking of smiling, that's exactly what collectors will be doing when they get their hands (and protective cases) on this set's parallels. Here are the vitals: This NBA Instant set includes limited designs such as red (numbered to 25), versicolor (to five) and black (1-of-1).
The red parallel looks especially nice on Gradey Dick's card. The stylish swingman turned heads at the draft with a sparkly suit that was inspired by the ruby slippers from "The Wizard of Oz." He pairs that look with a red Raptors hat in his draft-night card. Other sharp dressers included in the set are Jordan Hawkins, who impressed with a bow tie, and Keyonte George, who paired silver with maroon in a sleek suit.
Are you ready, @utahjazz fans?! 👀🎵

With the 16th pick in the draft, Utah selects Keyonte George! #TakeNote

We are truly excited to welcome Keyonte to the Panini family! #PaniniNFT #ratedrookie https://t.co/c09Vhq99w9 pic.twitter.com/0V0YJSmObY

— Panini America (@PaniniAmerica) June 23, 2023
Going back to the patience part, one collector showed none of it when jumping on the Wembanyama 1-of-1. The one-of-a-kind card was sold via Dutch auction and went off the market at $10,000.  That news might be a tough pill to swallow for some, but don't fret just yet.
At the time of writing, there are still black 1-of-1s available of several other players, as well as a collection of reds and versicolors. If you had your eye on a handful of prospects, you can give yourself a prescription for the entire base set, which gives you all 33 cards.
While high in quality, these are limited in quantity. Consider this your doctor's note that tells you to act fast and head to Panini America's online store before it's too late.
Make sure to schedule a follow-up appointment as well. Just around the corner is the RPS First Look Instant cards that will give those impatient collectors another chance to grab their favorite youngsters.