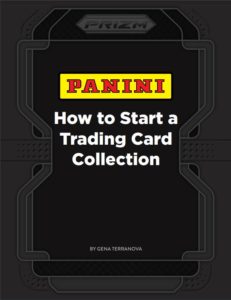 Either you're new to trading cards or returning after years away from collecting, this can be a large and overwhelming hobby to dive into.
Collecting trading cards has been a pastime for over a century and the growth into a nostalgic and historic industry with so many terms being thrown around, it can be hard to figure out where to start!
In our whitepaper "How to Start a Trading Card Collection" our industry experts break down every aspect of starting and researching trading cards to add to your collection.
A sneak peak of the whitepaper includes:
Determining which sport cards you'd like to collect. This can include league, players, teams, etc.
How much time and what type of collections are best for you
Where to purchase trading cards (online, local, nationally, secondary)
Budgets
Storage of your collection
Additional links:
Trading Cards Glossary
Panini Trading Card Supplies White Paper
Trading Cards Coming Soon
Panini Product Checklist