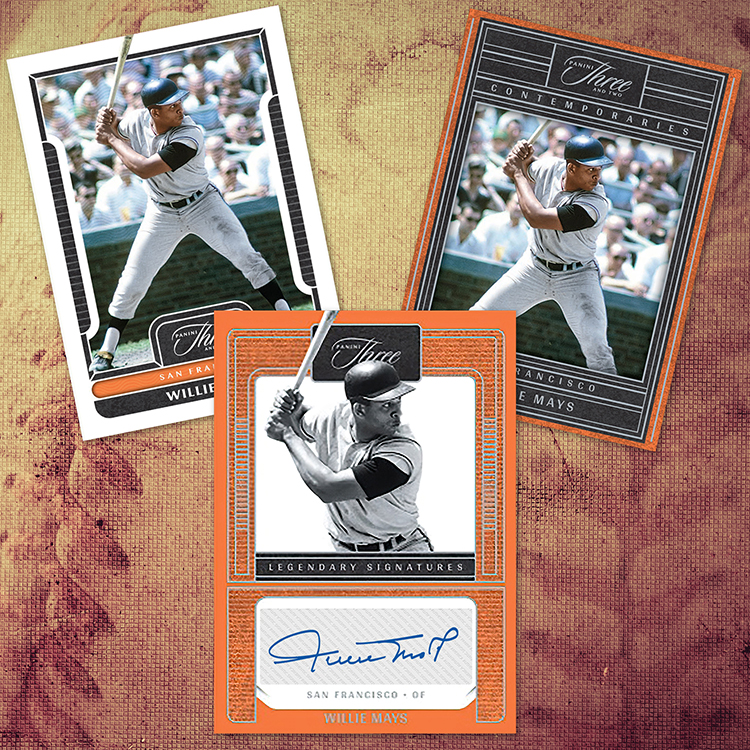 For the first time ever, one of the greatest baseball players of all time will finally be included on a Panini America product checklist. Indeed, the legendary Willie Mays has arrived — and he promises to make a "Giant" impact in the Friday-releasing 2023 Three & Two Baseball.
The Say Hey Kid's historic first appearance in a Panini America product will include standard cards (a base card and the Contemporaries insert), autograph cards (Legendary Signatures), autograph memorabilia cards (Hall of Fame Signature Swatches) and memorabilia cards (Jumbo Swatches). Mays' long-awaited return is part of a new multiyear agreement that will see Mays included across all Panini America baseball releases.
"Willie Mays is an absolute icon and we are absolutely thrilled to be working with him to bolster our baseball products," said Jim Stefano, Panini America's Vice President of Product Development. "Mays is one of those rare transcendent players whose mere presence in our products makes them immeasurably stronger. We can't wait for fans and collectors to see what we have in store."
A first-ballot Hall of Famer in 1979, Mays finished his legendary career with a .302 lifetime batting average, 660 home runs, 1,903 RBI, 3,283 hits, and 338 stolen bases.