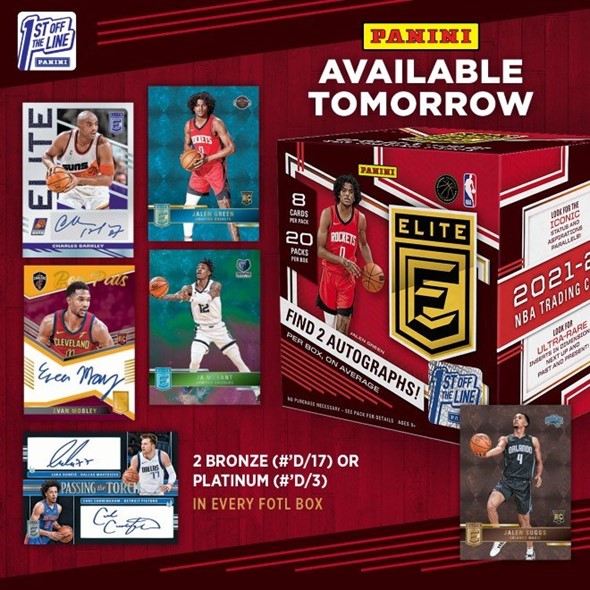 Release Date: TOMORROW! (02/08/2022) 
When It Starts:

 

February 8th 2022 @ 11AM (CST)

How It Works:

Set Up an account at www.paniniamerica.net (login is required).

Opening Price Starts at $700.

Price Drops every 5 minutes until product sells out.

Buy at any time.  

Customers will pay the price that is active when product is added to cart.

*All Sales are Final.*

 

 *Limited to 12 boxes per transaction.*
*Cases hold 12 boxes per case. Product will ship in the case form for orders containing all 12 boxes. Orders will not be combined.*

Find 2 Exclusive FOTL Parallels in each First Off the Line Box! FOTL Boxes are the only place to find Bronze (#'d/17) and Platinum (#'d/3) Parallels!

2021-22 Donruss Elite Basketball makes its return to the hardwood with a loaded lineup of Insert and Parallel content, along with a strong selection of autographs!

Chase the popular Status and Aspirations Die-Cut Parallels in Donruss Elite this year! Also look for the brand new one-of-a-kind Base Elite parallel!

Search for the historic Passing the Torch Signatures set! Look for a variety of autograph combinations pairing all-time greats and up-and-coming superstars!

Chase the brand new Super-Short Printed Lenticular cards in the following sets: Dimensions, Next Up and Past and Present! These ultra-rare inserts will be hard to miss!
All information is accurate at the time of posting – content is subject to change and approval. Card images are solely for the purpose of design display. Actual images used on cards to be determined.
Also connect with us on:
Instagram: https://www.instagram.com/PaniniAmerica/
Facebook: https://www.facebook.com/PaniniAmerica/
Twitter: https://twitter.com/PaniniAmerica/
LinkedIn: https://www.linkedin.com/company/panini-america