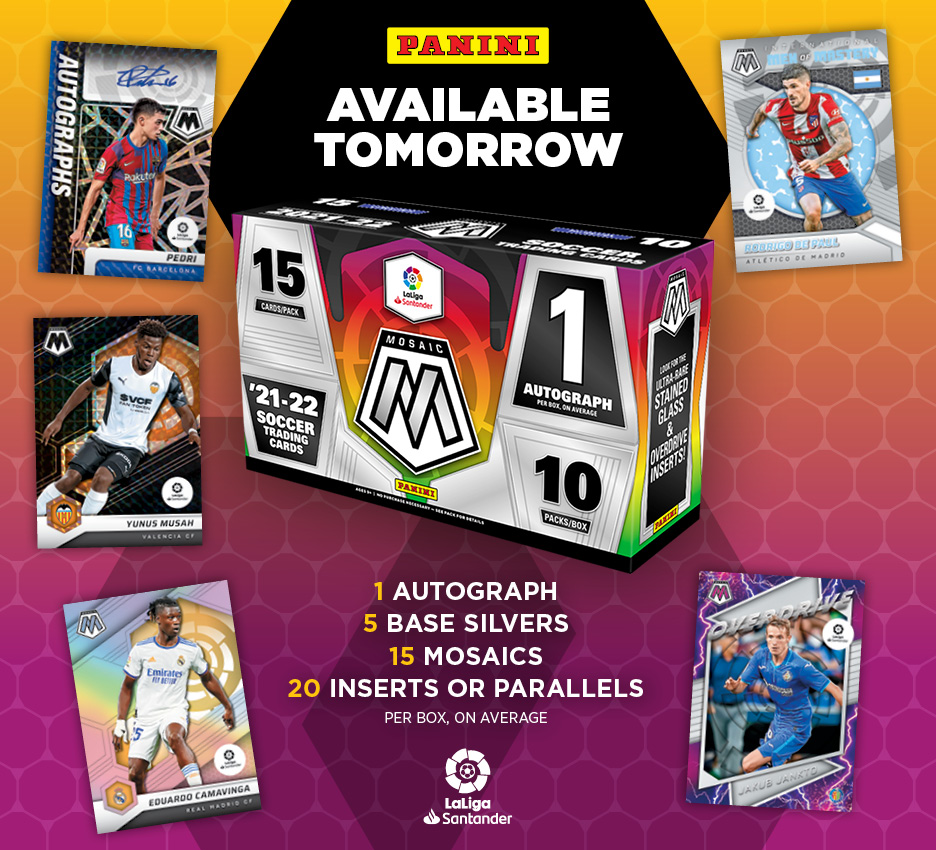 RELEASE DATE:  Wednesday, May 4th at 1pm (CST) via the Panini Direct Store
PIS DOCUMENT:  21-22_MosaicSC_PIS_La_Liga_Hobby
DETAILS:  GOOOOOOOAL!!!!!! Soccer collectors score big time tomorrow with the release of 2021-22 Mosaic LaLiga Soccer (Hobby). These cards are absolutely beautiful including a wide variety of low-numbered parallels, autos and the ultra popular SSP Stained Glass insert set. We're kicking May off right with Mosaic Soccer. Collect and enjoy! Catch more details below including a gallery of card scans from a new release.
PRODUCT BREAKDOWN:
The Mosaic brand returns to LaLiga for the 2021-22 season with all the latest rookies and blockbuster transfers showcased on beautiful Opti-Chrome.
2021-22 Panini Mosaic LaLiga Soccer Hobby Boxes contain 15 cards per pack and 10 packs per box!
Look for 1 autograph, 5 base silvers, 15 mosaic parallels, and 20 inserts or insert parallels per box, on average!
Collect all 200 base cards, featuring players from all 20 laLiga teams!
Look for these Hobby-exclusive parallels: Mosaic Red, Mosaic Blue (#'d/99), Mosaic Purple (#'d/49), Mosaic Pink (#'d/25), Mosaic Gold (#'d/10), and Mosaic Black (#'d/1). Plus four exclusive Insert parallels: Mosaic,
Mosaic White (#'d/25), Mosaic Gold (#'d/10) and Mosaic Black (#'d/1).
Collectors will find top footballers in three Hobby-exclusive insert sets including International Men of Mastery, Pitch Masters, and Montage.
Collect authentic autographed cards from current and retired footballers in LaLiga Scripts Mosaic and LaLiga Autographs Mosaic. Also look for two Hobby-exclusive autograph parallels: Mosaic Gold (#'d/10) and Mosaic Black ( #'d/1).
Look for 2 different Hobby-exclusive case hit inserts – Stained Glass and Overdrive – featuring some of the best LaLiga players from past and present.
*All information is accurate at the time of posting – content is subject to change.
SHOP:  https://www.paniniamerica.net/2021-22-mosaic-laliga-soccer-trading-card-box-hobby.html
VISIT: http://www.PaniniAmerica.net
Also connect with us on:
Instagram: https://www.instagram.com/PaniniAmerica/
Facebook:  https://www.facebook.com/PaniniAmerica/
Twitter:  https://twitter.com/PaniniAmerica/
LinkedIn:  https://www.linkedin.com/company/panini-america