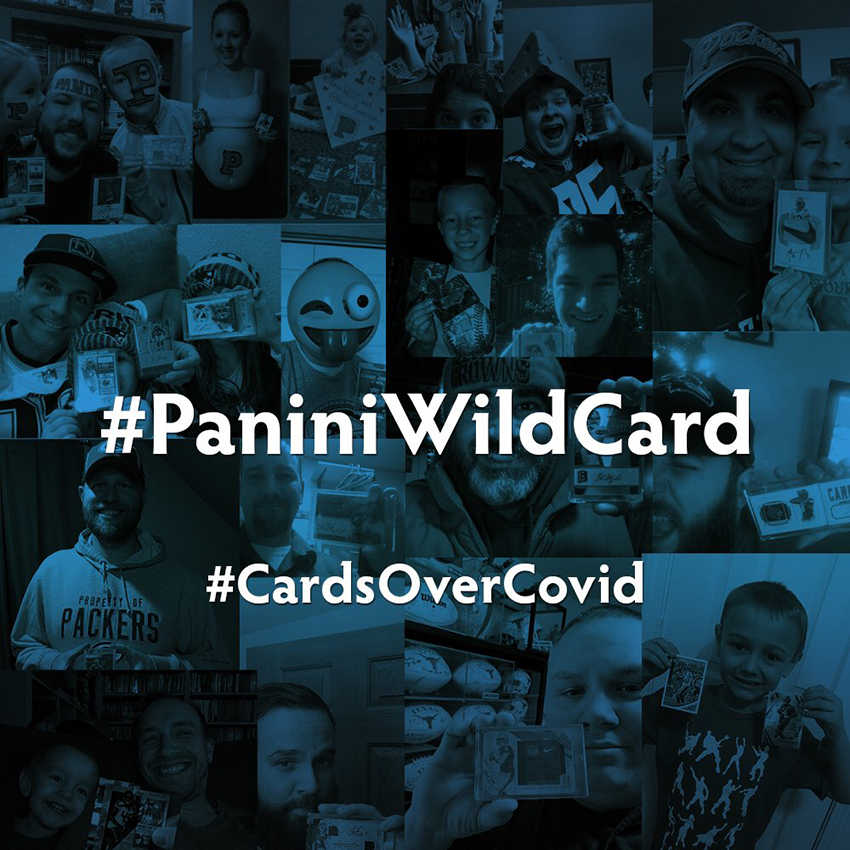 As folks around the world continue navigating these unchartered waters caused by the Coronavirus pandemic, it has become more important than ever to seek the solace of your diversionary pursuits. For fans and collectors of Panini America, that means leaning like never before on the myriad joys of sports cards. So whether you're sheltering in place, working from home or partaking in school work from the cozy confines of your living room, we've come up with a few surefire ways to help you cope during the most surreal spring season we've ever seen.
#PaniniWildCard Presents the #CardsOverCovid Edition
Introduced last Friday, Panini America ushered in the triumphant return of its popular#PaniniWildCard Twitter contest with a special and ongoing #CardsOverCovid edition. Panini America officials are giving away one box of trading cards a day to lucky collectors who post a pic of themselves with the Panini America card or cards that take their minds off of the coronavirus mess. To no surprise, the Panini America Twitterverse has responded magnificently by producing some of the most entertaining and fun social media content you'll find anywhere.
The #PaniniWildCard #CardsOverCovid contest will continue for at least the next few weeks so collectors are encouraged to continue participating and having fun in the process. All entries remain eligible but it won't hurt to retweet your entries if you submitted an entry early.
There's an App For That
Turn to the Panini Digital Trading Card Apps, NFL Blitz and NBA Dunk for some great at-home activity and collecting. Going on now, and launching over the course of the week, in addition to weekly releases of new card sets, the Panini trading card apps will be introducing some great content, challenges and tweaking our feature sets for a more at-home lifestyle.
Every day this week (ending today) Blitz and Dunk are giving away FREE customer appreciation boxes. This box contains five packs with 10 cards in it, and features a variety of brands from the last few years including Plates & Patches, Luminance, Classics and more. Don't worry if you miss a day, your box will stick around until you have time to open it. We hope to provide a bit of distraction and fun while we're all spending a bit less time together.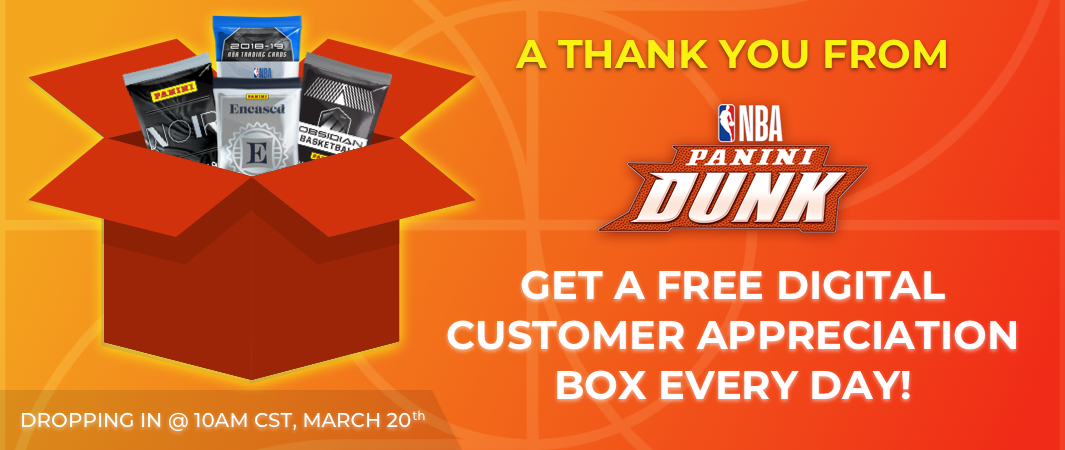 In addition, check into the apps for:
Trivia Streak – One question a day for five days. If you answer five correct in a row you will win coins and cards. Look out for our push notifications for when this kicks off.
FOTL boxes – We are giving newer fans an opportunity to get their hands on some of the exclusive digital 1st Off The Line cards. Look out for announcements on when these hit the store . . . they are sure to go fast.
Pack Battle Competition – Coming back soon to the app is our popular Pack Battle Tournaments. We are going to set up weekly leaderboards and give away prizes to users based on their rank at the end.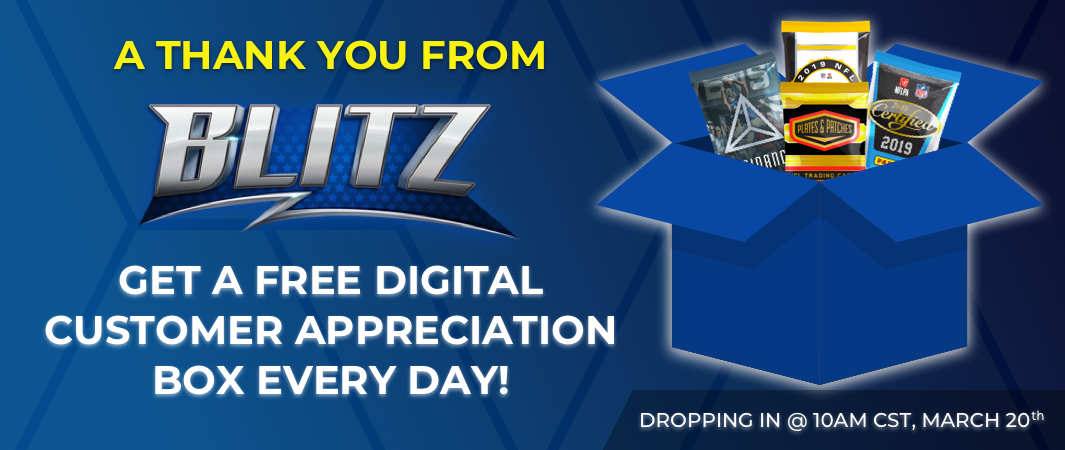 A Casebreak-By-Casebreak Basis
For collectors who've rarely or never participated in an online case break, there literally has never been a more suitable time to try it. The casebreaking phenomenon that began several years ago has evolved into a bona fide, vibrant shopping option for collectors of all types. In short, it allows collectors from around the world to participate in breaking from anywhere in the world with internet access and a computer. It is a way to collect that is virtually tailor-made to thrive during times of . . . say . . . when you can't leave your home but long for a community connection. Our friends at Beckett previously published an extensive list of notable breakers. It's not comprehensive but it does provide a compelling starting point for research if you're looking to get in on a casebreak or two (or 10) while waiting out the coronavirus.
Don't Forget Your Local Hobby Shop
Small businesses need your support now more than ever and many local hobby shops are going above and beyond to cater to collectors during this COVID-19 mess. In addition to some small shops offering online breaks for their sheltered-in-place or self-quarantining clientele, others are offering curbside pickup and delivery options. Here's a current list of those shops.
Shop iCollectPanini.com in Your Pajamas
Not to overstate the obvious, but the official online store of Panini America remains open for business and will soon be adding new inventory, including today's releases of 2019 National Treasures Football and 2020 Prizm Draft Picks Football.
More to Come . . .
All of us at Panini America continue to work on ways to make sure our collectors and customers have a viable and fun collecting outlet during the coronavirus pandemic. We're working on some fun solutions right now for younger collectors and will share those with you as soon as they're ready.