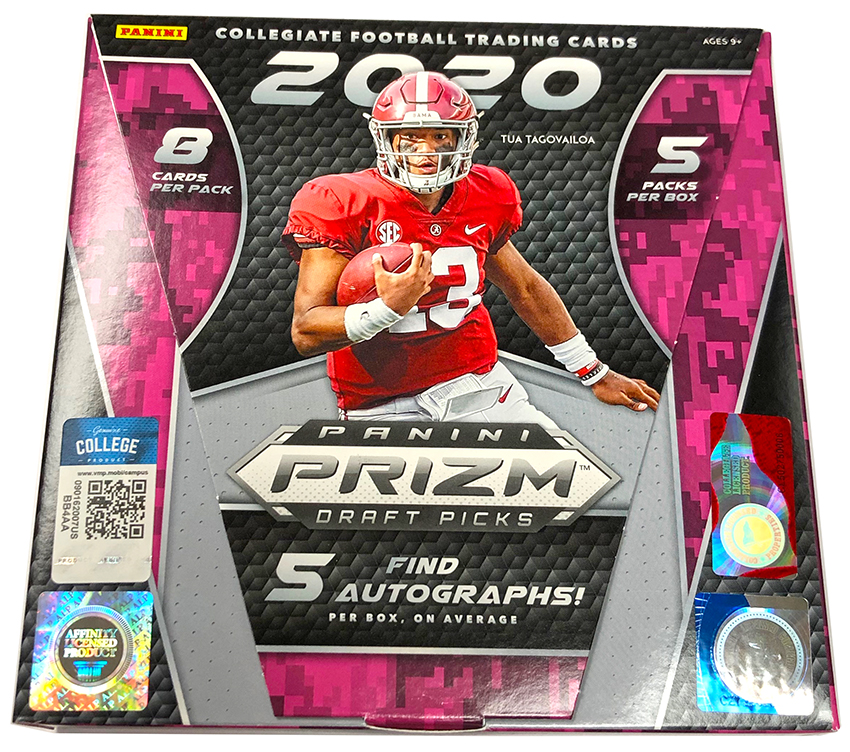 Just when the new-card collecting masses needed something to take their collective mind off the Coronavirus pandemic, Panini America is ready to come through with the Friday releases of 2019 National Treasures Football and 2020 Prizm Draft Picks Football. We offered an extensive preview of NT Football earlier this week. Today, we're focusing our preview attention on the potential-packed juggernaut that is 2020 Prizm Draft Picks Football.
Delivering the first licensed trading cards and autograph cards of the brightest stars of the 2020 NFL Draft Class, 2020 Prizm Draft Picks Football offers a bold introduction to the potent penmanship of Tua Tagovailoa, Joe Burrow, Jordan Love, D'Andre Swift, Jonathan Taylor, Jerry Jeudy and so many more.
On average, each hobby box (eight cards per pack, five packs per box, 16 boxes per case) will deliver five autographs and 10 Prizm parallels. In the scintillating Quality Control Gallery that follows, we offer a deep dive into this year's release. Enjoy the sneak peek and stay tuned for additional coverage.
2020 Prizm Draft Picks Football will be available at the official online store of Panini America beginning Friday at 12 p.m. CST.