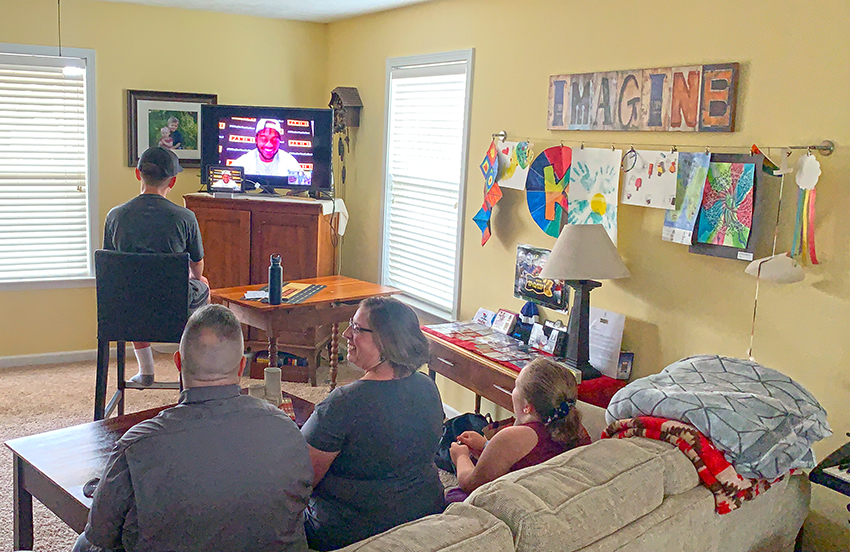 One of the sports card hobby's most iconic spectacles — the Panini NFL Player of the Day grand-prize payoff — took place last Thursday. But due to COVID-19 and new social-distancing guidelines, this year's event was unlike any in the program's proud 20-year history. But what Detroit Lions rookie running back D'Andre Swift couldn't do in person, he more than made up for with a special Zoom appearance to connect with 12-year-old collector Wesley Kowalczyk, from Mason, Mich., this year's winner of the Panini NFL POD national sweepstakes.
Kowalczyk's special day included getting up close and personal with Swift and also adding some spectacular Panini America cards to his already-impressive collection. In lieu of a private party that usually awaits the winner, Kowalczyk and his friends and family participated in a Zoom call with Swift. During the revealing 30-minute call, everyone got to know the personable young Lions running back. The Q&A allowed the Lions fan to learn more about Swift than what they see on the field including his favorite players growing up, his best friends on the Lions, the opponents he looks forward to playing against and even his favorite cartoon ("Tom and Jerry"). After the call, Swift signed memorabilia for each participant.
When Kowalczyk hung up from the call, the fun was not nearly done as Rick Mettert, the owner of Extra Innings — Kowalczyk's local hobby shop — represented Panini America by awarding the winner with several boxes of Panini cards including 2019 Flawless Football and 2019 National Treasures Football. Kowalczyk also received a Patrick Mahomes NFL POD autograph card limited to just two copies. Additionally, the next time Kowalczyk visits Extra Innings, he'll get a $250 Panini shopping spree.
"We want to thank D'Andre Swift, for helping us create this special day for Wesley, his family and friends," said Jason Howarth, Panini America Vice President of Marketing. "Obviously, due to COVID-19, it became impossible for us to stage an event like we've done for the past 19 years. But we managed to create an alternative that was exciting and memorable — and we're sure that Wesley and all of his friends and family now have a new favorite Lions player."
Wesley has been an avid football collector since he was 7 years old. He loves playing flag football, basketball, baseball, tennis and biking with his buddies. His favorite NFL teams are the Lions and Steelers. His love of football cards stems from his interest in history and he spends quality time researching players, coaches, teams and the history of the game.
The rising seventh-grader at Mason Middle School was among more than 150,000 NFL card collectors who participated in the 2019 Panini NFL Player of the Day contest at nearly 600 hobby shops last season. His journey began just like that of thousands of other collectors when he uncovered the Panini NFL Player of the Day in a pack of Panini NFL cards. He was then randomly selected as the store's grand prize winner and was entered in the national sweepstakes with winners from the other 600 shops.
The 2019 Panini NFL Player of the Day promotion included more than 600 hobby shops and marked the 19th consecutive year that the NFL Player of the Day program gave an NFL card collector the chance to spend the day with an NFL player. Past players have included: Matt Breida, Patrick Mahomes II, K.J. Wright, Jeremy Langford, Terrence West, Antonio Brown, Prince Amukamara, Beanie Wells, Pierre Thomas, Patrick Crayton, Steve Slaton, AJ Feely, Maurice Jones-Drew, Chris Simms, Rudi Johnson, Donald Driver, Ed McCaffrey, Chad Pennington and Frank Wycheck.
The following gallery details some of the event's highlights. Enjoy.