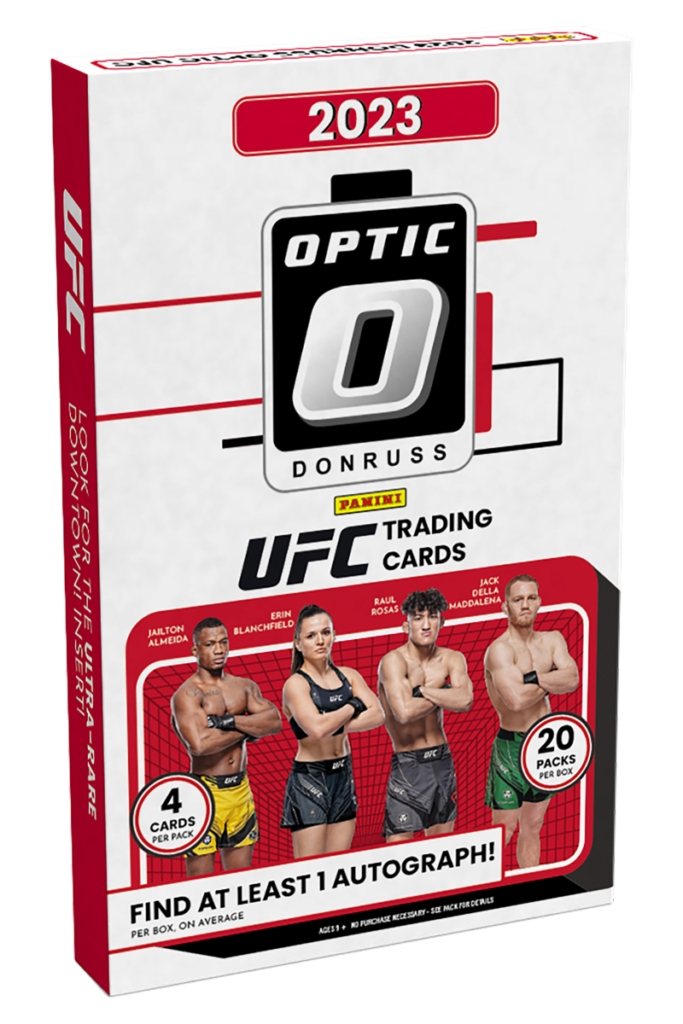 The holiday season is upon us. And here at Panini America, we have the perfect gift for the UFC fan in your life: 2023 Donruss Optic UFC, a collection that brings all the excitement of a night at the fights right to your home.
There's something for everyone in Donruss Optic UFC. Each box comes with at least one autograph card (many boxes have two) and 20 inserts or parallels per box, on average.
Serious collectors will be on the lookout for some of the more popular parallels in this year's program, such as Pink Velocity (#'d/79), Black Velocity (#'d/39), Gold (#'d/10) and Gold Vinyl (#'d/1).
Up-and-coming competitors are the Octagon's lifeblood, and our legendary Rated Rookies series brings you up to date on all the rising stars. Look for a large roster of Rated Rookies in 2023 Donruss Optic UFC, including Bo Nickal, Jailton "Malhadinho" Almeida, Miranda "Fear The" Maverick, Raul Rosas "El Niño Problema," Erin "Cold Blooded" Blanchfield, Caio Borralho, Tatsuro Taira, Muhammad "The Punisher" Mokaev and Jack Della Maddalena. Also featured in Rated Rookies is the latest fighter two hold two UFC titles, current light heavyweight and former middleweight champ Alex "Poatan" Pereira.
The Downtown insert features some of the biggest names in the combat sports world. That includes champions such as Pereira, heavyweight Jon "Bones" Jones and bantamweight titleholder "Sugar" Sean O'Malley, as well as the likes of Nickal and Blanchfield.
A loaded autograph roster is featured in our Opti-Graphs series. It includes the first Panini signed cards of UFC CEO Dana White and the first-ever autographed trading cards of UFC legendary executives Lorenzo Fertitta and Frank Fertitta III.
So don't get caught in a rear-naked choke. Get Donruss Optic UFC today, and you're sure to be a knockout!