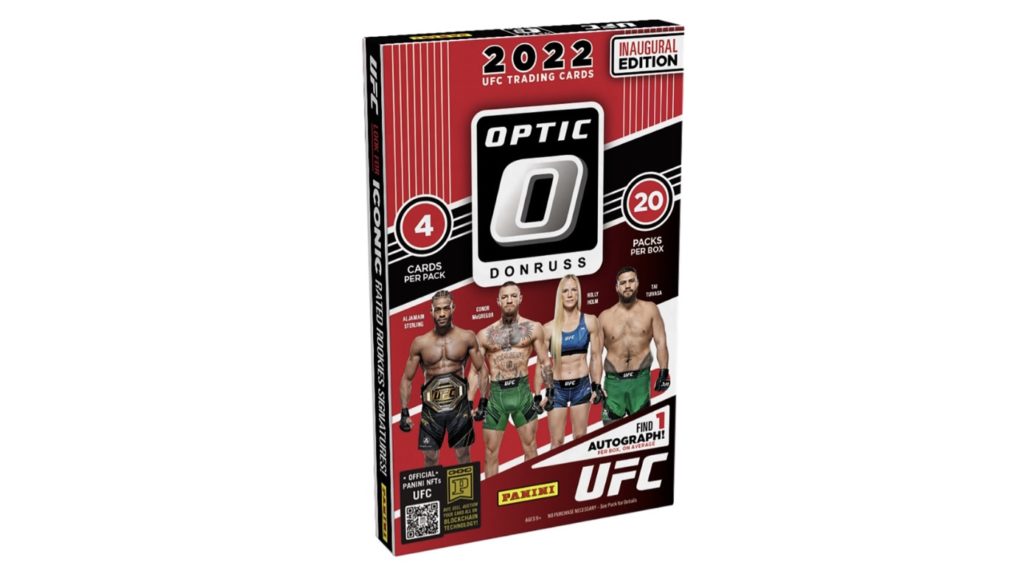 RELEASE DATE:  Wednesday, December 21st at 11am (CST) at the Panini Direct Store
PIS DOCUMENT: 22_DonrussOpticUFC_PIS_Hobby
DETAILS: It's been a few months since we've had a new UFC product launch, but I'm here to tell you – it's going to be worth the wait! 2022 Donruss Optic UFC drops this Wednesday and it is a BANGER!! Collect autographs of your favorite UFC fighters of the past and present. Chase the legendary Gold (/10) and Gold Vinyl (1/1) parallels! And be on the lookout for the Hobby-favorite SSP insert, Downtown!, in this product!   Catch more details below, as well as a sneak preview of the product.
PRODUCT BREAKDOWN:
Donruss Optic UFC debuts with a slew of unique content!
Hobby boxes of 2022 Panini Donruss Optic UFC Trading Cards contain four cards per pack and 20 packs per box!
Look for one autograph and 20 inserts/parallels per box, on average!
Collect a variety of stunning parallels, including Pink Velocity (79 copies each), Black Velocity (39 copies each) and the iconic Gold Vinyl (1/1)!
Pull autographs in Rated Rookies Signatures, Voices of the Octagon Signatures and Opti-Graphs!
Chase the ultra-rare Downtown! insert and Black Pandora parallels!
Celebrate the monikers of UFC's best and brightest fighters in Also Known As!
*All information is accurate at the time of posting – content is subject to change.
SHOP THIS PRODUCT:   CLICK HERE
VISIT: http://www.PaniniAmerica.net
Also connect with us on:
Discord:  https://discord.com/invite/9PUgPHSdxq
Instagram: https://www.instagram.com/PaniniAmerica/
Twitter:  https://twitter.com/PaniniAmerica/
Facebook:  https://www.facebook.com/PaniniAmerica/