Early Access Coming Soon!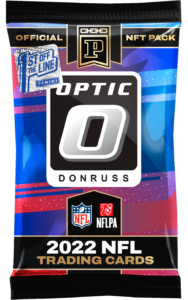 Starting Friday, June 30th at 10AM CT
For the first-time ever, we bring you a direct sale of our limited edition 1st Off The Line pack of the 2022 Panini NFT Donruss Optic Football collection.
The 2022 Panini NFT NFL Donruss Optic FOTL Packs contains 5 cards per pack.
Each FOTL pack will guarantee :
1 FOTL exclusive Black Pandora variation numbered to 20, 

Either an Insert or an Insert Parallel or an Autograph NFT max numbered to 35, 

Either a Base Parallel or a Base Rated Rookie Parallel NFT max numbered to 200, 

1 Base Rated Rookie NFT limited to 425 copies each, and 

1 Base NFT limited to 511 copies each.
The 2022 Panini NFT NFL Donruss Optic Packs contains 4 cards per pack.
Each pack will guarantee:
2 Parallel or Insert or Autograph NFTs limited to 200 copies or less, and 

2 Base or Base Rated Rookie NFTs limited to 511 copies or less.
There will be a chance at up to two 1/1 Gold Vinyls in either of the packs. The FOTL pack will be launched in quantities of less than 10K on Friday, 30th June. The regular pack will be released on the following Friday, 7th July.
A little about the collection:
One of the most anticipated releases of the year 2022 Donruss Optic Football is around the corner!
Optic NFT collection has a 296-card base set. 100 of them fall under the Rated Rookie banner and remaining are veterans. Design-wise, the parallel lineup has lots of color! New in 2022, look for Electricity and Jazz Parallels within the Base and Rated Rookies sets!
Bases have no more than 511 copies each with a rainbow of parallels in the mix:
Holo – #/200

One Hundred – #/100

Blue – #/75

Red – #/49

Black Pandora – #/20

Gold – #/10

Gold Vinyl – 1/1
More colors like Fire, Stars, Pink Velocity, Jazz, Electricity will be introduced in the Rainbow & Crafting challenges.
When it comes to standard inserts, Downtown is among the highlights and continue with the juxtaposition of a star player against a cartoon backdrop of local landmarks and features that give their city flavor. This card set will be available to collect in the Master challenge of this collection.
The following 12 Insert card sets are available to collect in 4 levels : Base (#/35), Black Pandora (#/20), Ice (#/15) & Gold Vinyl (1/1) :
Diamond Hands

Red Hot Rookies

White Hot Rookies

Retro Series

My House!

Legendary Logos

Light it Up

Rising Suns

Dominators

The Rookies

The Elite Series Rookies

Rookie Gridiron Kings
Cards from the following 7 Insert and Autograph card sets will be numbered up to a maximum of 25 each, and they will be available in one level. Look for Rated Rookie autograph NFTs from Kenny Pickett, Malik Willis, Desmond Ridder, Chris Olave, Garrett Wilson and all of the other top rookies from the 2022 Class.
Rookie Dual Autographs

Rookie Triple Autographs

Rated Rookies Holo Variation

Signature Series Holo

Mythical

Rookie Kings

Super Bowl Downtown
NFTs from all of the above 19 sets will be released as part of the 2 packs. The regular pack will be available in quantities of about 60K for sale in the week following the FOTL launch.
💡Pro tip : Regular pack will get you 2 cards max #/511, and 2 cards max #/200 including a chance at 2 1/1s, making it a total of 4 cards per pack. It will be priced at $10 USD each, and will yield any card within the mentioned range of rarities. On the other hand, the FOTL pack will cost $20 USD each, and guarantee 2 short print cards – with one #/20, the second one max #/35 including a chance at a 1/1, then an Insert or Auto card max #/200, including another chance at 1/1, plus 1 uncommon card #/425 and 1 common card #/511.
Set your calendars and gear up to celebrate the legend of the biggest stars from the NFL's past, present and future with the return of a fan-favorite collection 'Donruss Optic'!!
Related Links:
What is a NFT?
Panini Blockchain Marketplace
NFT Resources
Gallery images showcase FOTL Exclusives only.
Note: These will be Blockchain digital-only NFT collection and and there are no physical cards/packs associated with them. All and any details are subject to change at Panini's discretion prior to the actual releases.