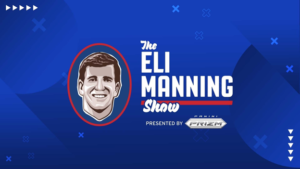 EMMY-AWARD WINNING "THE ELI MANNING SHOW" RETURNS FOR SEASON 3
Season premiere on Giants YouTube channel features hip-hop legend Fat Joe
Following a successful encore, "The Eli Manning Show" has returned for a third season, presented by Prizm Trading Cards, one of Panini America's most popular NFL trading card brands.
The premiere episode of "The Eli Manning Show Season 3" is now streaming on the Giants YouTube Channel and features rap legend Fat Joe, who gives Manning and co-host Shaun O'Hara a tour of his favorite hometown spots in the Bronx. They start at Fat Joe's sneaker shop, UP NYC, where they all get to "Lean Back." Joe tells the guys about growing up in the neighborhood and going through career highs and lows. He then gives them a sneak preview of his yet-to-be-released Terror Squad Nike Air Force One sneaker. Then it's off to Fat Joe's favorite Puerto Rican restaurant to talk about his favorite childhood dishes, his love for basketball, and 90s culture.
.@FatJoe dares Eli to lick a sneaker 😝

Eli's Extras presented by @CoronaUSA #LaVidaMasFina

Watch: https://t.co/mrwMMbF9oY pic.twitter.com/S0CFoOzbR8

— New York Giants (@Giants) June 22, 2023
"We are excited to return as the presenting partner of The Eli Manning Show. Last season with Eli and Shaun was unprecedented with great story telling off-the-field with two Giants greats," said Jason Howarth, SVP of Marketing & Athlete Relations at Panini America. "We are looking forward to seeing Eli's exploits this season and the conversations with great guests."
"The Eli Manning Show," produced in-house by the Giants, is a 12-episode series hosted by the two-time Super Bowl MVP that will now expand to new episodes throughout the year. The show explores the connection between the Giants and celebrity fans, influencers, and athletes. O'Hara, Manning's former center and best friend, will once again serve as co-host.
"The Eli Manning Show has already become the most-watched content series in team history, and we are thrilled to launch season three" said Nilay Shah, Giants SVP of Marketing & Brand Strategy. "With an incredible lineup of guests already confirmed, and with two great partners, we expect this show to reach new heights this season."
The Giants are pleased to welcome Corona as the Supporting Sponsor of "The Eli Manning Show," which will include unique collaborations like "Eli's Extras", a fun moment during each episode for fans of the fine life. Manning recently joined the Corona family on its iconic beach as the latest "La Vida Mas Fina" ambassador.
"Corona is excited to be part of The Eli Manning Show and continue our partnership with legendary Giants quarterback, Eli Manning" said Alex Schultz, Vice President, Brand Marketing, Corona. "Fans have already seen Eli embrace La Vida Mas Fina in our latest ads and we can't wait to have some more fun with him during "Eli's Extras" all year-round."
Episode 1 of the new season is now available to stream on the Giants YouTube Channel.