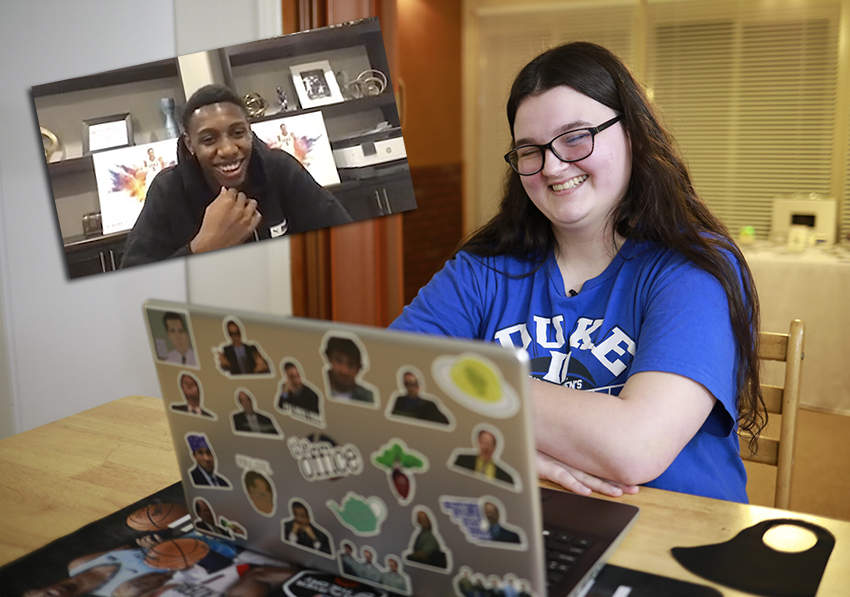 Ever since she was announced as the 2020 Panini NBA Player of the Day National Sweepstakes Grand Prize winner in October, Heather May (of North Wilkesboro, N.C.) has been wondering which former Duke basketball star she would get to meet as part of her ultimate collector experience.  Once Panini America officials learned that May was the contest winner and a hardcore Blue Devils fan, they pulled out all the stops by first securing congratulatory videos from Seth Curry and Christian Laettner. Panini even had Laettner – her favorite Blue Devil of all time — send her a signed poster to add to her growing Duke basketball collection.
Earlier this week, May, along with a dozen friends and family members as well as Mike Stang — the owner of Score More Sports, May's favorite hobby shop – participated in a Zoom call with New York Knicks second-year star RJ Barrett, a member of the 2018-19 Duke team and the No. 3 overall pick in the 2019 NBA Draft.
During the call, Barrett shared highlights of his experience at Duke, his rookie season in the NBA, the outlook for the 2020-21 Knicks and more.  Stang, a loyal Wake Forest fan even got Barrett's perspective on his game-winning shot against the Demon Deacons. At the end of the call, Barrett signed cards for all participants on the call as well as a pair of canvas pieces for May and Stang. Of course, Barrett couldn't resist inscribing the 71-70 score from the Duke-Wake Forest game on Stang's canvas. 
Following the call, May opened several boxes of Panini America NBA trading cards including 2019-20 National Treasures Basketball, 2019-20 Immaculate Basketball and 2019-20 Opulence Basketball. Among May's top pulls were, appropriately, a Barrett Rookie Patch Booklet numbered to 35, a Ja Morant RC numbered to 99, a Magic Johnson autograph numbered to 79, a John Stockton autograph numbered to 49 and a Jerry West autograph numbered to 25. And to top off the remarkable experience for the Duke fan, Panini America presented May with a Zion Williamson NBA Player of the Day 1/1 autograph card.
"RJ was a really nice guy and down to earth," May said afterward. "I'm really happy I got to share this experience with friends and family.  I know all of the kids enjoyed it, too. I want to thank Panini for everything; it certainly was a day I will never forget."
May's grandfather has always been a Duke fan and passed along his passion to her. An avid card collector who makes regular 45-minute drives from her home in North Wilkesboro to Score More Sports in Winston-Salem, she has made it a challenge to collect as many autograph cards of Duke players as possible. Cheering for the Blue Devils and collecting Duke basketball memorabilia is a tradition she hopes to pass along to her 5-month-old daughter, Rosalee. May Heather is currently a paramedic student at Wilkes Community College.
The centerpiece of the Panini NBA Player of the Day promotion is a poster featuring Panini card images of one player from each of the 30 NBA teams.  Each day, a different player on the poster is designated as the "Panini NBA Player of the Day." Every time a collector purchases a pack of officially licensed Panini NBA trading cards and pulls the player of the day, they win a prize. Each week, stores conduct a drawing from the daily winners to award a weekly prize. Then, at the end of the monthlong promotion, each store awards a grand prize to its store winner and enters them into the national sweepstakes. Each participating shop receives a free merchandise kit with all of the materials needed to run the promotion; posters, shopping bags, exclusive Panini NBA POD promo packs, top-loaders and One-Touch holders from Ultra Pro and an exclusive Panini NBA POD autograph card numbered and slabbed in a BGS protective case.  To learn more, visit www.PaniniPOD.com.