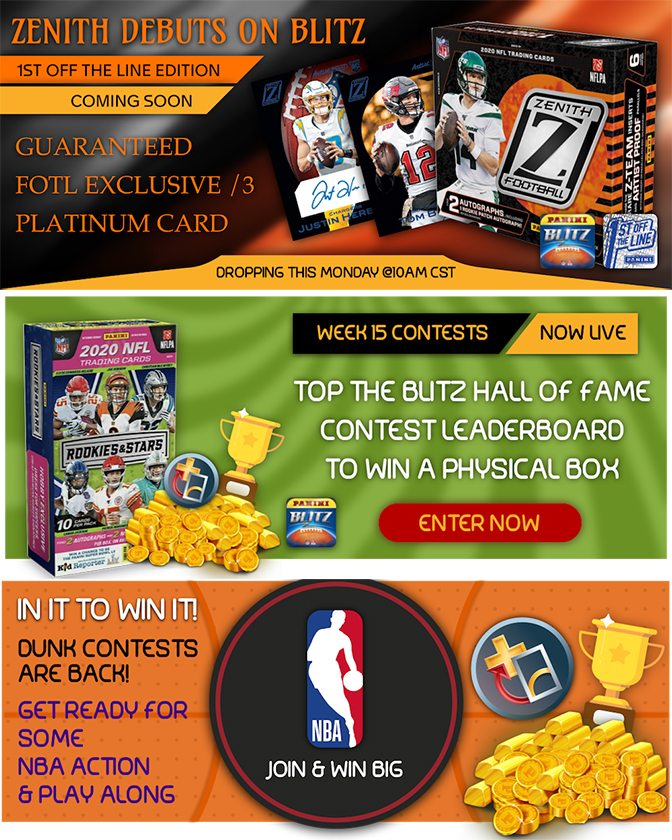 Panini America's 2020 Zenith Football comes to the NFL Blitz Digital Trading Card App for the first time, debuting with 1st Off The Line exclusives. The 2020 Zenith Football FOTL Digital packs will be available early next week in limited quantities ahead of the regular 2020 Zenith Football release. Each FOTL Digital Pack includes one Platinum Variation limited to just three copies.
Collectors will find a wide variety of digital Rookies, Inserts, Signatures and Memorabilia cards within Zenith's Elements set. Zenith includes 100 veterans as well as 100 short-printed Rookies. You can also chase inserts from more than 15 different insert sets.
Week 15 Contest Slate!
Playoff pictures continue to develop and players are starting to really break away for end-of-the-year individual awards. Will they be the determining factor for you winning Blitz Contests?
This week's contests are awarding huge prizes, including a box of 2020 Rookies & Stars Football along with FOTL Digital boxes, Packs and big coin prizes.
Contests Return to NBA Dunk
While the NFL regular season is winding down, NBA Dunk Digital Trading Card App contests are just beginning. Make sure you check out the NBA Dunk Week 1 contest slate and open enough packs to build an All-Star team. With so many new faces playing key roles on new teams, it's sure to be a wild week in Dunk Week 1 contests.
Check out the news feed for the full slate of contest options and the prizes available.