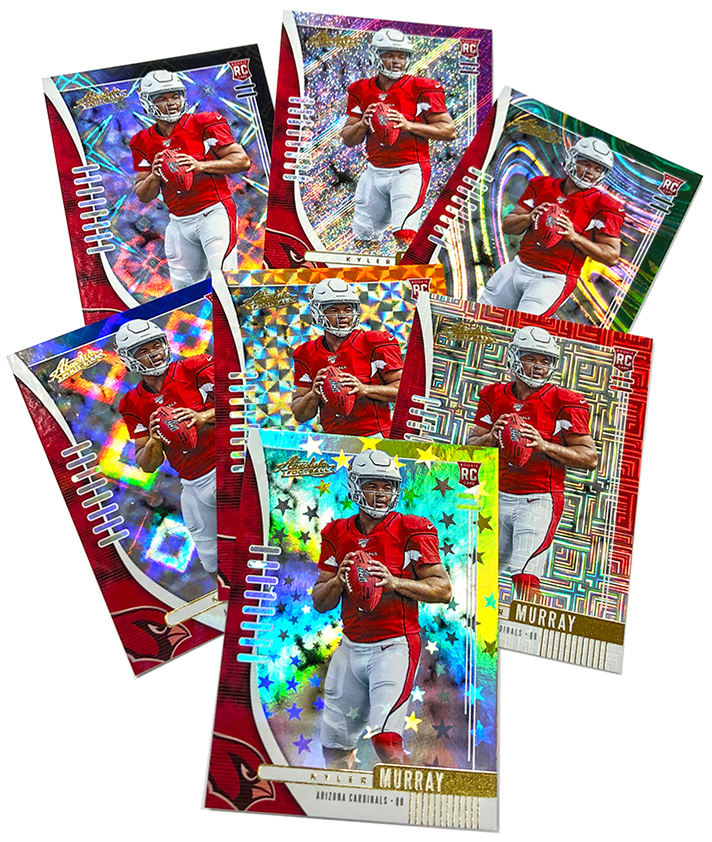 Panini America's 2019 Absolute Football released in hobby shops and on group-break sites across North America yesterday boasting a bevy of upgrades that were well documented in our Quality Control Gallery post earlier this week. In the 24 hours or so since it went live, the product has generated quite a lot of buzz in hobby circles — which is only setting the table for a voracious appetite for the retail version when it arrives within the next few weeks.
Truth be told, 2019 Absolute Football's hobby version wasn't the only SKU that received an upgrade. The retail versions did, too. The improvements — including exclusive Rookie Autographs content and exclusive numbered parallels — are sure to fan the flames of Absolute's hobby heatwave into the retail space. But the aforementioned tweaks were just the starting point. Trust us, there are more.
Product development officials have increased the overall number of retail-exclusive parallels . . . and added RPS rookies to the rookie checklist (previously, RPS rookies appeared only in hobby) . . . and delivered retail-exclusive memorabilia cards. Oh, and the spectacular Kaboom! insert appears in retail as well, including some retail-only versions. Here's the complete Kaboom! checklist.
And the shortlist of retail-exclusive parallels isn't really short at all. It reads like a Lucky Charms-Prince collaboration featuring Red Squares, Orange Mosaic, Blue Diamonds, Green Waves, Gold Stars, Purple Rain and Black Galaxy. And collectors are going to love the chase.
In the must-see gallery that follows, we offer a detailed look at just some of the retail-only goodness in 2019 Absolute Football. Enjoy the early look and stay tuned for additional coverage.