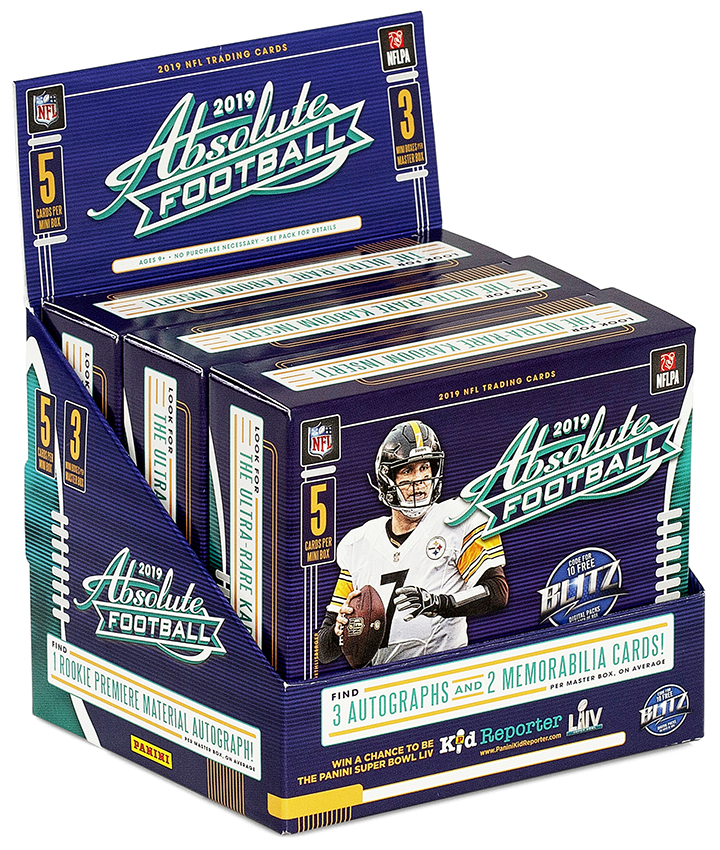 Panini America product development officials routinely spend time in their offseason twisting, tweaking, poking and prodding their previous creations to see where they might be able to make improvements for next season's releases. And so it was with the football team this past offseason when it spent some time taking a long, hard look at one of the venerable brands on the roster. And we happen to think collectors are going to absolutely love the changes made to 2019 Absolute Football.
For starters, the team added RPS Rookies and autograph parallels to the base rookie set. What's more, it deftly added a canvas substrate to the RPAs as well as to the venerable Tools of the Trade memorabilia insert. But the most explosive new addition to 2019 Absolute Football? That's easy: The bold introduction of the popular Kaboom! insert as a one-per-master-case chase. Those mighty modifications should help Absolute Football continue as a staple release once again this season when it arrives in hobby shops across North America tomorrow.
On average, each hobby box of 2019 Absolute Football (five cards per pack, three packs per box, two six-count inner cases per master case) will deliver three autographs (at least one Rookie Premiere Materails autograph) and two memorabilia cards. In all, 10 of the 15 cards in a master hobby box will be numbered.
Enjoy the Quality Control Gallery that follows and stay tuned to The Knight's Lance for continued coverage, including a complete breakdown of the product's retail counterpart that should arrive on store shelves early next month.
2019 Absolute Football will be available at the official online store of Panini America beginning at 12 p.m. CST tomorrow.