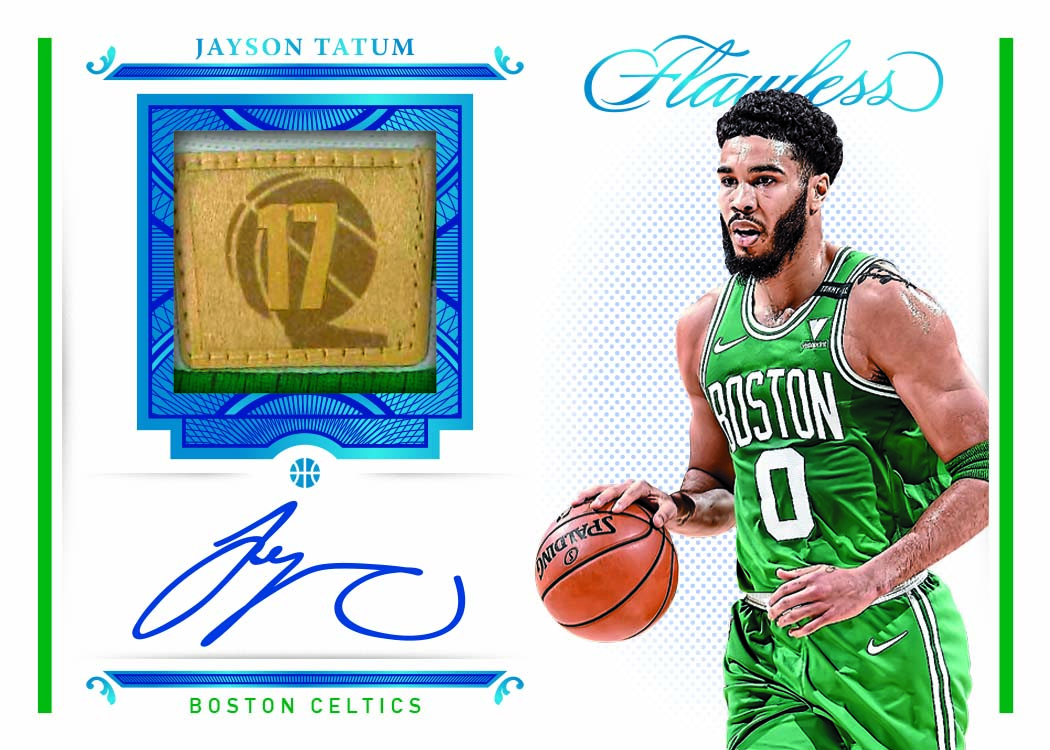 Panini America officials recently sent out preliminary Product Information Solicitations for several exciting new products coming soon to a hobby shop or online retailer near you. Today, we're sharing that same information with you here on The Knight's Lance, this time featuring the legendary  2020-21 Flawless Basketball (Hobby).
In the extensive product preview below, we'll showcase a bevy of preliminary images from the upcoming 2020-21 Flawless Basketball release, as well as the product's Hobby PIS documents.
Product Configuration: 10 cards per pack, 1 pack per box, 2 boxes per case
BOX BREAK: 9 Autographs or Memorabilia cards (minimum 8 autographs), and 1 Diamond card
Collect the top rookies from the 2020 NBA rookie class! Base Rookies are sequentially numbered to 20, and feature a genuine diamond embedded in the card!
Each and every memorabilia swatch in Flawless is GAME WORN! Look for the first Game Worn jersey cards of the year for several 2020-21 Rookies!
Chase a stunning lineup of prime memorabilia autograph content in Flawless Patch Autographs, Star Swatch Signatures, Signature Prime Materials, and more!
Look for monstrous one-of-a-kind Memorabilia Autograph cards in Logoman Autographs and Laundry Tag Autographs of top players from across the NBA!
We'll have plenty more on 2020-21 Flawless Basketball in the coming weeks, but until then, enjoy this extended sneak peek.
All information is accurate at the time of posting – content is subject to change and approval. Card images are solely for the purpose of design display. Actual images used on cards to be determined.
Also connect with us on:
Instagram: https://www.instagram.com/PaniniAmerica/
Facebook: https://www.facebook.com/PaniniAmerica/
Twitter: https://twitter.com/PaniniAmerica/
LinkedIn: https://www.linkedin.com/company/panini-america