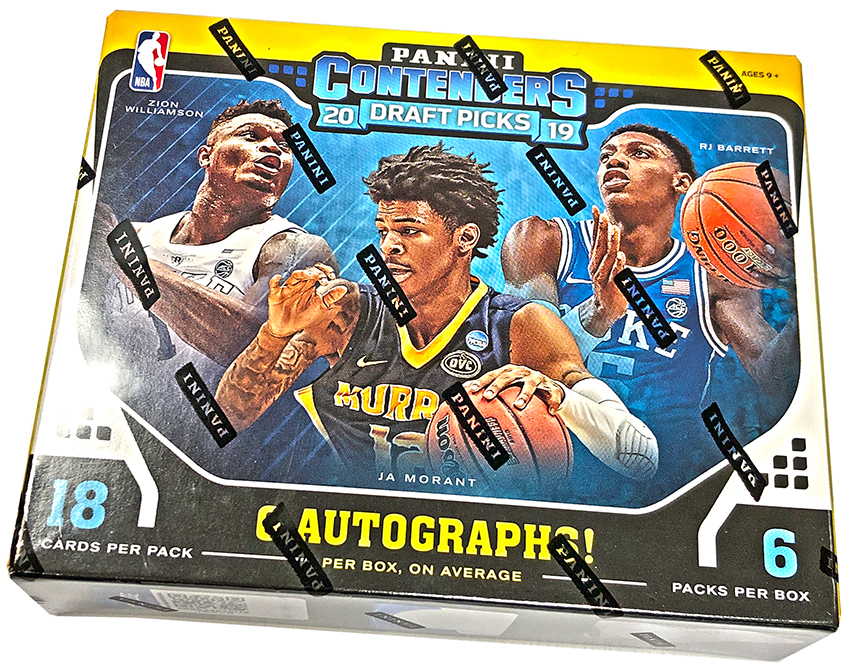 It's official. With today's release of Panini America's 2019 Contenders Draft Picks Basketball, a new era of basketball collecting has begun. And it promises to be unlike anything we've seen in this hobby for many, many years — and maybe ever. Such is the case when an NBA Draft Class like 2019's comes along boasting the likes of Zion Williamson, Ja Morant, RJ Barrett, Cam Reddish and more. The results, as you can plainly see, are not of this world.
Spoiler alert: We didn't pull any Zion autographs in the three boxes we opened for this Teaser Gallery. In fact, we didn't pull any RJs, Jas or Cams, either. And that's perfectly OK. Because what we did pull underscores just how deep and collectible and valuable this entire class of NBA rookies is . . . outside of the headliners.
On average, each hobby box of 2019 Contenders Draft Picks Basketball (18 cards per pack, six packs per box, 12 boxes per case) will deliver six autographs, one parallel, 35 Season Ticket Variations and 30 inserts. Enjoy the break and stay tuned for additional coverage.
Box 1

Pack 1

Pack 2

Pack 3

Pack 4

Pack 5

Pack 6

Box 1 Autos

Box 1 Parallels

Box 2

Pack 1

Pack 2

Pack 3

Pack 4

Pack 5

Pack 6

Box 2 Autos

Box 2 Parallel

Box 3

Pack 1

Pack 2

Pack 3

Pack 4

Pack 5

Pack 6

Box 3 Autos

Box 3 Parallel