It's a shame, really, that Panini America Production Manager Jeremy Johnson spends much of his time on tone-setting, first-impression aspects of our products that most collectors can't wait to destroy.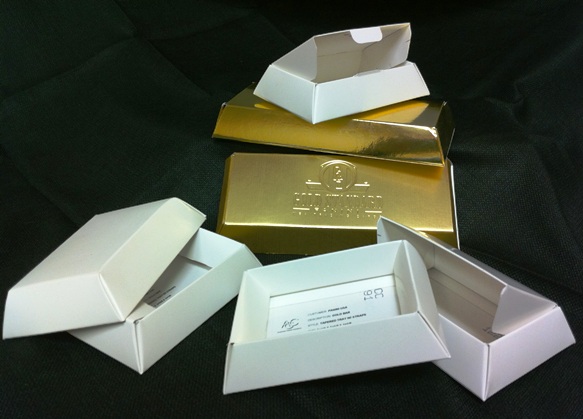 It's a shame, really, that Panini America Production Manager Jeremy Johnson spends much of his time on tone-setting, first-impression aspects of our products that most collectors can't wait to destroy.
Johnson, a Michigan native, is the Prince of Packaging around these parts; the guy people visit when talk turns to boxes. Certainly Johnson's Midas touch will be all over 2010-11 Gold Standard Basketball when the brand new product releases in late May.
There was no roadmap for a product like Gold Standard; no past packaging to mimic, no similar products on the Panini America roster to replicate. So when Linda Sanchez, Johnson's production partner in crime, first came up with the concept in early January of creating a box inspired by an authentic gold bar, the team set out to make her vision sparkle.
Three furious months and no less than four different variations later, Gold Standard has a home for its 12-card, $200 packs that's fit for a king. The process, it should be noted, was every bit as highly detailed and hectic as creating the trading cards that will go inside. The finished box might be almost as collectible, too.
Johnson tells us how it all came together:
"Linda threw out the original idea of producing a box that replicated a gold bar and everybody liked it, liked the sound of it. Once we started getting back the prototypes, everyone started to get on board. They all thought that it was a great idea and would definitely be something different and a great way to get it to stand out on the shelf."
"The first step was getting the final design, whether it was a two-piece box or a flip-top lid or a tray with a slider; once we decided the best idea, then we needed to settle on a size that would hold the correct amount of cards we needed while also achieving the look we wanted on the shelf."
"The initial shape and the look were there but the size was not correct. Creative Director Brandon Lesley liked the look of it but we needed to extend it to get it to look more like the real thing. Once we got the sizing correct, Brandon's the one who pushed for us to lessen the effect of the shine on the box. So we applied a dull aqueous coating to our press sheet. That really gives it more of an authentic, gold-bar look."
"It really comes down to the experience, creativity and abilities of the great team we work with at our packaging manufacturer. The structural engineer or structural designer has to be able to build around our direction utilizing the substrate options available to us. It also needs to be cost-effective and feasible to produce. If it doesn't fall within the budget of something we can produce economically, it doesn't matter. A big thanks is owed to our packaging manufacturer and especially Roger Cleveland."
"We had a handful of ideas thrown at us in terms of basic shapes or ideas and then there were several variations of each idea. Once we settled on which way we wanted to go structurally, we went through at least four rounds worth of back and forth."
"I've been here for almost a year and Gold Standard packaging definitely is the most complex project I've worked on in terms of time, different versions and communication with our packaging vendor to determine embossing vs. debossing, layout, typography, etc. What you come up with on paper isn't always realistic when it comes to creating the finished piece."
Speaking of the finished piece, I think Johnson speaks for all of us who've been lucky enough see it.
"We loved it right when we saw it," he says. "It definitely achieves the look and idea that we had from the beginning. The first goal of packaging is to catch somebody's eye and to separate it from all of the other products that your competing against for shelf space and noticeability.
"We're trying to keep our products original and creative beyond just the cards inside."
The following gallery provides a glimpse into those efforts and includes images of several Gold Standard prototypes, behind-the-scenes schematics on how the finished piece came together and the golden finished product itself.