HASBRO AND PANINI AMERICA PARTNER TO BRING NBA PRIZM TRADING CARDS TO MONOPOLY IN A NEW BOARD GAME
DRAFT YOUR TEAM. TRADE REAL PRIZM NBA CARDS. COMPETE IN 1:1 MATCHES TO COLLECT EXCLUSIVE ALL-STAR MONOPOLY PRIZM CARDS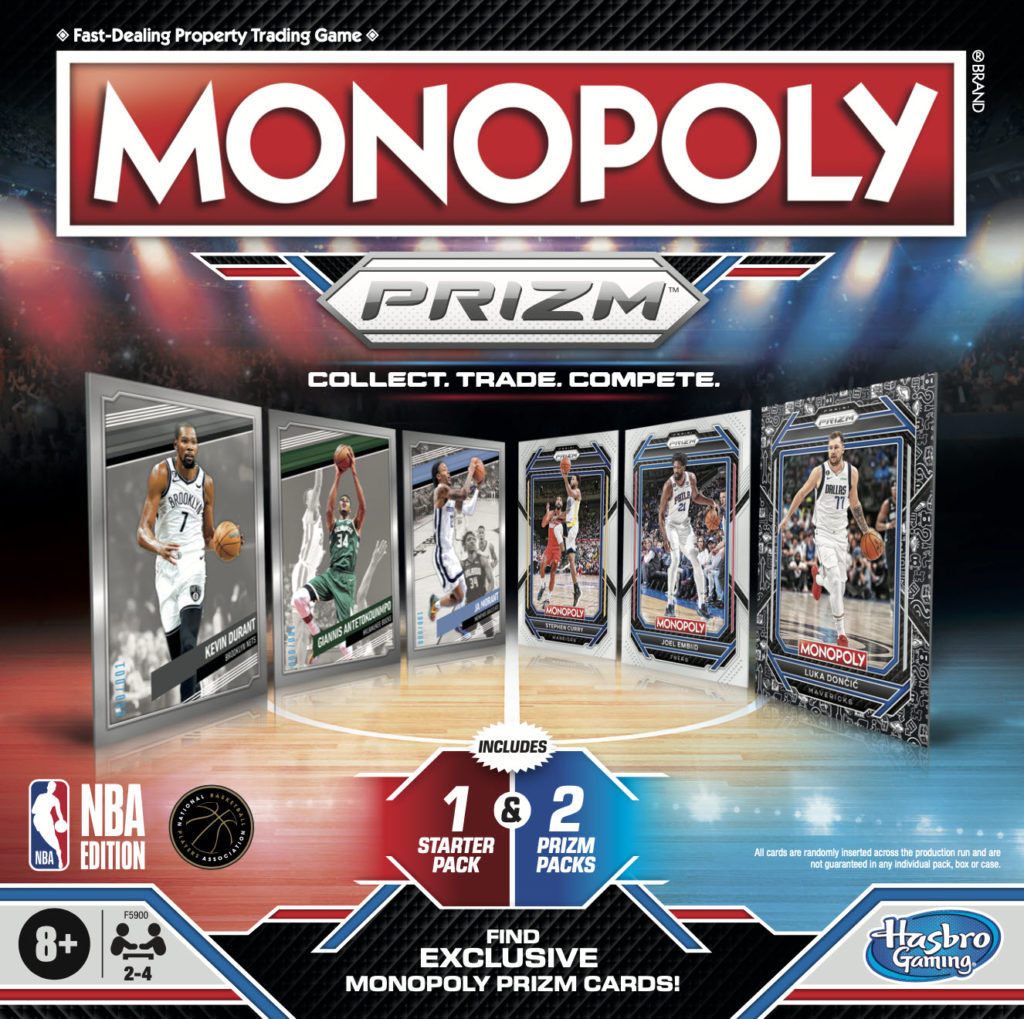 Monopoly Prizm: NBA Edition Board Game Launches April 16, 2023
Follow Monopoly @MonopolyGameOfficial and Hasbro Gaming @hasbrogamingofficial on Instagram, and @hasbrogaming on Facebook, Follow Panini America @paniniamerica on Twitter and Instagram for the Latest News
PAWTUCKET, RI – February 23, 2023 – It's a Monopoly slam dunk! Today, Hasbro, Inc. (NASDAQ: HAS), a global branded entertainment leader, and Panini America, the exclusive trading card partner of the NBA and NBPA announced a partnership to bring the NBA court to the iconic Monopoly board. In this new Monopoly Prizm: NBA Edition board game, players collect, trade, and compete with real Panini NBA Prizm trading cards and exclusive Monopoly parallels and inserts for NBA All-Star glory. The Monopoly Prizm: NBA Edition game will be available in North America for purchase at Target beginning April 16, 2023 and other major retailers beginning August 1, 2023.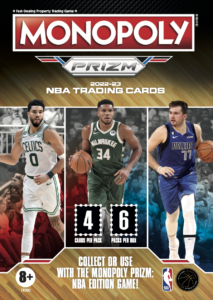 Prizm, the most popular global NBA trading card brand from Panini America, anchors the Monopoly Prizm: NBA Edition board game and features a 90-card base set.  The Monopoly Prizm will also feature special and rare Monopoly Prizm inserts and Monopoly Boardwalk parallels that can be found in Monopoly Prizm: NBA Booster Boxes designed to enhance game play.  NBA fans will be able to collect their favorite players and prominent rookies as part of the Monopoly Prizm NBA product release.
In this Panini NBA trading card version of the classic Monopoly game, players act as their favorite NBA basketball coach to recruit superstars and top rookies for the ultimate roster. As players take their team across country to compete against the best of the best, they'll be challenged to make savvy trades to turn up the heat on competition and even their own team's abilities on the court! Players will DRAFT their squad featuring their favorite NBA players, TRADE cards to build and change their team throughout the game and lastly – and unique to Monopoly – COMPETE in 1:1 matches to win All-Star Cards as they pass go. Instead of buying properties, players try to take control of NBA games and collect bonus points when opponents land on them. To earn more points, players compare the stats on their Panini NBA cards when they compete in Playmaker Challenges and All-Star Contests. In the end, the player with the most points wins!
"Based on fan insights, we noticed a unique crossover opportunity between individuals who love classic gameplay and card collecting, which ultimately lit the spark to create and bring this innovative trading card element to Monopoly," said Adam Biehl, SVP & General Manager, Hasbro Gaming. "We're ecstatic to have partnered with Panini, one of the top sports card companies, to power this new Monopoly edition through the utilization of authentic trading cards, real player statistics, and collectible card packs to expand the game."
"The global popularity of our Prizm trading card brand was the perfect match for such an iconic brand like Monopoly to introduce an NBA trading card board game that captures all the elements of Monopoly and  introduces special parallels and rare inserts to enhance gameplay that have made our NBA trading cards so popular and collectible," said Jason Howarth, Vice President of Marketing at Panini America.  "After nearly two years of development and collaboration, we are excited to bring the Monopoly Prizm: NBA game to market."
"The Monopoly Prizm: NBA Edition board game is a direct response to the excitement and interest we have seen from NBA fans and is representative of the continued evolution of this industry," said Brian Keegan, Head of Trading Cards, Memorabilia and Hardgoods at the NBA. "Through our collaboration with Hasbro, Inc. and Panini America, we look forward to introducing another opportunity NBA fans can compete with one another and celebrate our game."
"This is such a unique and innovative collaboration that will showcase our players and create multi-faceted gameplay that engages fans like never before," said Josh Goodstadt, Chief Commercial Officer of THINK450, the partnership and innovation engine of the NBPA. "In all our partnerships, we are looking for ways to build the players' collective influence globally and this Monopoly Prizm: NBA game will most certainly serve that mission."
Monopoly is the world's favorite family game brand and is enjoyed by more than 1 billion players in 114 countries across the globe. Fans can engage with the Monopoly brand across many platforms and formats including live events, fashion licensing, digital gaming, casino gambling and more.  Stay updated on the latest Monopoly brand news at Monopoly.com, @MonopolyGameOfficial on Instagram, Facebook.com/Monopoly, and @Hasbro on Twitter.
For additional images and information on Monopoly, and the latest news from Hasbro, please visit newsroom.hasbro.com.
Press Kit (images): LINK
About Hasbro
Hasbro is a global branded entertainment leader whose mission is to entertain and connect generations of fans through the wonder of storytelling and exhilaration of play. Hasbro delivers engaging brand experiences for global audiences through gaming, consumer products and entertainment, with a portfolio of iconic brands including MAGIC: THE GATHERING, DUNGEONS & DRAGONS, Hasbro Gaming, NERF, TRANSFORMERS, PLAY-DOH and PEPPA PIG, as well as premier partner brands.
Hasbro is guided by our Purpose to create joy and community for all people around the world, one game, one toy, one story at a time. For more than a decade, Hasbro has been consistently recognized for its corporate citizenship, including being named one of the 100 Best Corporate Citizens by 3BL Media, one of the World's Most Ethical Companies by Ethisphere Institute and one of the 50 Most Community-Minded Companies in the U.S. by the Civic 50. For more information, visit corporate.hasbro.com.
About Panini America
Panini America is a subsidiary of The Panini Group, established over 60 years ago in Modena, Italy with  subsidiaries throughout Europe, Latin America and the United States.  Panini is the world leader in officially licensed collectibles and is the most significant publisher of collectibles in the U.S., with official licenses for NASCAR, NFL, NFLPA, NBA, NBPA, FIFA, UFC, WWE, College, Disney and other key properties from many other licensors. Panini is also the exclusive trading card and sticker partner of the Pro Football Hall of Fame, Naismith Memorial Basketball Hall of Fame, Elite 11 and Pop Warner Little Scholars, Inc.
Panini has distribution channels in more than 150 countries and employs a staff of over 1,200. For more information visit us at www.paniniamerica.net, www.paninigroup.com or
http://blog.paniniamerica.net/. You can also follow Panini America on social media platforms Facebook, Twitter, YouTube and Instagram.
About the NBPA
The National Basketball Players Association is the union for current professional basketball players in the National Basketball Association (NBA). Established in 1954, the NBPA's mission is to protect and support the rights and talents of our players, magnify the power of their collective will, and amplify their voices as leaders who will transcend sport and society globally.
The NBPA advocates on behalf of the best interests of all NBA players, including through the negotiation of collective bargaining agreements, the filing of grievances on behalf of the players, and counseling players on benefits, educational and post-NBA career opportunities. Business opportunities are generated by THINK450, the subsidiary of the NBPA charged with managing the players' group licensing rights.
Dedicated to preserving the legacy of its members, the NBPA Foundation provides support and assistance to persons, communities, and organizations around the world that seek to improve the lives of those in need.
About THINK450
THINK450 is the innovation and partnership engine of the NBPA, dedicated to uncovering shared interests between the 450 players and leading brands to build more engaging partnerships. Together with its partners, THINK450 creates innovative ideas that engage fans, stir them to action, and earn brands the right to participate in cultural conversations. For more information, visit THINK450.com.
PR Contact:
For Panini America:
Jeff Hoferer, Hobby Marketing Director