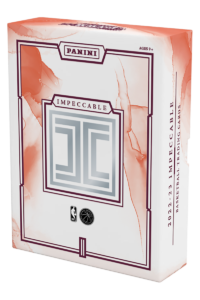 Panini's 2022-23 Impeccable Soccer sends you across the pond for a unique treasure hunt. The collection celebrates the exciting spectacle that was the Premier League season in a unique way. As you open packs, you'll experience the same level of excitement as a prospector venturing into a goldmine.
Along with the 150-card base set is a unique blend of cards made of metal or featuring memorabilia and autographs from the best of the best. They include current and retired players who have produced at the highest level of English football.
A staple with all Panini Impeccable collections, a large bulk of the cards feature pieces of silver or gold. Be on the lookout for metal-bar case hits, featuring star players along with either one Troy ounce of silver or ½ Troy ounce of gold embossed with the Premier League logo. All 20 clubs from the 2022-23 campaign are represented across 80 cards with a silver Premier League logo.
Icons from the past, like Leicester City marksman Gary Lineker and Liverpool royalty Kenny Dalglish, along with current league stars, like Arsenal ace Bukayo Saka and Tottenham Hotspur's dynamic winger Heung-min Son, are represented in the 20 cards with gold Premier League logos.
There are also 70 metal cards that are sure to attract your attention, 20 of which feature rookies like Arsenal's French standout William Saliba, Leeds United's electric forward Wilfried Gnonto and Southampton's budding midfielder Roméo Lavia.
The relationship between card, ink and player gets more personal than ever with on-card autos found in the Canvas Creations, Immortal Ink and Indelible Ink inserts.
New for 2022-23 is the Hall of Fame autograph insert, celebrating select inductees from the Premier League Hall of Fame. Included from the inaugural 2021 class are Manchester United's midfield dynamo David Beckham, Liverpool icon Steven Gerrard and the league's all-time goals king Newcastle United forward Alan Shearer. The 2022 class is represented by Chelsea legend Didier Drogba, longtime Manchester City defensive rock Vincent Kompany and Manchester United goalkeeper Peter Schmeichel. Wayne Rooney, who started and ended his Premier League career at Everton, is also featured in this historic set.
Add a nice blend of weight, ink, color and texture to your personal troves as you dig into a rich collection with Panini 2022-23 Impeccable Soccer
Related Links:
2023 FIFA Women's World Cup Official Sticker Collection
Panini Chronicles Soccer Kicks Off European Adventure