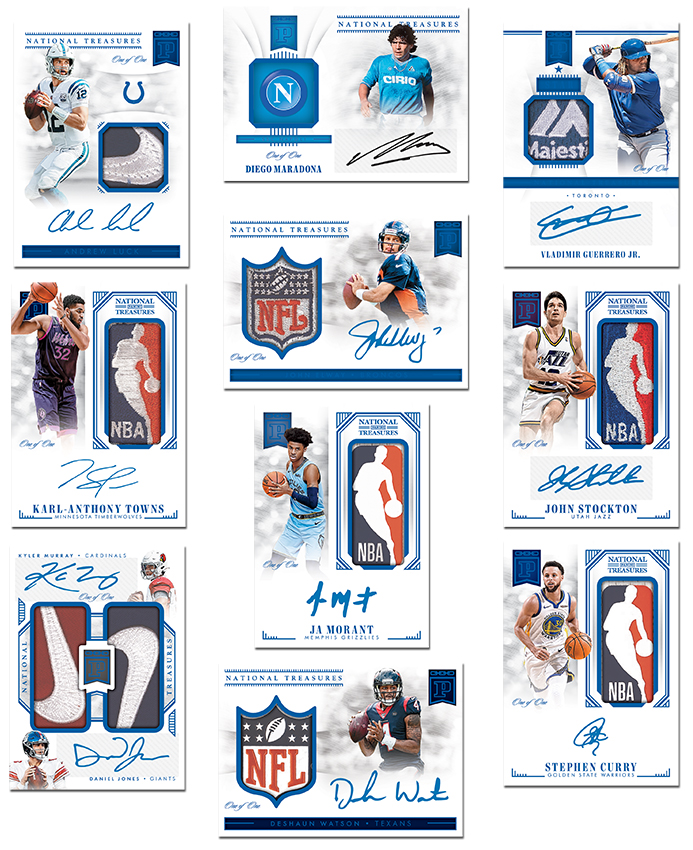 Ten new jaw-dropping 1/1 cards — this time featuring the likes of Ja Morant, Steph Curry, John Elway, Kyler Murray/Daniel Jones, Vladimir Guerrero Jr. and more — headline the just-launched sixth wave of Panini America's historic Blockchain venture. The latest cards opened for bidding earlier this morning and every virtual Blockchain card issued in the initial 100-card wave will be accompanied by a physical version of the card featuring autographs, memorabilia or both.
The physical versions of Week 6's offerings are headlined by NBA Logoman Autograph 1/1 cards of Morant, Curry, Karl-Anthony Towns and John Stockton, NFL Shield Autographs of Elway and Deshaun Watson, and a Dual Nike Swoosh Autograph 1/1 featuring Muray and Jones. The only way for collectors to obtain the physical version of the Blockchain card is to purchase the digital version of the card.
Panini America officials will launch 10 new Blockchain cards each week so stay tuned to The Knight's Lance and the Panini America social media channels to see each week's lineup. Each Blockchain card will open for bidding in a Dutch Auction format. Card prices will drop incrementally until the card is sold. Each card in the Blockchain initiative is a 1/1.
In the gallery that follows, we offer a complete gallery of the Week 6 cards that launched earlier today. Enjoy the imagery and stay tuned for additional coverage.