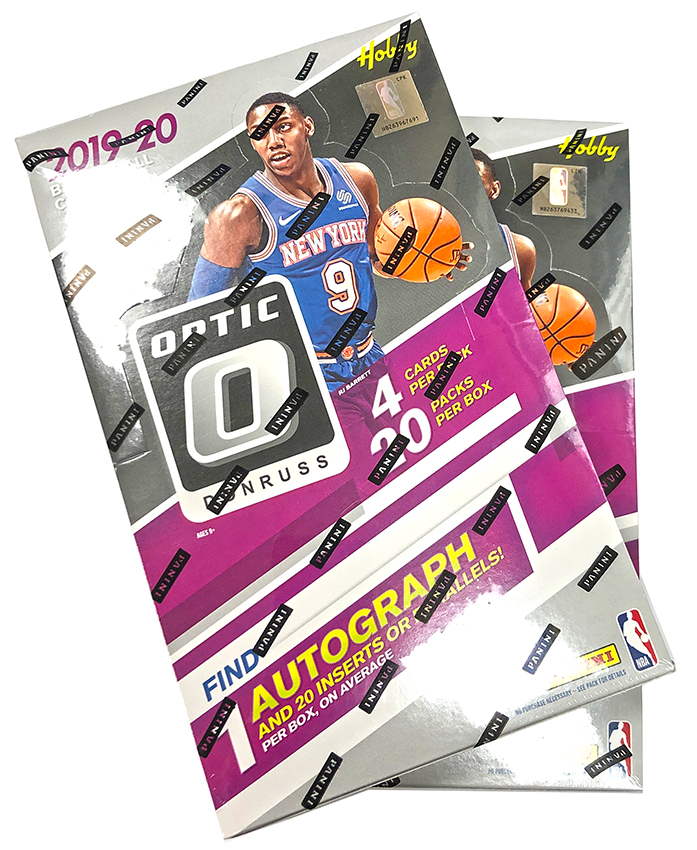 Panini America's Optic revolution continues unabated this week with the release of the highly anticipated 2019-20 Donruss Optic Basketball. Featuring the customary assortment of colorful Prizms and a compelling array of rookie and veteran autographs, including the on-card-signed Rated Rookie Autographs, the newest iteration of the Donruss Optic Basketball franchise is ready for another sterling run in the hobby.
We brought you an extensive sneak peek at the product with last week's Quality Control Gallery. Today, we're taking you pack by pack through two early boxes. Enjoy the break and stay tuned for additional coverage. On average, each hobby box (four cards per pack, 20 packs per box, 12 boxes per case) will deliver one autograph and 20 parallels/inserts.
2019-20 Donruss Optic Basketball will be available at the official online store of Panini America beginning Wednesday at 10 a.m. CST.
Box 1

Pack 1

Pack 2

Pack 3

Pack 4

Pack 5

Pack 6

Pack 7

Pack 8

Pack 9

Pack 10

Pack 11

Pack 12

Pack 13

Pack 14

Pack 15

Pack 16

Pack 17

Pack 18

Pack 19

Pack 20

Box 1 Prizms

Box 1 Numbered Prizms

Box 2

Pack 1

Pack 2

Pack 3

Pack 4

Pack 5

Pack 6

Pack 7

Pack 8

Pack 9

Pack 10

Pack 11

Pack 12

Pack 13

Pack 14

Pack 15

Pack 16

Pack 17

Pack 18

Pack 19

Pack 20

Box 2 Prizms

Box 2 Numbered Prizms