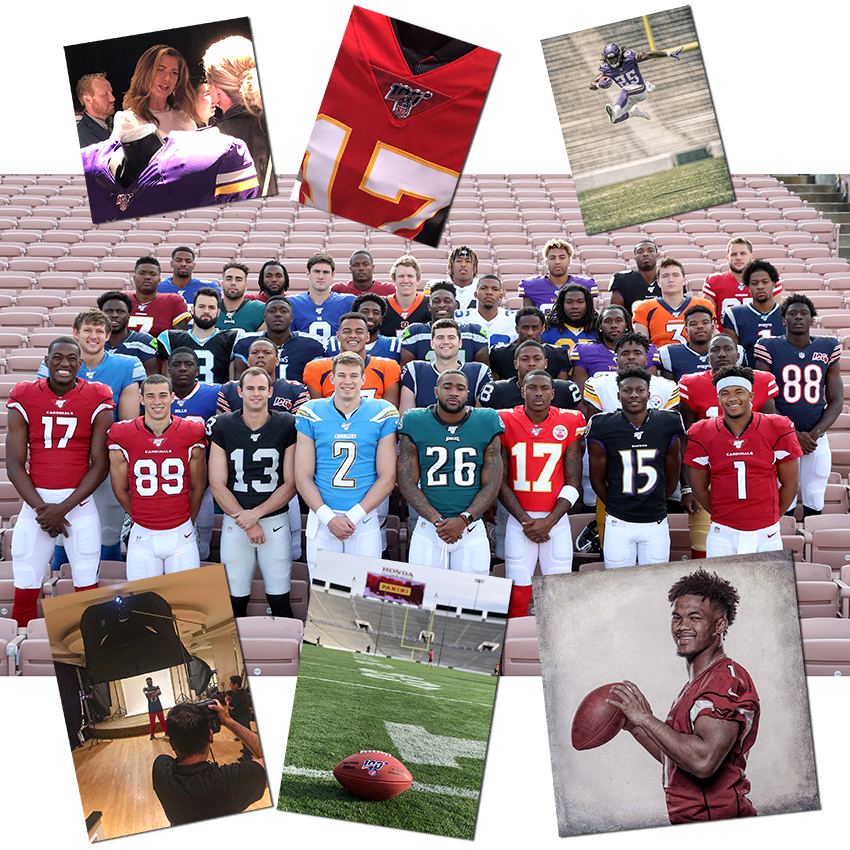 By Ram Luthra & Nolan Imsande
The NFL's 100th season is finally here, and the league is celebrating its landmark year in a big way by rolling out new jerseys and new footballs, which feature a commemorative logo for the centennial campaign. And there's no better way to praise the past than by flaunting its future — and the upcoming rookie class.
The 2019 edition of the NFLPA Rookie Premiere Presented By Panini America (May 16-18) showcased 40 players from schools that ranged from big-time powerhouses, like Alabama and Ohio State, to non-traditional programs, like UMass and North Dakota State. Despite where their journeys started, it all led to Pasadena, Calif., on this gorgeous, sunny Saturday when they donned their official NFL jerseys for the first time with pads and helmets.
Players hopped off their planes and headed straight to the historic Beverly Hilton on Wednesday night. After checking in and picking up their credentials, they took portraits with Panini America photographer extraordinaire Kevin Jairaj, who is well-versed with some of these guys, already having shot them in college and even high school. Jairaj, wearing his Nike Boomer Sooner kicks, especially bonded with fellow Oklahoma products Kyler Murray and Marquise Brown. Jairaj even got Brown to throw up the 'Horns Down for some pics; both OU stars even received some images Jairaj had taken during their prep and college playing days. A pretty cool moment to kick off the weekend.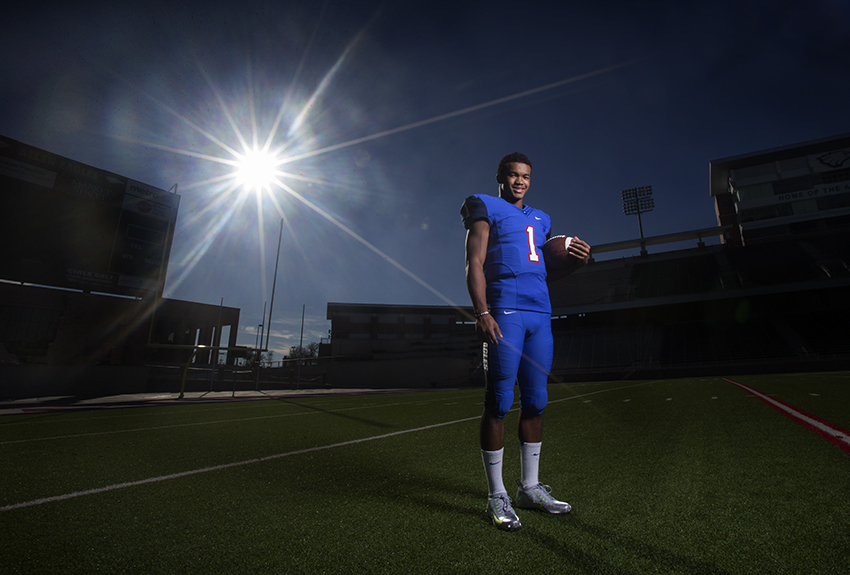 Throughout the weekend, the guys learned the business side of football by attending meetings hosted by the NFLPA and other sponsors. All in all, it was a jam-packed couple of days.
The rookies weren't the only stars to take part in the events. Supermodel Kathy Ireland, a member of the NFL's Board of Directors, and legends Clinton Portis, Steve Smith Sr., Michael Vick and Andre Reed also made appearances. The former players were all ears for questions from the rookies. "I talked to Clinton Portis a lot this weekend. He's kind of been telling me what to expect from a Redskins standpoint," said third-round pick Terry McLaurin.
The players arrived at the historic Rose Bowl early Saturday morning and were all immediately ushered into the locker room. This marked the first time since 2013 that the Rookie Premiere was held in the Rose Bowl. When the guys walked out it was a magical scene, picturesque for Hollywood, with each player draped in his clean, crisp uniform from head to toe, even with wrist bands and arm sleeves.
When the shoot wrapped up Saturday afternoon, the hard work wasn't done. Players jetted back to their new cities and jumped right into OTAs, continuing prep for their first season in the league.
Here are some highlights from the weekend:
#FirstRodeo
Despite the hectic schedule, which was riddled with a full slate of events and appearances, a few of the players did find some time to squeeze in some shopping on historic Rodeo Drive. Titans wideout A.J. Brown made sure to flaunt his newly purchased Dolce & Gabbana sunglasses for some pics during the photo shoot.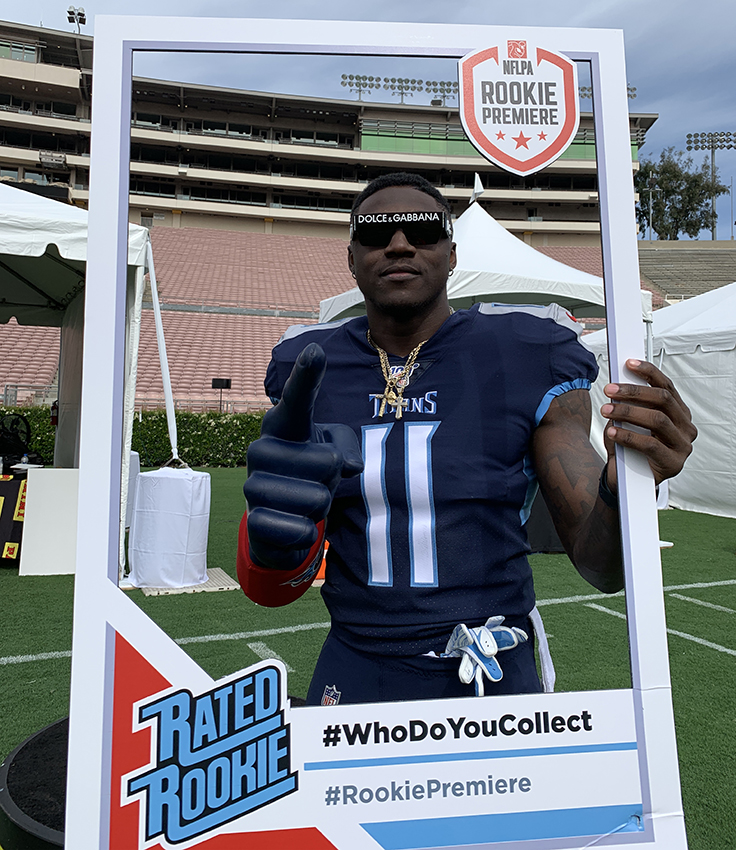 #PointTaken
With the NBA Playoffs in full gear, some of the fellas chimed in with some hot takes from the Association, which included who's gonna win the MVP award. Speaking like a true quarterback, Giants signal-caller Daniel Jones went on the offensive by saying his favorite players were Kevin Durant and James Harden, emphasizing the importance of scoring as the key to hoops. He quickly dismissed all banter of defense; no props for guys like Patrick Beverly and Kawhi Leonard. Do you blame him? The QB is all about offense, Giants Nation.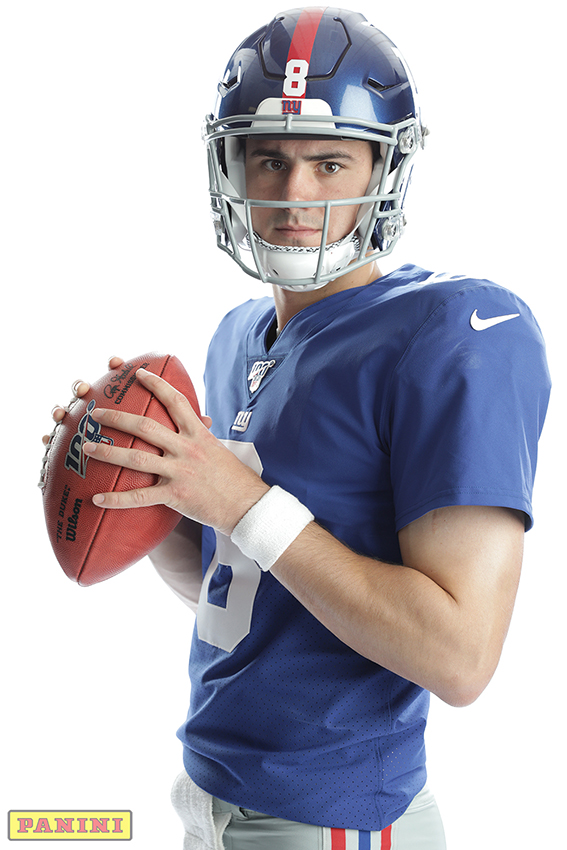 #TheIntern
JJ Arcega-Whiteside's current job includes snagging passes and throwing blocks for the Eagles. In his previous role, the Stanford wide receiver picked up the phone and set up meetings for former Secretary of State Condoleezza Rice, who taught at the prestigious school. "It was cool. Whatever she needed, I did. She always made time for me," he said.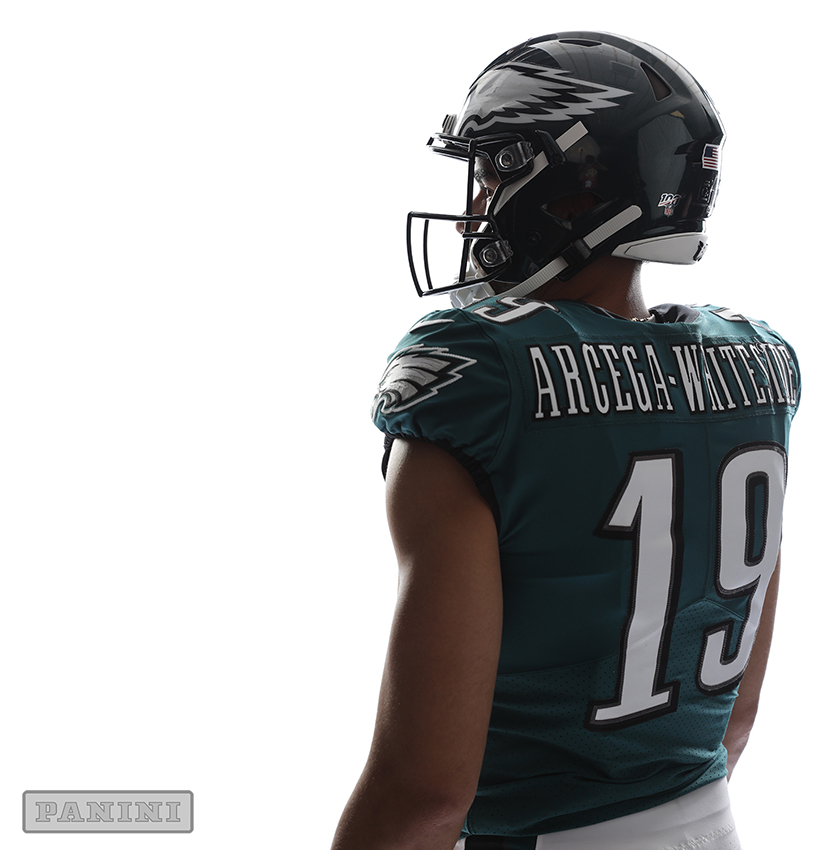 #SoundsGood
With dozens of guys signing autographs, the music blaring had to be on point and a few players took the helm to be guest DJs. The popular choices were the tunes played by Deebo Samuel of the Niners and Noah Fant of the Broncos. These two are sure to be music to the ears of fans in Denver and the Bay Area this season.
#GetInMyBelly
Who doesn't love the sweet and savory taste of chicken and waffles? C'mon, it's a thick, buttery waffle at the base of a juicy, crispy piece of fried chicken. Oh yeah, the warm syrup drizzled over it helps, too. The Heisman Trophy winner, Murray, concluded the weekend in Beverly Hills with a trip to Roscoe's House of Chicken N Waffles –- a staple eatery in L.A. that never disappoints.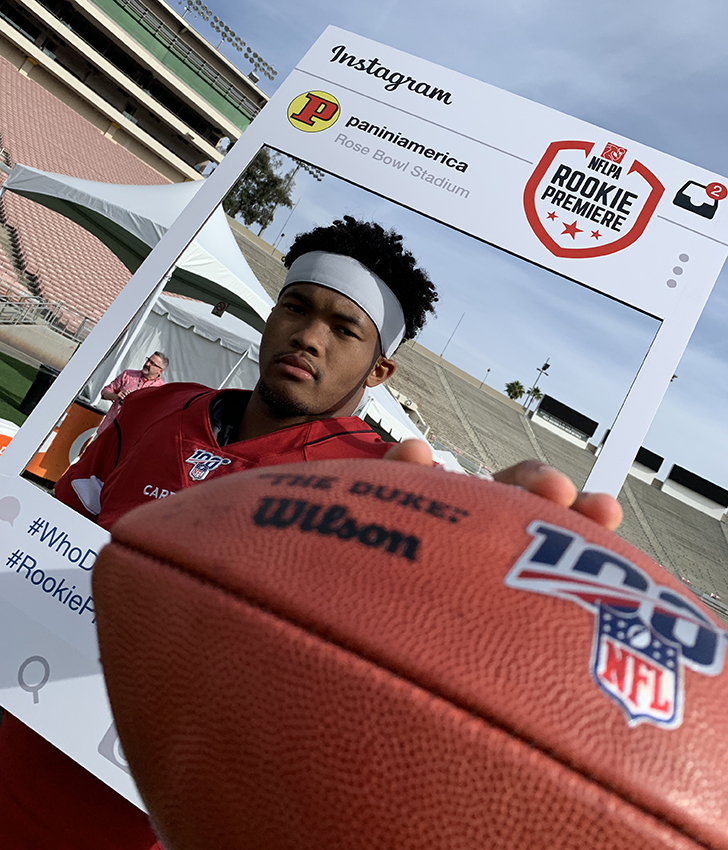 #CARDinalCollector
With a bit of downtime during the photoshoot, Arizona's Andy Isabella got his hands on a box of 2019 Score Football cards. Opening every pack with unmatched enthusiasm, the wide receiver showed the fellow players in attendance the cards he received of them and set aside ones of his new Cardinals teammates. Looks like he found a new hobby.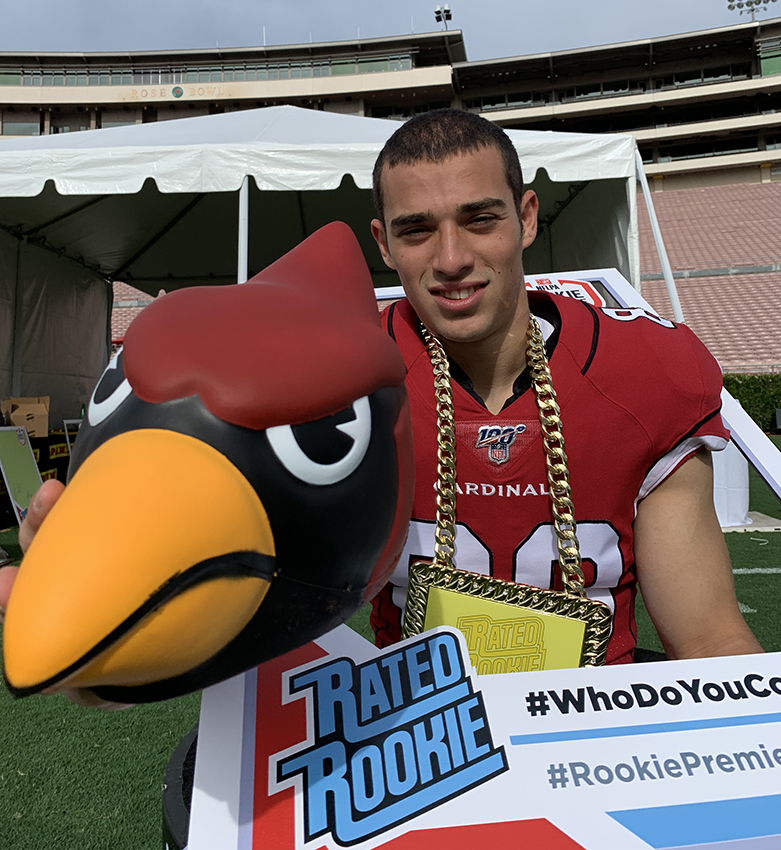 #HomeCooking
Denver tight end Noah Fant's football career has brought him all over the United States. No matter where he goes or what he eats, the rookie always has room for a dish from his home state of Nebraska. The Omaha native nearly drooled talking about how much he enjoys a Runza –- the popular Midwestern dish with ground beef, onions and cabbage wrapped in fresh-baked bread.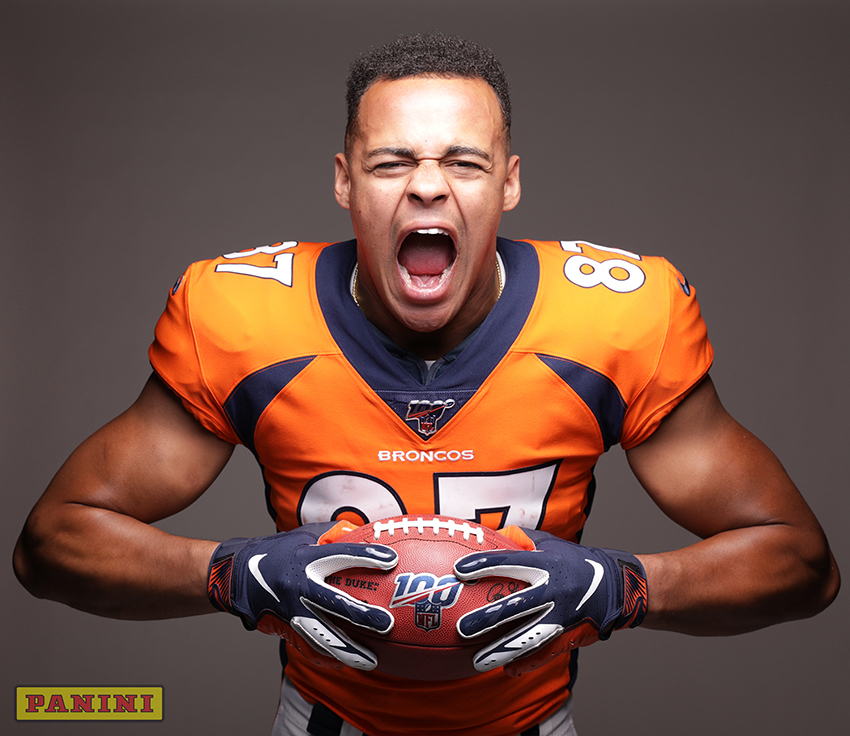 #PresentPrank
Buffalo running back Devin Singletary reminisced about his favorite Christmas as a kid. The top item on his wish list was a miniature motorcycle. Specifically, one with a motor (fitting for the guy nicknamed "Motor"). After opening presents, his mom told him she couldn't find one, sending the youngster into a fit of tears. All was well when he went to his grandmother's house and found the bike in the living room.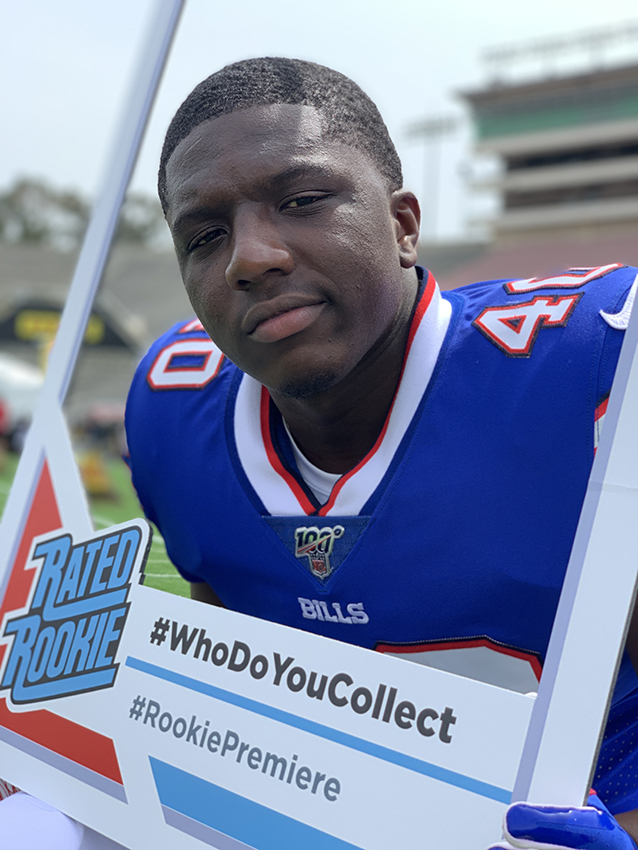 #StageWalker
Players spent close to an hour at each station during Saturday's events on the field, but Baltimore's Miles Boykin made an audible and used his breakneck speed. The wide receiver was in a rush to catch a flight that night to attend his graduation ceremony at Notre Dame the following day with his mother (Hi, Felicia). The marketing major knows what it takes to make adjustments on the fly – a key trait for a Raven.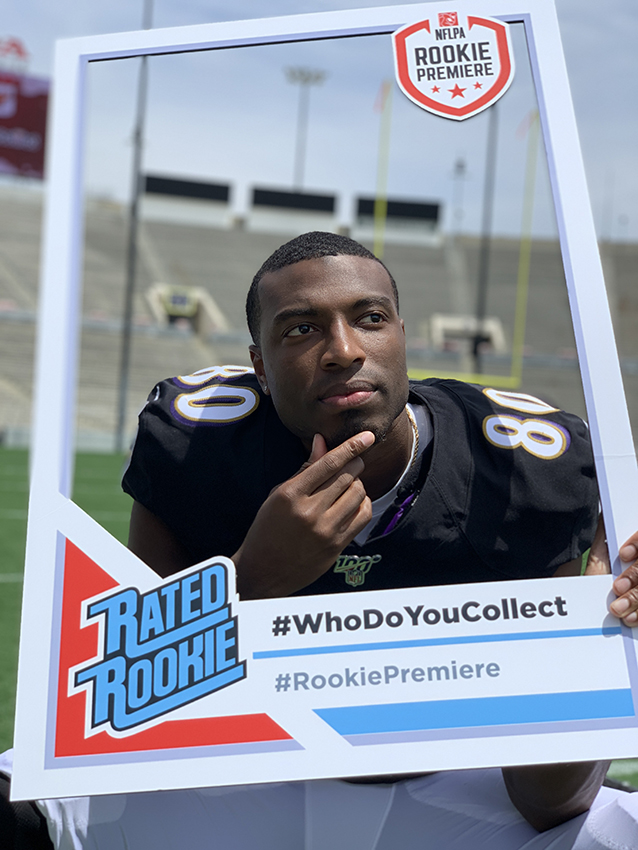 #BusyBachelor
Patriots signal-caller Jarrett Stidham braced for an action-packed few weeks ahead of him. After wrapping up a busy weekend in Los Angeles, he jetted back to Boston for OTAs. He then broke from camp a few days early to get married – Congrats! — and have a little time on his honeymoon in the Bahamas. And then back to work to prep for the season. No rest for this rookie.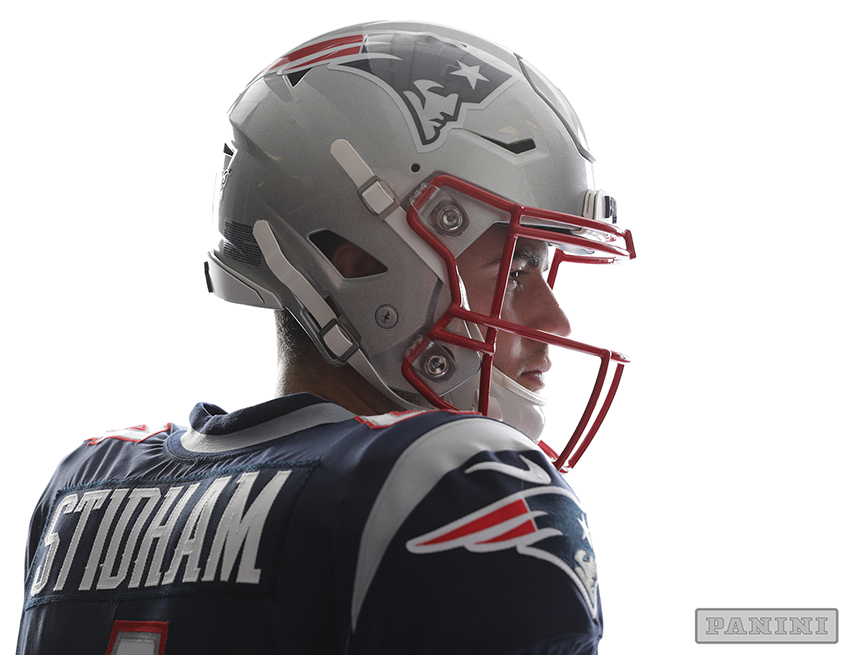 #StarIsBorn
With a nickname like "Hollywood," Ravens receiver Marquise Brown fit in perfectly amid all the bright lights of events from the Premiere. Taking pictures out of the gate, the first-rounder flashed his million-dollar smile and become a fan-favorite with other players and staff alike. You would often hear "Hollywood" or "'Wood" throughout the weekend.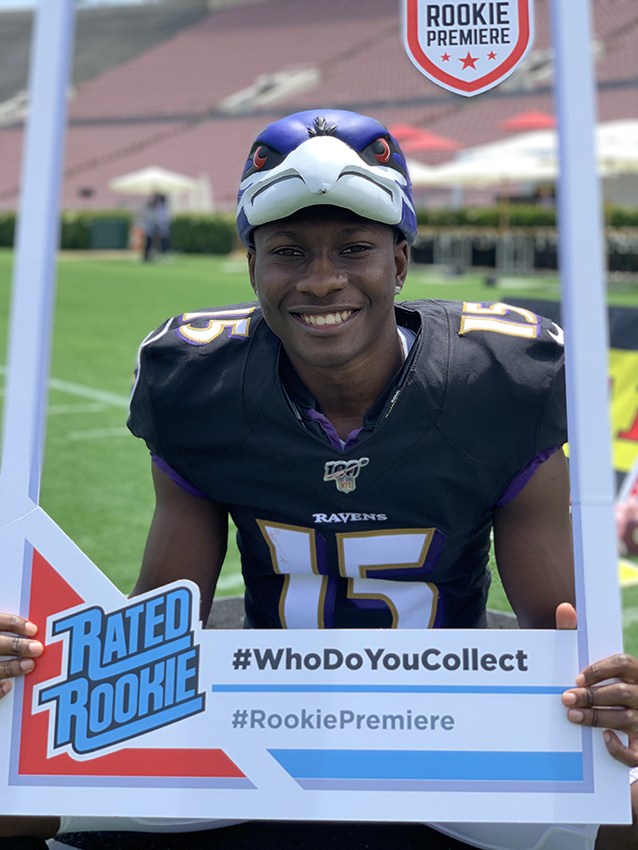 #FoodForThought
Vikings running back Alexander Mattison doesn't worry about which came first: The chicken or the egg. Wise for being just 20 years old, the Boise State product said he cooked regularly in college, and there were two staples in his fridge. That's right, chicken and eggs. He said he ate them together often for meals. Guess that combo was the fuel for the third-round pick's standout junior season that ended with him leading the Mountain West with 17 touchdowns.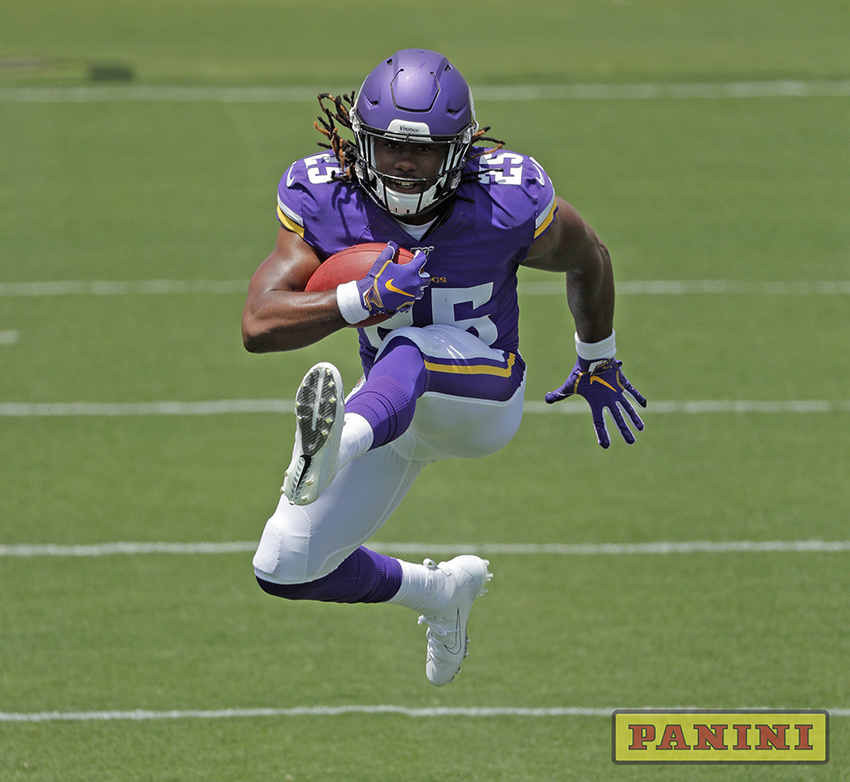 #MemphisMen
Teammates at Memphis, Tony Pollard and Darrell Henderson were inseparable during the weekend. The running backs, who accounted for more than 4,000 yards for the Tigers last year, are now playing for NFC title contenders, so they better not get too cozy. Pollard and the Cowboys host Henderson and the Rams in Week 15 in what could be a high-scoring matchup with playoff implications.
#WinningDrive
Broncos quarterback Drew Lock is ready for the ride of his life, embracing the journey of an NFL rookie. But to really get the feel, he had to make sure to have his ride with him. The second-round pick said he drove his souped-up GMC truck from his home in the Kansas City area (the Missouri side, of course) to Denver — a trek of nine hours — before rookie minicamp. The four-wheel drive mammoth, which resembles the cartoon character Ironside from the Transformers, will be useful for the brutal, snow-filled winters in the Mile High City.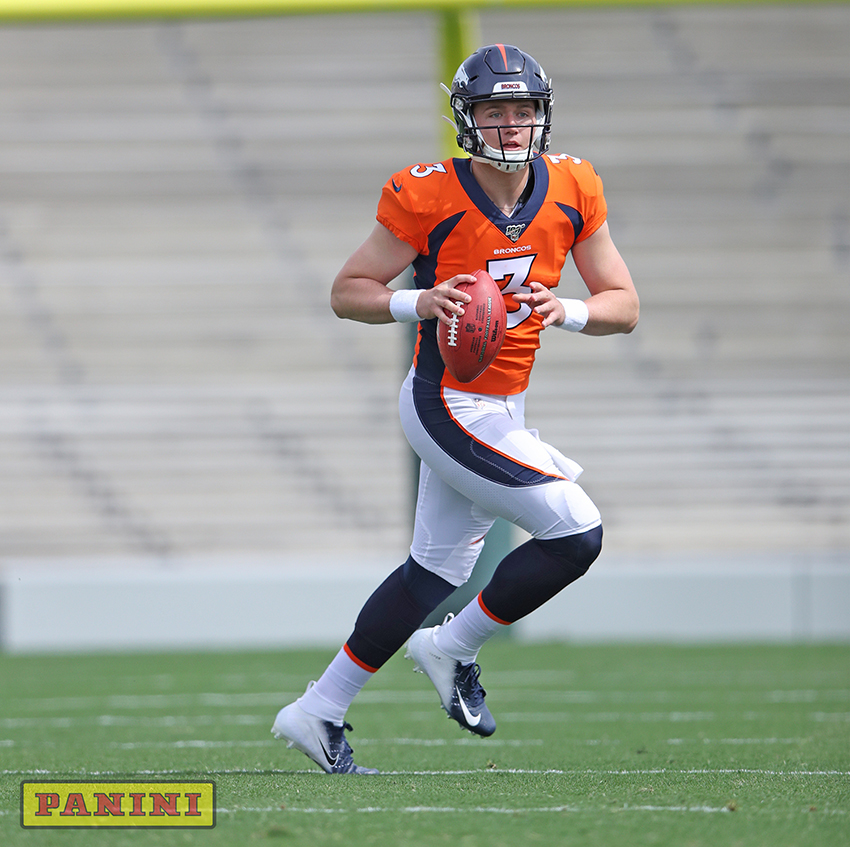 When it's all said and done at end of the season, some of these players from the Premiere will have broken rookie records, nabbed rookie honors and even become rookie heroes. But for us, they'll always be Rated Rookies in our hearts.
To read more about the 2019 NFL Rookie Class and other players in the league (retired and active), make sure to check out Panini America products that will hit the shelves soon, including Donruss, Spectra, Impeccable, Rookies & Stars and more. Don't be left out celebrating the 100th NFL season with this memorable group of rookies.
Ram Luthra & Nolan Imsande are Staff Writers for Panini America.