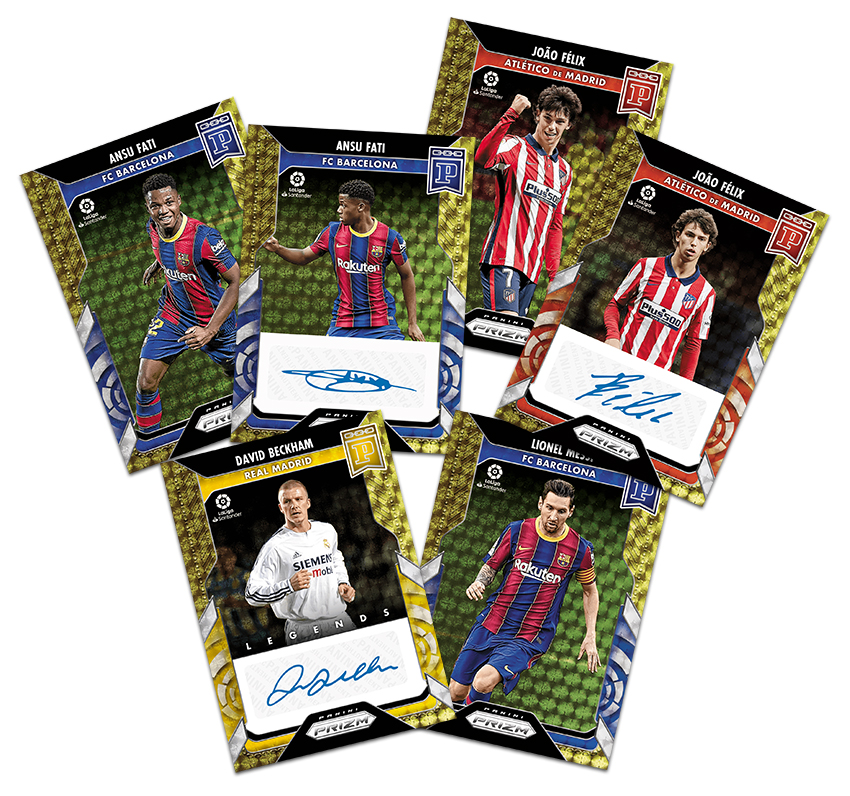 Some of the greatest players in the history of LaLiga, as well as the soccer league's current superstars and future stars, will be the subjects of Panini America's next Blockchain venture when 2021 LaLiga Prizm Blockchain launches on March 1. This release marks the first time that Panini America will incorporate an entire soccer league into the Blockchain environment.
2021 LaLiga Prizm Blockchain will include 140 base cards (all 1/1s and printed using Prizm's popular Gold Vinyl parallel) incorporating at least seven players from all 20 LaLiga clubs. In addition, there will be an additional 26 autograph cards featuring current LaLiga stars and all-time legends.
Beginning March 1, collectors who purchase the 2021 LaLiga Prizm Blockchain digital card on the Panini Blockchain site entitles the buyer to receive the physical version of the card free with the purchase. Cards will be released over the course of seven weeks through the Panini Blockchain site or by using the Panini Direct app. The cards will be sold in a Dutch Auction format with prices dropping incrementally until the card is sold.
By using the Panini Blockchain site, collectors will be able to maintain ownership of their Blockchain digital cards and also have the ability to auction the cards securely on the Panini Blockchain to other buyers. In addition, collectors can search the Panini Blockchain site for other auctions. In the near future, the Panini Blockchain site will offer additional functionality such as personal galleries, ownership histories for individual cards and more.
Stay tuned for additional details on the 2021 LaLiga Prizm Blockchain in the coming days.