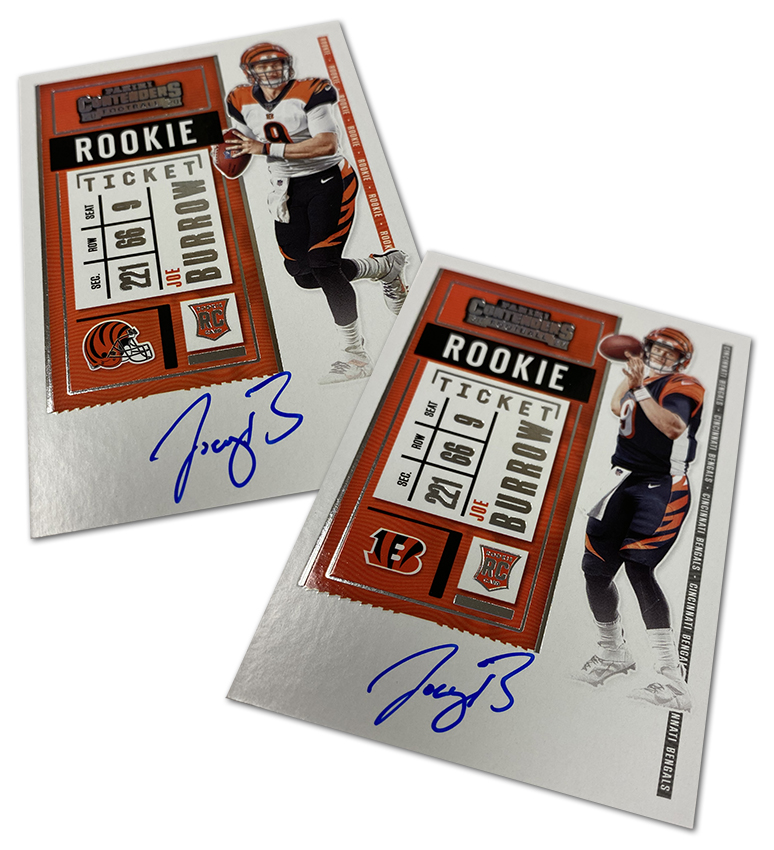 Panini America's ballyhooed 2020 Contenders Football arrived in hobby shops across North America two weeks ago to a ready-and-waiting collector base that has spent the last several days in a wrapper-ripping, Rookie Ticket-revealing frenzy. That's certain to continue in the weeks ahead as the many Contenders completists work on building their sets, with one eye always on the set's various variations and short prints.
Today, we're going to continue clarifying or demystifying some of the set's SP and SSP mysteries. The list below details some of the SPs and SSPs featured in 2020 Contenders Football's Rookie Tickets, Rookie Ticket Variations (identified by the letter "V" on the top-middle of the card back), Rookie Ticket Wild Card Variations, Rookie Ticket Swatches, Rookie Ticket Swatches Variations and Veteran Tickets. For 2020 Contenders Football, an SP indicates cards with a print run of 250 or less; an SSP indicates cards with a print run of 100 or less. Enjoy the list and stay tuned to The Knight's Lance for Part 3 next week.
You can check out Part 1 of the SP list right here.
| | | | |
| --- | --- | --- | --- |
| # | PLAYER | SET | RUN |
| 122 | Jalen Hurts | Rookie Ticket Variation RPS | 100 |
| 5 | Travis Kelce | Veteran Ticket Autograph | 10 |
| 15 | Harrison Smith | Veteran Ticket Autograph | 75 |
| 102 | Chase Young | Rookie Ticket RPS Wild Card | 50 |
| 105 | Henry Ruggs III | Rookie Ticket RPS Wild Card | 100 |
| 107 | CeeDee Lamb | Rookie Ticket RPS Wild Card | 50 |
| 111 | Jordan Love | Rookie Ticket RPS Wild Card | 100 |
| 114 | Michael Pittman Jr. | Rookie Ticket RPS Wild Card | 50 |
| 116 | Jonathan Taylor | Rookie Ticket RPS Wild Card | 100 |
| 119 | KJ Hamler | Rookie Ticket RPS Wild Card | 50 |
| 123 | J.K. Dobbins | Rookie Ticket RPS Wild Card | 100 |
| 127 | Antonio Gibson | Rookie Ticket RPS Wild Card | 50 |
| 133 | Darrynton Evans | Rookie Ticket RPS Wild Card | 100 |
| 138 | James Morgan | Rookie Ticket RPS Wild Card | 75 |
| 140 | Antonio Gandy-Golden | Rookie Ticket RPS Wild Card | 50 |
| 104 | Justin Herbert | Rookie Ticket RPS Wild Card Variation | 25 |
| 110 | Brandon Aiyuk | Rookie Ticket RPS Wild Card Variation | 25 |
| 117 | Laviska Shenault Jr. | Rookie Ticket RPS Wild Card Variation | 50 |
| 123 | J.K. Dobbins | Rookie Ticket RPS Wild Card Variation | 50 |
| 129 | Lynn Bowden Jr. | Rookie Ticket RPS Wild Card Variation | 50 |
| 133 | Darrynton Evans | Rookie Ticket RPS Wild Card Variation | 50 |
| 134 | Joshua Kelley | Rookie Ticket RPS Wild Card Variation | 50 |
| 140 | Antonio Gandy-Golden | Rookie Ticket RPS Wild Card Variation | 25 |
| 3 | Tua Tagovailoa | Rookie Ticket Swatches Autographs | 100 |
| 9 | Justin Jefferson | Rookie Ticket Swatches Autographs | 100 |
| 2 | Chase Young | Rookie Ticket Swatches Variation Autographs | 50 |
| 5 | Henry Ruggs III | Rookie Ticket Swatches Variation Autographs | 50 |
| 8 | Jalen Reagor | Rookie Ticket Swatches Variation Autographs | 50 |
| 10 | Brandon Aiyuk | Rookie Ticket Swatches Variation Autographs | 50 |
| 13 | Tee Higgins | Rookie Ticket Swatches Variation Autographs | 50 |
| 17 | Laviska Shenault Jr. | Rookie Ticket Swatches Variation Autographs | 50 |
| 18 | Cole Kmet | Rookie Ticket Swatches Variation Autographs | 50 |
| 22 | Jalen Hurts | Rookie Ticket Swatches Variation Autographs | 50 |
| 25 | Denzel Mims | Rookie Ticket Swatches Variation Autographs | 100 |
| 28 | Ke'Shawn Vaughn | Rookie Ticket Swatches Variation Autographs | 100 |
| 32 | Devin Duvernay | Rookie Ticket Swatches Variation Autographs | 100 |
| 37 | Anthony McFarland Jr. | Rookie Ticket Swatches Variation Autographs | 100 |
| 42 | Jake Fromm | Rookie Ticket Swatches Variation Autographs | 100 |
| 114 | Michael Pittman Jr. | Rookie Ticket RPS | 250 |
| 130 | Bryan Edwards | Rookie Ticket RPS | 250 |
| 101 | Joe Burrow | Rookie Ticket Variation RPS | 250 |
| 105 | Henry Ruggs III | Rookie Ticket Variation RPS | 250 |
| 110 | Brandon Aiyuk | Rookie Ticket Variation RPS | 225 |
| 115 | D'Andre Swift | Rookie Ticket Variation RPS | 250 |
| 119 | KJ Hamler | Rookie Ticket Variation RPS | 243 |
| 124 | Van Jefferson | Rookie Ticket Variation RPS | 250 |
| 136 | Jacob Eason | Rookie Ticket Variation RPS | 125 |
| 155 | Cesar Ruiz | Rookie Ticket | 139 |
| 178 | Julian Okwara | Rookie Ticket | 250 |
| 285 | Steven Montez | Rookie Ticket | 197 |
| 217 | Ben DiNucci | Rookie Ticket Variation | 250 |
| 11 | Jordan Love | Rookie Ticket Swatches Autographs | 150 |
| 15 | D'Andre Swift | Rookie Ticket Swatches Autographs | 150 |
| 20 | Chase Claypool | Rookie Ticket Swatches Autographs | 150 |
| 25 | Denzel Mims | Rookie Ticket Swatches Autographs | 200 |
| 30 | Bryan Edwards | Rookie Ticket Swatches Autographs | 150 |
| 34 | Joshua Kelley | Rookie Ticket Swatches Autographs | 150 |
| 39 | Gabriel Davis | Rookie Ticket Swatches Autographs | 200 |