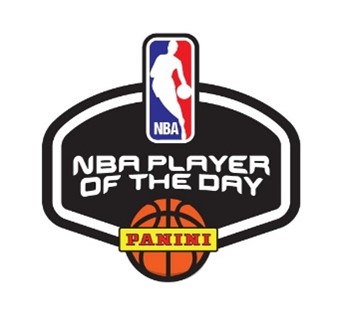 LARRY JOHNSON "SPENDS THE DAY" WITH NBA PLAYER OF THE DAY
NATIONAL SWEEPSTAKES GRAND PRIZE WINNER
After beating the odds and being selected as the 2022-23 Panini NBA Player of the Day (POD) National Sweepstakes winner from more than 100,000 card collectors who entered at 600 hobby shops nationwide, 12-year-old Justin Lazerson of Oceanside, NY had the once-in-a-lifetime chance to "spend the day" with NBA great Larry Johnson.
The special day began at the hobby shop at which he entered the contest – Card Shack in Lynbrook, NY.  Larry Johnson, the former two-time NBA All-Star and top pick in he 1991 NBA Draft, joined Justin for a private VIP meet-and-greet for 30 of shop owner Steve Cardi's best customers.  "Grandmama" told stories of his prolific college career at UNLV as well as his 10-year NBA career with the Knicks and Hornets.  Johnson signed autographs and posed for photos with everyone.
To cap off the hour-long celebration, LJ helped Justin break two boxes of Panini Optic Basketball and one box of Panini Immaculate Basketball.  His pulls from the box of Immaculate included: Dwyane Wade Auto 4/25; Evan Mobley 27/99; Kevin McHale Sneaker Swatch Auto 22/25; and an OKC Thunder Triple Rookie Swatch (Giddey, Mann, Wiggins) 01/25.   Johnson also presented Justin with oversized version of his Prizm card and canvas montage featuring him in his UNLV, Hornets and Knicks jerseys.
Following the store event, Justin and LJ hopped into the car and headed to Justin's CYO basketball team practice to surprise his teammates with a special guest coach for the night.  During the practice Johnson provided an inspirational talk to the kids and helped the coaches run the practice.  Then, Justin and all of his teammates and coaches received a goodie bag, packs of NBA Hoops trading cards, and the chance to get an autograph and photo with the former NBA great.
"We congratulate Justin as our 2022-23 NBA Player of the Day national sweepstakes winner and hope Justin, his friends and family had a fun and memorable experience," said Jason Howarth, Vice President of Marketing for Panini America.  "We also want to thank Steve Cardi and the 600 other hobby shop proprietors all across the country who run the player of the day promotion every year."
In October, when Panini surprised Justin with the news that he had won the contest, he received a $250 shopping spree for Panini cards at Card Shack and selection of NBA Player of the Day autographed cards including: Kawhi Leonard (#/2); Magic Johnson (#/3); Deandre Ayton (#/5); Dennis Rodman (#/10) and Tracy McGrady (#/10).
"Today was so much fun.  This was the first time I ever met an NBA player.  He was so nice and I know all of my friends and teammates enjoyed meeting him too," said Justin.
Like many kids his age, Justin loves basketball.  He collects NBA trading cards, plays on a rec league team and, as a fan, he inherited his father's love for the Lakers, and his favorite player is Anthony Davis.
The Panini NBA Player of the Day promotion was first offered to hobby shops in 2016, while the NFL edition has run every season since 2001.  Past NBA Player of the Day Grand Prize winners have had one-on-one experiences with Karl-Anthony Towns, Shaquille O'Neal, Aaron Holiday, Matisse Thybulle, RJ Barrett and Shai Gilgeous-Alexander.  Highlights of the Grand Prize events are available HERE.
The centerpiece of the promotion is a poster featuring Panini card images of one player from each NBA team.  Each day, a different player on the poster is designated as the "Panini NBA Player of the Day."  Every time a collector purchases a pack of officially licensed Panini NBA trading cards and pulls the player of the day, they win a prize.  Each week, stores conduct a drawing from the daily winners to award a weekly prize.  Then, at the end of the month-long promotion, each store awarded a grand prize to its store winner and entered them into the national sweepstakes.  To learn more, visit www.PaniniPOD.com.
VISIT: https://www.paniniamerica.net/
Also connect with us on:
Discord: https://discord.com/invite/9PUgPHSdxq
Instagram: https://www.instagram.com/PaniniAmerica/
Facebook: https://www.facebook.com/PaniniAmerica/
Twitter: https://twitter.com/PaniniAmerica/