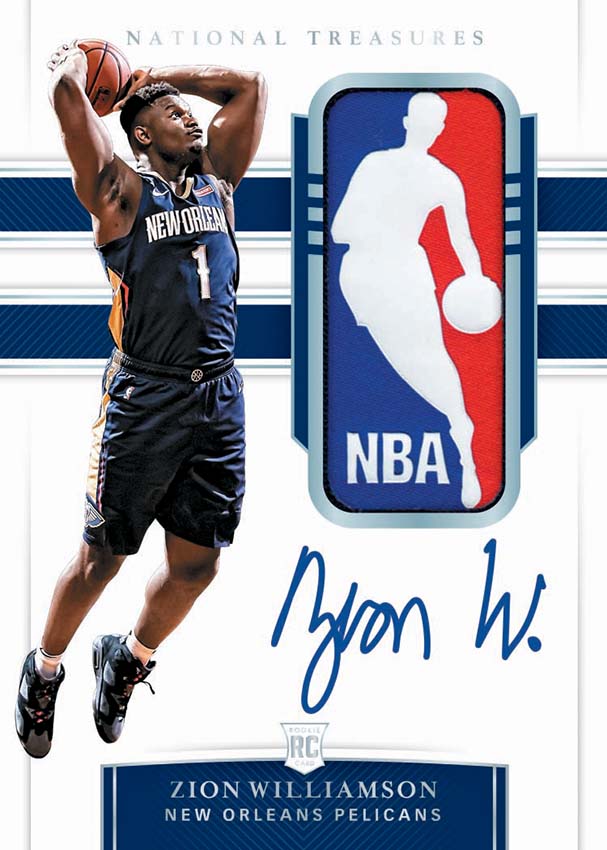 If you think National Treasures Basketball releases of the recent past have generated international feeding frenzies for the most drool-inducing Rookie Patch Autographs and Logoman 1/1s, well, you'd be right. But it's likely that nothing you've seen to date will match the hysteria sure to unfold in mid-April with the release of 2019-20 National Treasures Basketball. The mere thought of NT RPAs featuring the likes of Zion Williamson, Ja Morant, RJ Barrett and the other members of the stacked 2019-20 Rookie Class is enough to make palms sweaty.
But why does such early pre-release talk matter now? Well, because Panini America officials yesterday sent out preliminary Product Information Solicitations for the juggernaut product that arrives in hobby shops and online retailers near you in just a few short months. Today, we're sharing the preliminary product information with you here on The Knight's Lance.
In the extensive product preview that follows, we'll showcase a must-see bevy of preliminary images as well as the product's PIS documents for the hobby and FOTL versions. Enjoy the sneak peek and stay tuned for additional details.
Release Date: April 15, 2020
Product Configuration: 10 cards per box, four boxes per case.
BOX BREAK: Eight autograph or memorabilia cards, one Printing Plate and one base or parallel per hobby box, on average.
National Treasures Basketball is back with the most sought after Rookie Patch Autograph cards of the year. Find RPAs of Zion Williamson, Ja Morant, RJ Barrett, Rui Hachimura and more.
Look for the incredible Logoman Autograph and Treasured Tags Autograph cards; find one-of-a-kind items of Charles Barkley, Stephen Curry, Shaquille O'Neal and more.
Collect the incredibly unique Personalized Autographs of superstar talents.
Chase history in the NBA Finals Nameplate set that features full-letter Nameplate patches from Toronto Raptors game-worn NBA Finals jerseys.
Enjoy the preview gallery that follows and stay tuned for additional information.
The PIS document for 2019-20 National Treasures Basketball Hobby is available here.
The PIS document for 2019-20 National Treasures Basketball FOTL is available here.
All information is accurate at the time of posting – content is subject to change and approval. Card images are solely for the purpose of design display. Actual images used on cards to be determined.