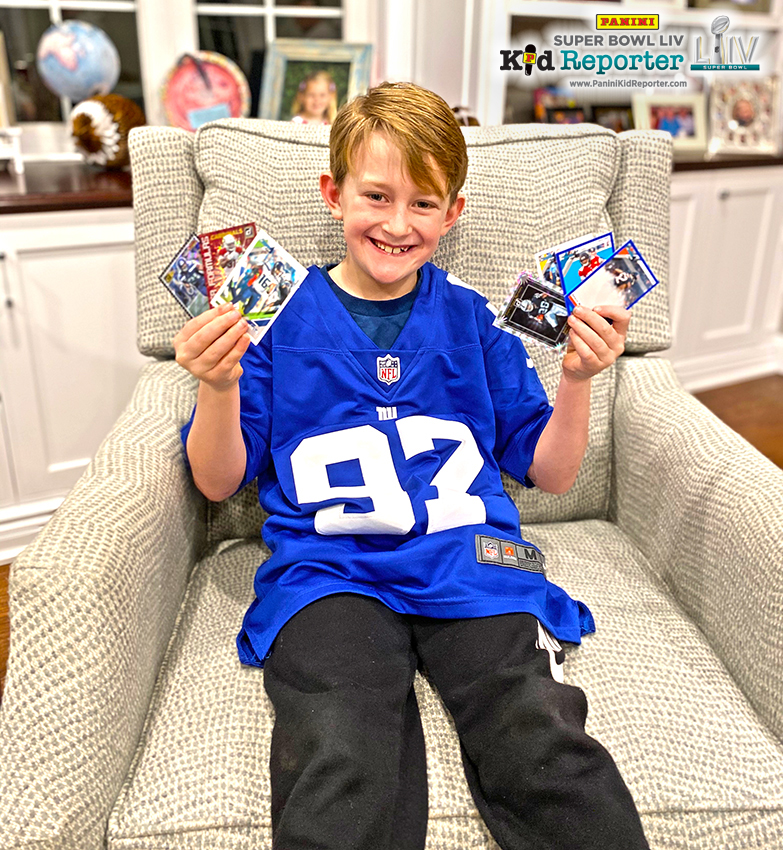 When the phone rang in the Briody household Monday morning, 8-year-old Jack couldn't possibly have known the call was for him. Or that the person on the other end of the line was a Super Bowl-winning quarterback. Or that the ring-wearing passer had some monumental news to share.
So, you can imagine Jack's surprise when mom Jeanne handed him the phone. The guy on the calling end was none other than former NFL champion Trent Dilfer. And what he had to tell Jack left the Giants-loving, card-collecting, sports-addicted third-grader virtually speechless. Just like Patrick Mahomes and Jimmy Garoppolo, Jack Briody is going to Super Bowl LIV. As the grand-prize winner in Panini America's wildly popular in-pack Super Bowl Kid Reporter sweepstakes, Jack's winning contest entry – one of more than 100,000 submitted during the 2019 contest – originated from a pack of 2019 Donruss Football purchased at Modell's Sporting Goods.
Now, the multisport student/athlete at Wilson Elementary in Rockville Centre, N.Y., is the talk of the school — if not the entire town. And he's still a little blown away by the news.
"I'm really excited," Briody said. "I've known about the Super Bowl Kid Reporter contest before and have entered in the past, but I was always like, 'It's impossible.' Everyone I've told so far is really shocked. Some of my friends might believe me. Some might not."
They'll all be believers next week. Jack and his family will fly to Miami on Sunday for a whirlwind seven days that will kickoff in earnest on Monday night, when Dilfer joins Jack at Marlins Park to interview the biggest stars of Super Bowl LIV. Later in the week, Jack and his family will attend the Pro Football Hall of Fame Merlin Olsen Luncheon and the Panini Pop Warner Skills Clinic. Next Sunday, of course, Jack will be attendance for Super Bowl LIV, where he'll be rooting for Mahomes, Tyreek Hill and the Chiefs.
It's worth noting that mom Jeanne was completely caught off-guard by Jack winning. She didn't even know he'd entered – a minor fact not communicated to her by Jack and his dad, John.
"All I know is that I've got Panini football cards all over my house and now I can't be mad about it," Jeanne said with a laugh.
Jack has been collecting with his father for the last five years and, in addition to his devotion to the New York Giants, the younger Briody has an affinity for watching and collecting Tyler Lockett, Darius Slayton, Saquon Barkley and Dexter Lawrence.
Stay tuned next week for complete coverage of Jack's Super Bowl LIV exploits.