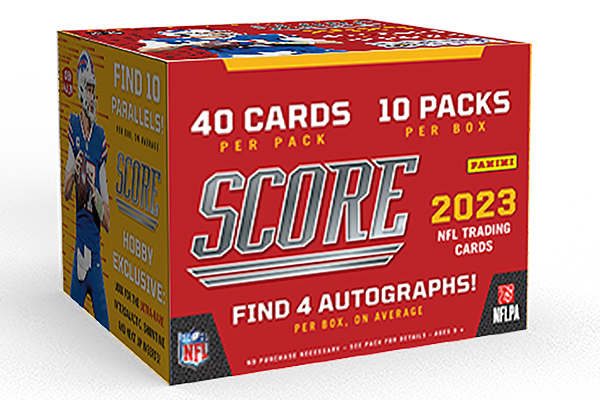 Since its inception in 1989, NFL Score has become one of the most legendary retail releases among collectors. Over more than three decades, trading-card enthusiasts of all ages flock to the Score collection to chase players, from established superstars to rookies looking to make their mark and every standout in between.
When it comes to pulling a must-have card from this year's spectacular NFL release, look no further than he who graces its packaging. That, of course, is perennial MVP contender Josh Allen, Buffalo's unstoppable quarterback. Why should you hope to pull Allen? The answer is simple.
Few NFL signal-callers can say they impact the game quite like the electric Bills headliner. Regardless of what looks defensive coordinators scheme, there is no easy way to keep him from finding the end zone. Drop eight in coverage and he'll take off in a hurry, using his legs to eat up yards on the ground. You could try keeping a spy on him, but then he'll air it out and deliver a beautiful deep touchdown strike in a snap.
Elsewhere within the collection you have an opportunity to snag a plethora of rookie passers ready to set the league on fire in 2023. From No. 1 overall pick Bryce Young in Carolina to the trio of Houston's C.J. Stroud, Indianapolis' Anthony Richardson and Tennessee's Will Levis in the AFC South, this year's incoming class has the potential to make a strong first impression.
Getting a piece of 2023 NFL Score offers you the opportunity to find these rookies before they ever set foot on the field. While they are primed for strong debut seasons, you can take home some of their first Panini cards.
There is no shortage of must-have players in this affordable 440-card base set, with something to thrill fans of every team. Collectors can focus on player checklists, which allow them to construct their ideal trading-card lineup. The checklist includes the most iconic rookies of the season.
Related Links:
Arch Manning First Trading Card goes for $102.5K