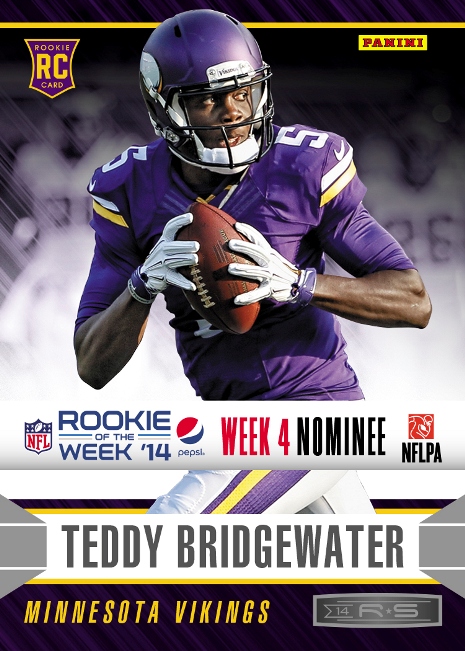 We love NFL rookies at Panini America. We love interacting with them at the NFLPA Rookie Premiere every summer. We love the fact that with their potential and their performances, they drive sales of every NFL product we make every year. But you want to know who loves NFL rookies as much as we do? Pepsi and football collectors.
Indeed, the folks at Pepsi get just as excited we all do about NFL Rookie performances each week during the season. And that's exactly why once again this season, for the fourth straight year, Panini America and Pepsi have joined forces to help promote Pepsi NFL Rookie of the Week voting and Panini America NFL Rookie Cards.
The payoff for collectors and NFL fans everywhere will be some sweet virtual cards that will be highlighted on the NFL Facebook page each week in a special 2014 Pepsi Rookie of the Week gallery, as well as across social media platforms and NFL.com. Each week during the 2014 NFL season, Panini America will feature the five Pepsi Rookie of the Week Nominees on a different Panini America 2014 football card design. (Stay tuned to The Knights Lance, the Panini America Facebook page and the Panini America Twitter account to find out about new Panini America designs and what weeks they will be incorporated into the Pepsi Rookie of the Week promotion.
Fans can vote for the Pepsi NFL Rookie of the Week each week during the 2014 NFL regular season. After you vote, be sure to share the virtual card image of the Pepsi Rookie of the Week Nominee you voted for on Twitter. Be sure to mention @PaniniAmerica to be eligible to win prizes throughout the season.
We'll have more details as the season progresses. But for now, here are your Week 4 nominees for 2014 Pepsi NFL Rookie of the Week:
Minnesota Vikings quarterback Teddy Bridgewater threw for 317 yards and ran for a touchdown in his first NFL start in the Vikings' 41-28 win over the Atlanta Falcons.
Jacksonville Jaguars quarterback Blake Bortles completed 29-of-37 passes for 253 yards and one touchdown in the Jaguars game against the San Diego Chargers.
Tampa Bay Buccaneers wide receiver Mike Evans caught four passes for 65 yards and one touchdown in his team's 27-24 victory over the Pittsburgh Steelers.
Baltimore Ravens linebacker C.J. Mosley led the team with a career-high 11 tackles, seven solo stops and two passes defensed in the Ravens 38-10 win over the Carolina Panthers.
Minnesota Vikings running back Jerick McKinnon had 18 carries for 135 yards, including a 55-yard run that marked the fourth-longest ever by a Vikings rookie.