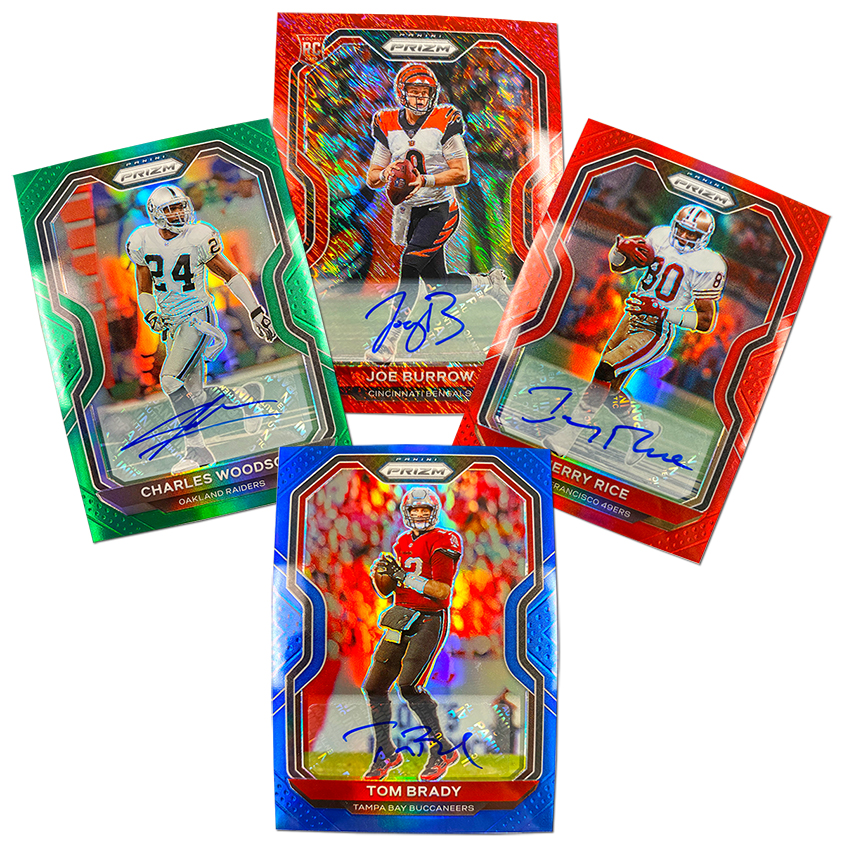 The insatiable appetite for Panini America's upcoming 2020 Prizm Football release (in all SKUs) is obvious and it is massive. That was evident once again yesterday when the 1st Off The Line version with its various FOTL-exclusive Shimmer Prizm inclusions sold out quite expeditiously.
The FOTL version features Red Shimmer, Blue Shimmer and Green Shimmer for all parallels and for the Rookie Autographs and Sensational Signatures inserts. But a peculiar thing happened in producing the FOTL-exclusive Veteran and Retired Autographs sets: The Shimmer shimmied away. Instead, those two inserts are printed on traditional Red, Blue and Green Optichrome stock.
The good news: Since there are no other Veteran or Legend Autographs sets incorporating traditional Red, Blue or Green Optichrome stock throughout the 2020 Prizm Football run, those cards remain 1st Off The Line exclusives.
We offer a brief-but-revealing FOTL preview in the gallery that follows. Stay tuned for additional coverage of the 2020 Prizm Football phenomenon in the coming days.
2020 Prizm Football will be available at the official online store of Panini America beginning at 10 a.m. next Wednesday.