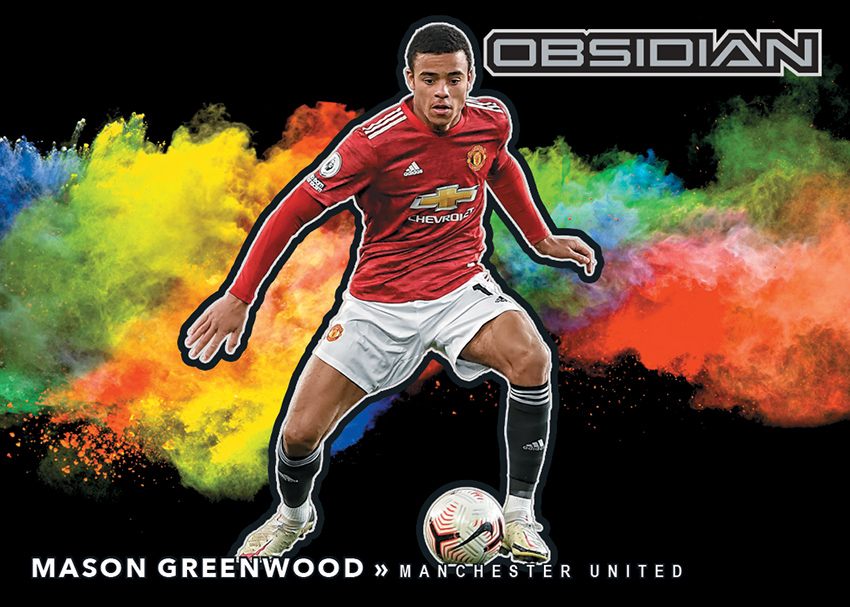 Panini America officials this week sent out preliminary Product Information Solicitations for several exciting new products coming soon to a hobby shop or online retailer near you. Today, we're sharing that same information with you here on The Knight's Lance, this time featuring the Optichrome-infused Obsidian Soccer.
In the extensive product preview that follows, we'll showcase a bevy of preliminary images from the upcoming 2020-21 Obsidian Soccer as well as the product's Hobby PIS document.
Estimated Release Date: TBD
Product Configuration: Seven cards per box, 12 boxes per case.
BOX BREAK: Four autograph or memorabilia cards, one base card, one base parallel and one insert or insert parallel per hobby box, on average.
Obsidian has become a stalwart Panini America brand regardless of the sport, and it's shiny black Optichrome cards and Contra parallels will again be a part of the soccer hobby for the 2020-21 season.
2020-21 Obsidian Soccer will include more than 45 soccer teams from around the world. From the world's most powerful clubs to the best national teams, they're all here: FC Bayern Munich, Liverpool FC, FC Barcelona, Manchester United, Paris Saint-Germain, Juventus, Brazil, Portugal, Germany, Argentina and Belgium to name just a few.
2020-21 Obsidian Soccer is stocked with four autograph memorabilia inserts to collect. Look for Jersey Autographs, Dual Jersey Ink, Matrix Material Autographs and, new for this season, Volcanic Material Signatures. All of these cards are numbered to 149 or less and have six parallel versions.
The autograph and memorabilia cards in Obsidian Soccer are plentiful as well. Search for three autograph inserts and five memorabilia inserts, all numbered to 149 or less and boasting six vibrant parallel versions.
The Black Color Blast inserts and Contra parallels in 2020-21 Obsidian Soccer will be iconic additions to any collection. Inserted at a rate of just just one of each per case, however, they'll be difficult to track down.
Enjoy the preview gallery that follows and stay tuned for additional information.
The PIS document for 2020-21 Obsidian Soccer Hobby is available here.
All information is accurate at the time of posting – content is subject to change and approval. Card images are solely for the purpose of design display. Actual images used on cards to be determined.