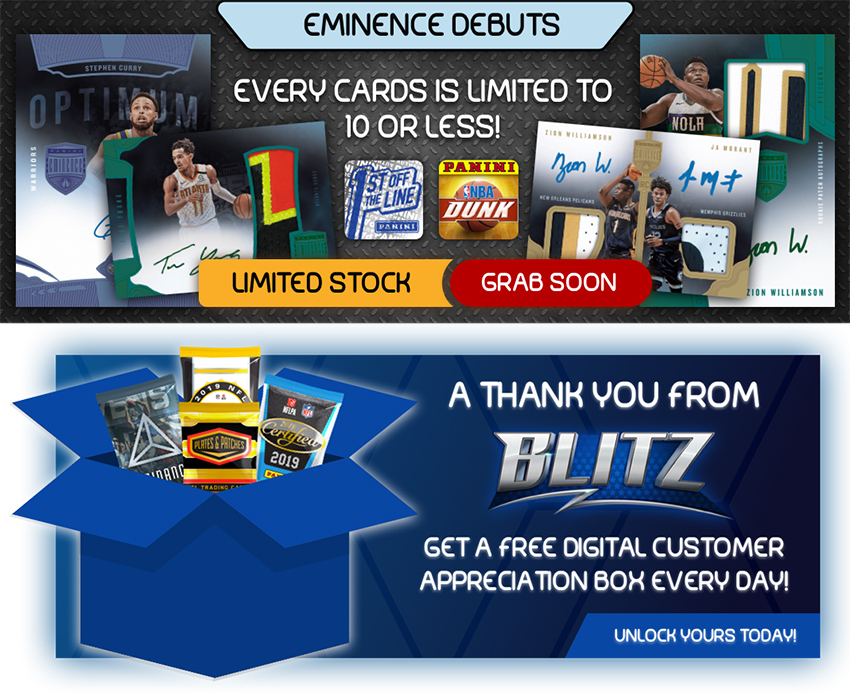 Panini America's NBA Dunk Digital Trading Card App is making history this weekend. For the first time ever, Dunk will deliver an exclusive digital version of the super-premium Eminence Basketball product. Much like the physical brand, every card in the digital version of Eminence Basketball will be extremely limited. Some of the most unique memorabilia and signature cards on Dunk can be found within the Eminence Basketball set. The Eminence Basketball digital pack is filled with virtual Diamond, Precious Metal, Memorabilia and Signature cards in every pack. Every card will be limited to just 10 copies or less.
Users can be among the first collectors to get Eminence Basketball with 1st Off The Line Packs, which will be available in limited quantities before the official Eminence release in the coming days. Each Eminence FOTL pack includes a bonus FOTL Platinum Bar Autograph card limited to just five copies each. A total of 100 FOTL packs will be available.
Free Boxes from NFL Blitz
Missing the NFL right about now? So are we. To help get you through the football lull and brighten your sports weekend, make sure to login to the NFL Blitz Digital Trading Card App daily all weekend long to open a free Customer Appreciation Box. One new box per day will automatically be added to your account.