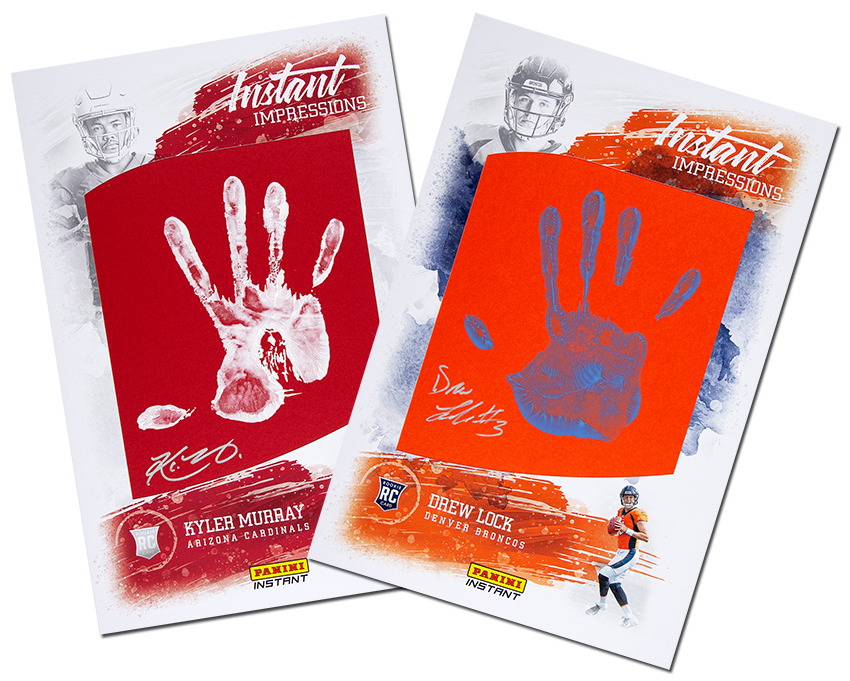 Beginning Monday afternoon, Panini America's Panini Instant on-demand trading card platform will unveil the 2019 NFL edition of Instant Impressions line that delivers a unique, hands-on collecting experience. Literally. During the 2019 NFLPA Rookie Premiere Presented By Panini, company officials procured handprints from several top rookies to provide the foundation for the oversized (11 1/2 by 17 1/2) and autographed Instant Impressions collectibles.
Set to launch Monday at 2 p.m. CST on Panini Instant, the Instant Impressions series includes 13 top NFL rookies, including Kyler Murray, Drew Lock, Josh Jacobs, Daniel Jones, Nick Bosa and more. Each player in the Instant Impressions series is featured on an autographed version numbered to just five and an autographed and inscribed version numbered to only one.
Company officials will unveil a few new Instant Impressions each day from Monday through Friday and the collectibles will be available only while supplies last. Stay tuned to Panini Instant each day next week as new players are unveiled starting at 2 p.m. CST.
You can get a sneak peek at the complete set in the gallery that follows: